Zen and the Art of the One Page Business Plan
Lead advisors are conscious, thoughtful, and intelligent. They know how to set themselves up for success within their granted parameters. Do you?
Zen & the Art of The One Page Business Plan®
By Jim Horan, President and CEO of the One Page Business Plan Company and Author of The One Page Business Plan
Planning is a dialog; it starts deep within you. When it's appropriate, you will begin the process of exposing the dialog to your external world. The initial form may be written notes, informal discussions with people you trust. When it's appropriate, you will expand the dialog to your community. The dialog will grow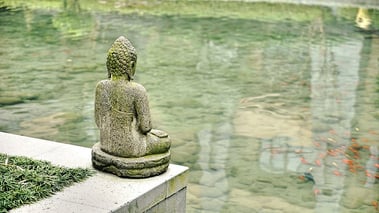 stronger or die. Remember when your mother told you to mind your business? Maybe she was right. Your life is your business.
Two questions:
Who are you?
Who will you serve?
Planning your business is planning your life. The process of thinking before doing is planning. Everyone has plans every day! Sometimes the plans are important enough to put in writing. The successful have concise, clear plans and take action on them, and they may be in writing. Planning is not really about the plan, but what you will do with the plan. What you leave out of your One Page Plan may be as important as what you put in your plan. Creating your One Page Plan is a process, not an event. Remember, not all of your great ideas will show up at once. In fact, many of them will disappear quickly, particularly when you sit down in front of a blank piece of paper.
If you take the "u" out of business, what's left is "bsiness." How busy do you want to be? Are you old enough to have a "job" that fits you? How many more people must you meet to be successful? How many more tools must you have in your toolkit to be successful? Are you ready to do your real work? Are your ideas good enough to act on? Do you trust your intuition? Do people value your opinion? Say "WOW" to your ideas? Ask if you are available to help them?
Whereever you are now, you know enough to take the next step! Take it! The more I learn the more I know I have to learn. Learning is a lifelong process. Surround yourself with smart, sharing, caring people. They are willing to help; let them! Nobody ever built a business by themselves; it has always taken a village. Thank you Hillary Clinton.
The ultimate goal is to live, work and play in a manner that is consistent with who you really are, and what is important to you! Every word on your One Page Plan counts, don't rush the process! Beware of excessive verbiage! Remember, this is a marathon, pace yourself! Most likely you will out-grow all of your plans. You will stop planning when you stop breathing.
Jim Horan is president of The One Page Business Plan Company, an international consulting firm specializing in planning and performance management systems. With over 400 consultants, the company provides consulting, training, enterprise software, e-learning systems and workshops. The Company is headquartered in Berkeley, Calif.
Topics: Lead Generation/ Time Management