Working with Single Women
The increase of professional single women in the United States has created a niche market for advisors who can help guide them through their financial futures. Single women are looking for a professional who is sensitive to their issues, and someone who will make them feel confident about their future. In this article, you'll learn how to understand and work effectively with single women.
Working with Single Women by Asalyn Coachman, J.D., A.B.
They seek a professional who is sensitive to their issues and who will make them feel confident.
The growing number of professional single women in the U.S. has created a niche market for advisors, who can help guide them through their financial futures. A benefit of working with single women lies in the network of referrals created through each client. One wonderful client can refer her advisor to another wonderful client, who can refer the advisor to another client, and so on.
But working effectively with single women means understanding the nuances of their personal and professional lives in order to be sensitive to their needs and concerns. Being single does not necessarily mean that a women lives by herself—it simply means that she is the head of her household and has a lot of responsibility.
Challenges facing the single female
It is clear that women are working hard both inside and outside the home. The challenge for many is to find a balance between growing their career and running their household. The Bureau of Labor Statistics reports that women still do most of the housework, even though they make up almost half of the American workforce. Furthermore, although more women are obtaining college degrees than men, a wage gap still persists in compensation. For example, women earned just 76.5 cents for every dollar that men did in 2012, according to Commerce Department data.
Women clients face unique challenges when planning for their financial futures. They earn less pay, have fewer chances for career advancement and have difficulty entering traditionally male dominated fields. Additionally, if they choose to stay home with their children and then re-enter the workforce, they run the risk of losing years of income, benefits and job promotions. As a result, a woman's lifetime income can be substantially less than that of her male counterpart.
Lower income is only half of the problem, because dollars earned often have to stretch further, as women's life expectancies are longer than those of men. According to the Social Security Administration, for instance, a man reaching age 65 today can expect to live, on average, until age 84.3, while a woman turning age 65 today can expect to live, on average, until age 86.6.
A woman must plan for a longer life with fewer dollars. The financial professional who works with women needs to understand these facts and statistics— because female clients do. They may not know the specific numbers, but they understand the need to provide for themselves financially for a long time, and they are concerned about their ability to do so. When working with a woman who is single, these concerns are magnified.

Factors for success
A single woman who seeks the aid of a financial professional will generally do so upon the recommendation of another woman. The woman who gave the recommendation will do so if she feels that the advisor has won her trust. Winning her trust goes beyond financial calculations—it means being genuinely interested in her life, her family, her career, her passions and yes, her financial issues.The first meeting with a single woman is critical to establishing trust, and finding common interests will ease the conversation. Showing a genuine curiosity or a willingness to learn about her passions will go a long way. Women establish connections through conversation: asking and answering questions, finding similarities and making connections through other friends. Time invested in these non-financial conversations at the outset will reap rewards later.
As the meeting progresses, it is important to let the single client feel that she is in a judgment-free zone. Even if a level of trust and rapport has been established, she may still feel anxious about disclosing information regarding previous financial mistakes. Many are still carrying guilt from previous errors, whether self-imposed or not.
To be effective, the financial professional must understand what happened in her financial life before the meeting. Creating an atmosphere in which all issues can be discussed is important.
Perhaps one of the most important things for the financial professional to understand is the type of single female client sitting in the meeting with him. Has she ever married, been divorced or widowed or is she recently out of a relationship?
These are not questions the financial professional wants to start out asking; instead, the answers should come through conversation. For a woman, her personal status starts out as just that—personal. If she is single, she is already bombarded with questions about her marital status, and this can be taken as a judgment on her lifestyle if not handled with sensitivity.
Obviously, the advisor will need to know these answers but it is best left for later in the meeting when the client opens the door. Focusing on her interests, career or hobbies will let her know that she is seen as an individual—not as a couple with a missing half.
Keep in mind also that a client who is a single woman is a client who is used to handling her financial affairs alone. If she is sitting in your office, she still wants to be part of the decision-making process. It is not unusual for a woman to take notes during a meeting. She wants to understand and come to some conclusions on her own. Your job as an advisor is to guide her decision— not override her suggestions.
Seeking the advice of a financial professional is at the most basic level a request for help, exposing vulnerability. The client who is seeking your financial advice is saying: "Help me make a decision, help me be better informed, help me understand and help me help myself."
Helping a woman client means answering her questions in a way that does not insinuate that she is not well-informed about money. Helping means bolstering her confidence and commending previous money decisions that were effective. Many single women may be protective of previous financial decisions they made because they know that they are solely responsible for the outcomes.
Helping a single woman plan for the future means helping her understand what her needs will be and finding the most effective way to protect that future. Unlike married couples, the single woman is worried about caring for herself and worried about who will be there to help. Retirement income streams, long-term-care strategies, powers of attorney and disability issues take on new meaning when planning for one client.
The single female client already understands some of her lifetime risks. She is looking for a financial professional who is sensitive to these issues and will approach her planning in a way that makes her feel confident.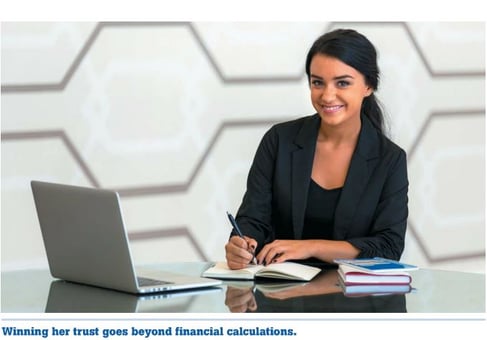 Asalyn Coachman, J.D., A.B., is with Financial Architects, Inc., and a Registered Representative of and offers securities through The O.N. Equity Sales Company, Member FINRA/SIPC.
(Investment Advisory Services offered through O.N. Investment Management Company and FAI Advisors, Inc. Financial Architects, Inc. and FAI Advisors, Inc. are not subsidiaries or affiliates of The O.N. Equity Sales Company or O.N. Investment Management Company.)
This article appeared in Advisor Today.
Topics: Diverse Markets/ Women Advisory Group