Working with Muslim-American Clients
The Muslim-American market can be a complex market to work with. Your Muslim-American clients have specific financial requirements that must be met. Learn how you can highlight the importance of personal responsibility to these clients, while being respectful and mindful of their culture.
Working with Muslim American Clients by Ali Agha, CFP, ChFC, CLU
The key is to help educate them about personal responsibility so they can provide for their loved ones— in good times and in bad.
"God will take care of my family if I die. I'm not worried. Insurance is haraam (forbidden)."
When I heard these words from a prospect, I was a new agent at the time, sitting in a modestly furnished living room. Upon the walls were pictures of family, beautiful Arabic calligraphy of God and Muhammad and a clock, its ticking sound filling the awkward silence. The couches were worn from use, hosting many guests over the years. Now, I was the guest, sipping tea and having one of the most important conversations in my prospect's life.
Those words rang in my head like a death knell. I didn't know what to say; so, I left. "How could I possibly argue against that?" I asked myself, trying to rationalize my failure to help him. Like anyone who doesn't get what he wants, you start to blame yourself and then end up blaming the other person. When the storm of emotions dissipated, I asked myself, "What could I have done differently?" The answer, it turns out, is education. By educating myself, I can educate my prospects. As John Maxwell says, "Sometimes you win, sometimes you learn."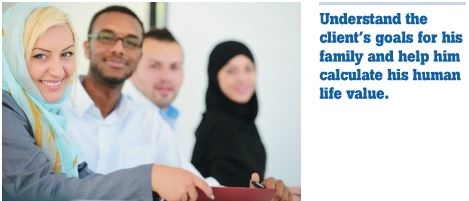 The Muslim-American Market
According to America.gov, 45 percent of Muslim-Americans have yearly incomes above $50,000 (higher than that of the national average), with a large concentration of them in lucrative fields, such as IT, education, medicine, law and entrepreneurial endeavors. Especially for advisors working with doctors, business owners and professionals, Muslim-Americans are a fast-growing segment of those target markets.
In order to work effectively in the Muslim-American market, here are some things to know:
Focus on investments rather than on interest-based products. In Islam, collecting interest is forbidden, while receiving capital gains from investments and dividends is acceptable. Therefore, variable life insurance products, which have an investment component, as well as participating dividend-paying whole life insurance, are appropriate vehicles for discussion. However, this depends on how religious the client is; so, it's important for a financial professional to ask questions and understand how the individual feels about investing and saving money.
Insurance can be perceived as "gambling." The common belief for more conservative Muslims is that insurance allows people to profit from the death of another. They may also believe that life insurance is "insuring against death," which contradicts their belief that God ultimately determines how and when a person will die. The key is to understand exactly what the client's goals are for his family, and then help him calculate his human life value. It is not insuring against death or profiting from it; rather, it is a way to protect the members of the family (beneficiaries) so that they can continue to live with dignity, if the individual responsible for the household were no longer there to provide for them.
Insurance is already a concept in Islam. According to the Fiqh Council of North America, many Muslims misunderstand how insurance works, including many Imams (scholars). Some Imams argue that "conventional insurance" is gambling because you're paying money with no guarantee of a benefit (in that case, permanent insurance is important!). However, many Muslim countries have local "cooperative insurance companies" called Takafuls. These Takafuls act like a mutual insurance company, formed solely for their "policyholders." Similarly, there is no guarantee of a benefit from a Takaful either. The key is to educate the client on how insurance works, in that it's many people contributing into a pool of money to assist each other in the event of a catastrophic event. However, insurance has the added benefit of maintaining dignity and privacy for the family rather than relying on a community-funded Takaful that may not be able to pay the full amount needed by the individual family member(s) at the time of need.
Take time to understand the root of the concern. Islam is a global religion of 1.5 billion people. While many think that most Muslims are Middle Eastern, they only comprise 20 percent. It is important to understand the individual basis for the concern and assist accordingly. Who are the key people influencing the client's decision (Imam, parents, etc.)? Some cultures are very family-oriented, while others are more individualistic. You need to be sensitive to the differences.
Do joint work with a Muslim financial professional. Doing joint work will allow you to navigate some of the intricacies and be more sensitive when suggesting solutions that a client is unsure of because of some of their religious beliefs. I would like to conclude with a story that many Muslims know, and I believe would help with understanding the balance between individual responsibility and the spiritual belief: One day, the Prophet Muhammad noticed a man leaving his camel without tying it. Approaching the man, he asked him, "Why don't you tie your camel?" The man answered, "I put my trust in God." The Prophet then said, "Tie your camel, then trust in God." The moral of the story is that a person's faith does not relieve him of his responsibility to act with wisdom for himself and his family, even if they're not there. Personal responsibility is a key teaching of Islam. Whether it's retirement, insurance or business planning, the key is to educate your Muslim-American clients and prospects so that they, too, can "tie down their camel."
Ali Agha, CFP, ChFC, CLU, is a Senior Development Manager with New York Life and a member of NAIFA's National Diversity Task Force. He is also a proud Muslim-American.
This article appeared in Advisor Today.
Topics: Diverse Markets