Working in Diverse Markets
The immigrant population in the United States is steadily increasing, and has opened up a wider market for financial advisors and agents. In this article, you will learn the benefits of working in diverse markets along with how to educate yourself culturally. Furthermore, this article will provide you with all the tips you need to succeed in diverse markets.
Working in Diverse Markets by Aamir Chalisa, MBA, LUTCF
To achieve success in these often lucrative markets, understand the culture, market your services locally and learn the art of patience.
With every passing day, our nation and workforce are becoming more diverse. The immigrant population is growing so much that today, the five largest cities in the U.S. are more than 50 percent non-white.
A diverse market consists of people from different backgrounds or experiences. Put together, they produce a creative, innovative, and productive environment, and many businesses have learned that they can draw upon this diversity to strengthen their bottom line. As such, diversity can be seen as a major component of building a sound business model.
Benefits of working in diverse markets
Let's take a look at some of the benefits of working in diverse markets:
They tend to drive economic growth.
They allow you to capture a greater share of the consumer market.
They foster a more creative and innovative marketplace.
People from diverse markets tend to embrace entrepreneurship.
Working in diverse markets allows you to reach newer groups of people who may be part of an untapped market.
People from diverse markets generally have new money and new a place to invest it.
People from diverse markets want to build relationships with advisors who can help them succeed in their new world.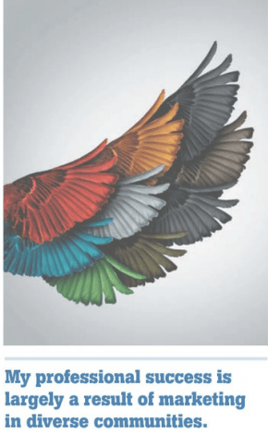 Coming from a South Asian background, I was always challenged by those who didn't understand people from diverse backgrounds. For example, when I spoke to schools about diversity in college, people would ask me if I had ever sat in a car or if I had only ridden camels. In my early days as an agent, I had similar episodes. During appointments, when I told my clients that I was from Pakistan, they would ask me about arranged marriages, burqa and ethnic food. One client even spoke very slowly to me, thinking I did not understand English.
Tip for success
As I spent more time in the industry, I focused on learning about diversity because I began to come across clients from different ethnic backgrounds. I increased my knowledge of different cultures so that as I worked and built relationships with clients from these cultures, I would be in a better position to help them make sound financial decisions.
It's also important to understand the basic customs of different ethnic groups. These include taking your shoes off at the front door of a client's home, not making eye contact with a woman, eating first before conducting business, and not rushing to open your briefcase. On many occasions, my first two or three appointments were spent on nothing more than finding out about my clients' families and sharing a meal with them. Business came on the fourth appointment. I had to learn the art of patience.
Today my clients are from various diverse backgrounds and I celebrate their diversity whole-heatedly. I do business with clients from many markets, including African American, Hispanic, Asian, and South Asian. I celebrate all of their festivals and holidays, participate in local community events, and I am a member of many local Chambers of Commerce for marketing purposes. I am proud to say that my professional success is largely a result of my marketing in diverse communities.
Some of my top clients are among the most successful people in the community. They rely on me for their financial-services needs and I make sure that I am knowledgeable in all aspects of my business. Over the years, many of these client have become close friends, and I have been there as they got married, had kids, bought their first homes, traveled the world, and attended retirement parties.
As an immigrant who came to this country 30 years ago. I have seen many of my dreams come true. The work we do as advisors allows us to help make the dreams of others come true, as well. There is no greater fulfillment than this, and only a few of us get to live the life we live.
Aamir Chalisa, MBA, LUTCF, is managing director with Futurity First Insurance Group in Oakbrook, Illinois. He is a member of NAIFA's National Diversity & Inclusion Task Force. Contact him at aamirchalisa@ffig.com.
This article appeared in Advisor Today.
Topics: Diverse Markets/ Running Your Practice