Why You Should Be Addicted to Rejection
Ever wonder why your number of selling interviews is not as high as you would like them to be? The simple answer could be that you're not addicted to rejection. Learn how rejection can be used to your advantage, and why it is important to face it head on, rather than avoid opportunities in fear.
Addicted to Rejection By David Cohen, CLU, ChFC, LUTCF
If you don't receive a high number of rejections, you will not achieve a high level of success.
When I first inhaled my first puff of smoke, I became lightheaded and almost choked. At the time, I couldn't think of one reason why anybody would want to smoke cigarettes. However, the next day there seemed to be an urge for me to try to smoke again. That second cigarette experience was not as excruciating as the first. Within a week, I started looking forward to when I could smoke another cigarette.
What was happening? Even though cigarettes didn't taste that good, the addiction to nicotine had taken its effect. I was hooked, and it took me 18 years to finally kick the habit.
It was torture at best. So why did I allow myself to be put into a situation in which I had lost all control of my ability to make a logical decision about my future well-being? Without knowing it, I had become a nicotine drug addict.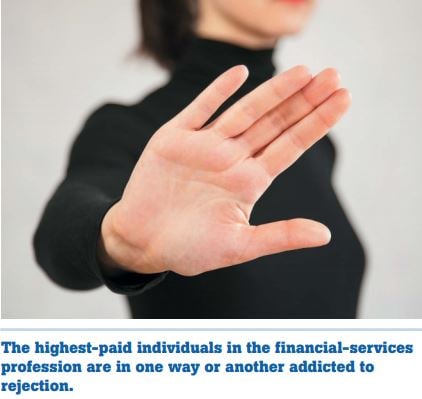 Getting used to rejection
In the world of life insurance selling, are we addicted to anything? If nothing comes to mind, perhaps you might consider becoming addicted to rejection. If you look at recent LIMRA surveys, you will see that the number of selling interviews financial advisors have each week is no more than five. However, if you look at the number of selling interviews per week of highly successful advisors, that number is more likely 10 to 20.
As the author of Prospect or Perish, and after spending 56 years in the insurance business as a salesman, my research and real-life experiences indicate that financial advisors have many hurdles to overcome to become highly successful. The number one hurdle is fear of rejection. But instead of facing this fear head-on and doing something about it, most advisors continue the march and hope that something good will happen. But it rarely does. Unfortunately, they aren't addicted to rejection.
Ty Cobb has the highest batting average in the history of professional baseball. He had to swing the bat 15 times for each hit. This means that he had to fail 14 times in order to get on base each time he was up to bat. I don't know if he looked at it this way, but it certainly was a lot of rejection.
Also, we have Babe Ruth, the greatest baseball player of all time. His 714 home runs stood as a record for decades. Most people do not know that he also struck out more times than any other player in the history of major league baseball—this guy was a real failure. How could he strike out so many times and still become the legend that he is? Maybe Ty Cobb and Babe Ruth emotionally understood that without rejection, you cannot become highly successful. What a valuable lesson to learn!
Let's take a look at some ratios that should be familiar to you:
• Your ratio of closing interviews to sales.
• Your ratio of discovery interviews to closing interviews.
• Your ratio of qualified prospects to discovery interviews.
• Your ratio of appointments to qualified prospects.
• Your ratio of total phone and face-to-face contacts to appointments.
Depending upon your experience and expertise, it is possible that you may have to contact 2,000 or more qualified prospects to close 100 sales. That's a whole bunch of rejection.
Rejection is the game we signed up for. We must become addicted to rejection, and the only way I know how is to have a large number of people say no to you. When they do, you must realize they are not rejecting you personally—they are simply rejecting the services you render as a financial advisor. With that in mind, you can count your successes based on how many people say no to you.
There's an old adage that goes something like this: "You are what you think about all day long."
So what are you thinking about all day long? Is it about how many people you can speak with today about helping them get what they want, or is it about how to avoid speaking with people today so that they will not reject you?
Remember that the highest-paid individuals in the financial-services profession are those who are in one way or another addicted to rejection.
David Cohen, CLU, ChFC, LUTCF, has been a member of NAIFAColumbus since 1958 and served as President of his chapter in 1978. He is a 52-year member of MDRT and currently serves on the Advisory Committee for the new NAIFA LUTCF curriculum. You can contact him at dcohen1935@gmail.com.

This article appeared in Advisor Today.
Topics: Lead Generation