What's Behind Brand Magic?
Creating brand magic can help you increase sales and market more prospective clients. Brand magic is not all about having artsy logos, catchphrases or extravagant advertising. Integrity supported by a strong structure of dedicated people and great processes is what makes brand magic. Learn how you can create your own brand magic, and deliver great products to satisfied clients.
What's Behind Brand Magic? By David Simkowitz
It starts with integrity that is supported by a strong structure of amazing people and processes.
Disney World is widely regarded as one of the most successful and enduring brands in the world with their tagline being "The Happiest Place on Earth." It's a pretty bold promise; yet, it's consistently delivered. In fact, I've heard it said that if you drink a cola at a fast food restaurant, it will taste different from what you drink at Disney.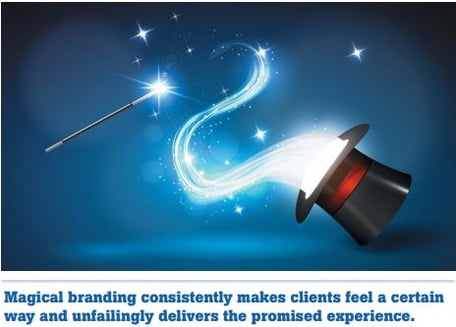 It's not magic—it's magical branding. What makes a brand magical? A recognizable name, logo and style are the things that most people notice at first. In fact, a brand's "look" may be the hook that initially attracts prospective clients.
However, once the interaction begins, a brand's appeal must be more than skin deep. Prospective clients already know how you look. Now, they want to know how your company makes them feel. Is your quality consistent? Do you create an emotional connection? Do your actions reflect your stated philosophies and beliefs?
To achieve these goals, a brand must have integrity. It must be who it says it is, even when no one is looking. It must do the right thing for its clients, even if no one will notice the difference. It must deliver the brand promise via a relevant and consistent experience, even when scenarios and people are different.
How can you build brand integrity? Start by thinking of your brand as an iceberg. The visible part of an iceberg (a brand's identity and advertising) is weak unless it is built on a strong base. The structure beneath the surface—how you hire, train, motivate, communicate and measure—is the source of brand integrity.
To deliver on a brand promise requires the right processes and people. Countless businesses focus on their products. Those who stand out, go beyond products. They focus on the people and processes needed to deliver a consistent brand experience.
Creating "Disney-style" magic
So how do you crate Disney-style magic for your practice? Below are a few of my strategies:
• Hire and train vigilantly. I often say that I'm just a skeleton without the strengths of my capable team. A brand should not be built on the abilities of one person. Be disciplined about hiring the best person you can afford for every open position. Cultivate your team with the same care that is used to build and develop teams of professional athletes. Continually train for improvement.
• Know and communicate your brand promise every day. What will your company be known for? How will you differentiate? What should customers feel during every interaction? Discuss these questions and their answers with your team. Actively keep your brand promise in the forefront of every day, week, month and year.
• Narrow your focus. Instead of having 10 company goals, have three and make sure they support one thing and one thing only: Consistent delivery of the desired brand experience. Each team member should also have only three goals that support the company's three goals.
• Create processes, standards and measures for everything. If one team member is out, another should able to easily step into his or her shoes. Use a centralized system for workflow and documentation so it's easy to see what has transpired at any given time. Build quality control into every step of your process.
• Embrace transparency. Over the past decade, it's become commonplace for surgeons to film their procedures so that family members or patients can watch. Daycare facilities allow parents to check in via nanny-cams, and in some cities, police officers wear body cams to increase transparency. What would happen if we shared videos of our financial workdays with clients? I think many would be shocked and amazed to see how many steps and how much care go into the formulation of their financial plans! While videos may not be ideal for our work, we should find other creative ways to provide clients with an "inside look" at what's going on.
• Work as if people are watching. If your clothes are unprofessional and your desk is disorganized, clients can sense it—even if they don't actually see it. Likewise, if you create high standards for the working environment, it shines through in every interaction.
• Develop your company culture. If you want a good personal or professional relationship, you have to proactively communicate. If you have expectations of your children, you have to tell them or they'll go their own way. Likewise, a workplace culture doesn't accidentally happen. You have to work at it. One way we develop our culture is by focusing on a desired component of our brand promise. For one example, we want our team to work with urgency. So we created a "No day like today" focus that spanned several months so that all team members could understand all the nuances of our urgency expectation.
Magical brands are not built with great logos and glitzy advertising. Some magical brands have these, but that's not the reason they're magical. They are magical because they consistently make clients feel a certain way and they unfailingly deliver the promised experience. Magical brands have integrity—integrity that is supported by a strong structure of amazing people and processes.
David Simkowitz is the founder and president of SimkowitzCo in Brooklyn, New York. He has had the honor of helping hundreds of high-net-worth clients complete effective estate plans. He is a top-ranked leader and innovator in the industry. For more information, visit www.simkowitzco.com.
(Simkowitz & Co. does not provide tax, legal or accounting advice).
This article appeared in Advisor Today.
Topics: Lead Generation