What is Keeping Your Senior Clients Up at Night?
Understanding the key concerns of your senior clientele is an important aspect of building a stronger relationship. Providing them with the right product can help them feel better about what happens to their assets in the future. Understand the common concerns of senior clients, and what it takes to alleviate their financial stress.
What is Keeping Your Senior Clients Up at Night? By Bryce Sanders
Here are some of your senior clients' greatest financial worries—and what you can do about them.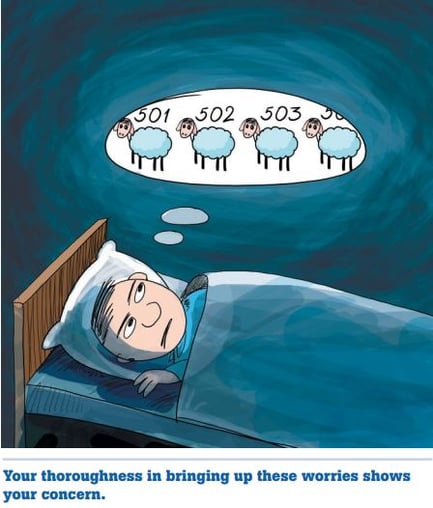 You may think of seniors as having it all—defined-benefit pension plans, lots of assets accumulated thanks to the 1982 bull market, and a supportive real estate market.
But this is not the case for most seniors. They have lots to worry about, and if you know what keeps them up at night, you might be able to help them make the most of their assets—and add to your bottom line.
Here are a few of their worries, and some of the steps you can take to help alleviate them:
• Providing for surviving spouses. People who were born between 1925 and 1945 are used to playing specific roles. The husband was typically the breadwinner, while the wife ran the household and raised the family. The breadwinner often made the financial decisions for the family. Now, he is probably wondering what will happen if he dies first.
This is a major worry for your senior clients, some of whom avoid it or make the wrong decisions. They assume that their children will look after the surviving parent or they will remarry eventually. Not only does this put a strain on the surviving spouse, it also puts the relationship at risk. Also, if the spouse withdraws and neglects their finances, their friends might arrange an "intervention" and introduce them to their financial advisor who might suggest transferring the account to him. As their advisor, this is an issue you can help address, especially if both parties are alive and in good health. Developing a strong relationship with both parties is the first step.
• Estate taxes. High-net-worth always sounds like more money than you have got. That is, until the government enters the picture. If your client's estate hits a certain threshold, the government quickly becomes his silent partner and its bite can be considerable. Your clients might suspect this is a looming problem, but unfortunately their solution may be to go into denial or worse, wait until one partner passes away before they start to address the problem.
As their advisor, you are placing yourself at risk if you don't confront the issue. Since they worry about it, engaging the help of an estate planning specialist might make sense to them. Your best opportunity is to help them address it through your advice or your referrals to specialists while both of them are alive. They will sleep better at night and will think of you when their friends start to worry about the same problem.
• Increasing expenses. Inflation doesn't seem to be a major problem right now, but tell that to your senior clients who see their property taxes and daily living expenses going up. Older clients have lived through the high-interest-rate years of the 1980s and sometimes think that just waiting until rates rise again will solve their problems. So they borrow and run up debt in the meantime, which, in turn, increases their expenses dramatically. This is a financial planning issue you can help them with. Find out if the asset allocation in their portfolio is correct and if you can help them increase the income from their investments, consistent with their investment objectives and goals.

• Catastrophic iIllness. Your over- 65 clients know they are covered by Medicare and that they need a supplemental insurance policy and a drug plan. But what if something really serious were to happen to them or their spouse? Find out the gaps in their healthcare coverage. What if they need long-term care? Your clients know that absolutely everything isn't covered and they don't want their children's inheritance to be spent on medical care for themselves because they didn't plan adequately.
They might assume that with a million dollars or more in liquid assets, this isn't a serious problem. Unfortunately, if they both need skilled nursing care from a specialized facility, they can run up enormous bills that can deplete their assets in just a few years. And your relationship with them will soon be at risk if they are introduced to a "specialist" who can help provide a solution to these problems.
They might find that solution by moving assets from you, and after the fact, their heirs might ask why you didn't suggest long-term-care insurance to them. So become that specialist to your senior clients. Help them with some "what-if" planning while they are both healthy and living on their own. Even if they choose not to take your advice, you have shown them that there are ways to prepare for the unexpected.
You might think that these are touchy subjects and you might be reluctant to bring them up to your senior clients. But they aren't going away—your clients still worry about them. And if you don't acknowledge them, someone else might. Your thoroughness in bringing up these worries shows your concern. And remember that your senior clients are not alone. They have friends who share the same concerns and might help them by telling them what you did for them and possibly introducing them to you.
Bryce Sanders is president of Perceptive Business Solutions Inc. in New Hope, PA. He provides HNW client acquisition training to the financial services industry. His book, "Captivating the Wealthy Investor," is available on Amazon.com.
This article appeared in Advisor Today.
Topics: Retirement Planning