Using Life Insurance to Provide a Family Legacy
Two hallmarks of life insurance—stability and versatility—ensure it will remain a valuable tool for HNW individuals seeking protection, no matter what reforms the future might bring.
Using Life Insurance to Provide a Family Legacy By Brett Berg
In recent years, the amount of money people can give away after death without that money being subject to federal estate tax has risen dramatically. Under the Tax Cuts and Jobs Act of 2017, the exemption more than doubled to $11.18 million for singles and $22.36 million for couples (the increase is scheduled to expire in 2026 unless the change is made permanent).
This is after an earlier increase to $5.49 million for singles and $10.98 million for married couples for taxes filed in 2018. There is, however, one simple way for high net worth (HNW) individuals to raise the ceiling—and provide even more to their children and grandchildren.
The secret? Life insurance.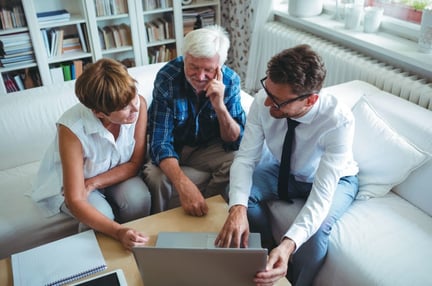 One of the most widely used HNW planning tools remains an Irrevocable Life Insurance Trust, or ILIT. It works this way: People make gifts to an irrevocable trust, which buys a life insurance policy on the life of trust's grantor. Assuming the trust has been properly drafted and proper steps have been followed, the trust receives the death benefit free from income taxes and federal estate taxes. The trust then makes distributions to its beneficiaries, according to its terms.
Undoubtedly, ILITs and related planning techniques will continue to be used in planning for single people with over $11 million and married couples with over $22 million.
Trusts, including ILITs, continue to be important for several non-tax reasons. Trust planning helps provide financial support for children from previous marriages, for special needs children, or for children who may not be experienced in money management. Even those who do not have complex tax or trust-planning issues still should develop a plan for their legacy to ensure stability for themselves and their family through market downturns and unexpected financial impacts.
The many uses of life insurance
Life insurance may help establish and sustain stability in at least two ways. First, cash value life insurance can be used to supplement retirement income. Distributions in the form of withdrawals or policy loans are generally tax free (outstanding policy loans and withdrawals will reduce the policy cash values and the death benefit and may have tax consequences).
Second, the death benefit will provide money to help provide financial stability for remaining family members. In some cases, life insurance proceeds are paid outright to adult children beneficiaries, perhaps offsetting education expenses or helping to start a business.
In many cases, even where federal estate taxes are not an issue, life insurance is either held in trust such as an ILIT, or payable to a trust drafted by an attorney to carry out the wishes of the grantor. This may be especially important when providing money for minor children or children who are inexperienced with money management.
Of course, while trusts may also be funded with other assets, life insurance—unlike many other financial vehicles—ensures that the amount desired will be the amount delivered, assuming all contractual and policy requirements are followed.
Life insurance also can help someone establish a community legacy or support charitable organizations. Someone who faithfully donates to a favorite charity can arrange for a life insurance policy to provide the death benefit to that same organization.
Even though new tax schedules make federal estate taxes less of a concern for some, the value of life insurance goes beyond tax optimization. As a first step, individuals should talk to their financial advisor about the role life insurance can play in their estate planning. Stability and versatility—two hallmarks of life insurance—ensure it will remain a valuable tool for HNW individuals who are seeking protection, no matter what changes future tax reforms may bring.
Brett W. Berg serves as Vice President of Advanced Marketing in Prudential's Individual Life Insurance business. He may be reached at brett.berg@prudential.com.
This article appeared in Advisor Today.
Topics: Sales/ Life Insurance