Time-Management Tools for a More Productive Day
To become proactive in a reactive environment, you need to have the right time-management tools to help keep your day structured, your interruptions prioritized and your momentum going. Discover these tips and tools to help you design a more productive day.
Time-Management Tools for a More Productive Day By Daniel C. Finley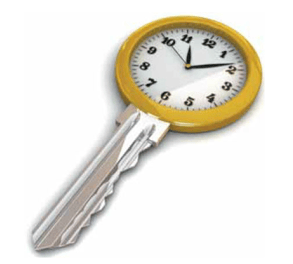 These tools will help structure your day, regardless of any distractions you may have to deal with.
In order to become proactive in a reactive environment, you need to have the right time-management tools to help keep your day structured, your interruptions prioritized and your momentum going.
Think of a carpenter going to work each day with his or her toolbox; without it, they may not have the right tool to get the job done. If you are armed with the right equipment, you can get down to the job of properly managing your time.
Time-Management Tools
Your business is the same way. You need time-management tools to stay proactive. Time blocking, a daily score card, a time matrix to-do list and a bottom-line list are some of the tools that can be used to keep your day structured, regardless of any distractions that you may have to deal with during the course of the day. To continue using these tools long enough to turn them into habits, be sure to anchor your activities with positive-reward systems and negative- punishment systems.
Here is a brief description of these tools.
Time Blocking
This is probably one of the most basic tools in mastering time management, and it is also probably one of the most effective. Time blocking is about splitting your calendar up into chunks of time in order to block time for activities that need to get accomplished. Once you form the foundation of your week, you map out your hourly activities and focus on those activities specifically to ensure greater optimization of your time.
Daily Score Card
Years ago, one of the top producers in the office revealed her secret to success. She said that I should view building and running a business as a game that you play on a daily basis. In order to "win" the game, you must keep score; creating and using a daily score card are a must in utilizing your time and your activities.
One of the ways to do this is to split up your daily score card with headings that coincide with your time blocking hours. Then, assign a point system to each sub-task under the headings. One example is creating a "prospecting" heading with sub-tasks of dials, contacts, appointments asked for, and appointments set. Assigning points might consist of 1 point for each dial, 2 points for each contact, 3 points for each appointment asked for and 4 points for each appointment set.
Set a daily goal of how many points you wish to get in each sub-task and overall. Record your progress and add up the totals at the end of the day. Remember to have a daily, weekly and monthly rewards system for all the goals you accomplished.
Time Matrix To-Do List
A prioritizing system is firmly ingrained in you already. When we get interrupted, we usually have one of two choices: We either stop what we are doing and take care of the interruption, or we put off the interruption and possibly return to it at another time.
The solution to avoiding interruptions is actually not to avoid them at all, but to have a system for prioritizing interruptions in the same way each time they occur. I categorize activities into one of the following four quadrants:
1. Important and urgent
2. Not important and urgent
3. Not urgent and important
4. Not urgent and not important
We seem to always spend our time in at least one of these quadrants for each activity we are currently working on. The time matrix to-do list is a to-do list that has four numbered columns in which you assign check marks in the appropriate column for each task. The secret is to take care of the #1s first, (important and urgent activities) before moving to the #2 activities.
The Bottom-Line List
Start the night before by writing down the top five things you must do—this is your bottom-line list. Then, prioritize these five things so that you can start fresh tomorrow with the most important activity. Next, focus only on each activity for 45 minutes of each hour, giving yourself the final 15 minutes to re-group. Get ready for interruptions because you will get them.
Once you complete your first block of bottom-line activities, take a 15- minute break and then go to the next. By the end of the day, you should have accomplished at least four of the five bottom-line activities.
The most important thing to remember is that the time-management tools described in this article will work for you, but you must utilize them on a daily basis so that they become a habit with you. Once they become a habit, I have no doubt that you can be more productive in the same amount of time than you were before you started using them.
Daniel C. Finley is the President and Co-Founder of Advisor Solutions—the premier financial advisors business consulting and coaching service dedicated to helping advisors build a better business one solution at a time. He can be reached atdan@advisorsolutionsinc.com or at 715-262-2040.
This article appeared in Advisor Today.
Topics: Time Management