Thriving in the Middle: Success In Serving Middle-Income Americans
Many agents and advisors who choose to serve middle-income Americans have built satisfying careers along the way. Read about advisors who achieved a high level of success by serving the middle market, and the strategies they've used to make it to the top. Learn how you can apply these strategies to increase your success.
Thriving in the Middle By Ayo Mseka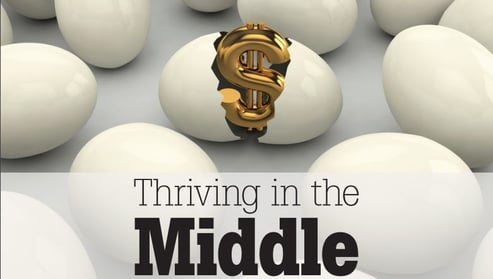 The advisors featured in this article have attained a high level of success by serving the middle market. The strategies they have used to make it to the top might help you do the same.
Despite the complaints about the time and effort it takes to sell to the middle market, many agents and advisors who choose to serve middle-income Americans actually enjoy working with them and have built satisfying careers along the way.
Take the case of NAIFA member and volunteer, Ike Trotter, CLU, ChFC. Although Trotter has had lots of opportunities to do large cases, the heart of his agency is still the middle market. In fact, he has spent 39 years working in it and is quick to let you know that he loves every minute of it.
At the age of 22, Trotter was given the opportunity to work with his dad, whose greatest success had been in the middle-income market. At that time, Trotter's biggest source of prospects was the middle market, and he felt comfortable with folks in the middle because they were in the same socio-economic group as he was. Also, working in this market allowed him to do a lot of activity, gain the self-confidence he needed to sell his products and services, and interact with "real people who had real problems. Middle-market business is the kitchen-table business," he points out.
As Trotter got older and spent more time in the business, he listened to industry greats like John Savage and Tom Wolff, who taught him how to better look for the financial needs of his prospects and clients, and to then sell to those needs. Today, Trotter is doing quite well for himself and his clients. He heads the Ike Trotter Agency, LLC, in Greenville, Mississippi, and is an MDRT qualifier.
His rules for success in the middle market are based on the tenets that have guided his movements over the years. They include:
Guide, don't push. Sell the need, and people will buy more times than not. And always remember the Golden Rule.
Keep actively prospecting. Make sure that your name and face are out there in the community. "Keep stirring the pot, and don't get complacent," he advises.
With the middle market, referrals are the best form of prospecting. And remember that "referrals that are asked for with sincerity tend to work the best," he says.
More success strategies
Another NAIFA member who has found success in the middle market and believes it is a "pleasurable and profitable market" is Jennifer Alford, a financial advisor with Creative Financial Partners in Perrysburg, Ohio.
Alford, a Four Under Forty Award recipient, enjoys working with middle-income consumers because they are most like her, she says. Also, "they are grounded, have worked hard for their money, are not pretentious, and tend to be very realistic about life."
They have seen their parents' nest eggs dwindle due to the high cost of eldercare and they don't want this to happen to their kids. Instead, they want to be able to leave something behind for them. Because of these experiences, she points out, they are usually open to investing in life insurance and long-term-care insurance policies.
An annuity with a safety net and some growth potential also appeals to these folks, because they are more protective of their assets than their more affluent counterparts. IRAs are also great investments for many middle-income earners, who have seen their benefits scaled back by their employers because of the difficult economic environment.
In addition, Roth IRAs and 529 plans tend to work well with the middle market, notes Mike Smith, LUTCF, with CPS Horizon in Hales Corners, Wisconsin, and Chair of NAIFA's Member Benefits Committee. Disability income insurance is appealing to them as well, as are life and longterm-care insurance products. However, Smith points out, more middle-market clients are purchasing hybrid products, which essentially are life insurance products with LTCI or critical illness insurance riders.
Getting down to business
As you work with these clients and prospects, your first order of business is to conduct a thorough financial-needs assessment to discover and pinpoint their financial needs, goals, and dreams, suggests Smith.
Also, spend time collaborating with other financialservice providers to make sure that their needs are met. These professionals can include an attorney for their basic estate-planning needs, an accountant for their tax planning, and a multiline advisor for their multiline insurance needs. "Collaborating as a team better serves the client and can help keep competition away," he points out.
In addition, keep in mind that advisor trust is the number one concern for many middle-class families, notes Alford. In fact, she thinks that advisors leave money on the table when they invite their middle-market prospects or clients to their offices to discuss the products or services they offer.
Advisor 2020's Tips for Middle-Market Success
If you are thinking of entering the middle market or want to beef up your sales in this key demographic, one resource that will be of tremendous help is Advisor 2020, a new book on industry trends and opportunities for advisors seeking success in a changing marketplace.
Sponsored by NAIFA and developed by the GAMA Foundation, Advisor 2020 identifies possible future scenarios to help you anticipate and even influence the financial forces that will shape the future.
Apart from identifying these trends and showing you how to best capitalize on them, the book also offers some insightful tips and techniques for advisors who plan on pursuing the middle market. Here are a few tips from this ground-breaking research:
Middle-market solutions that could see growth include lifetime income annuities, longevity insurance, long-term-care insurance, and combination products.
Given the middle-market's lower overall savings rates, you will need to work with a significantly larger client base to generate the same amount of protection coverage and investments as their more affluent counterparts.
To effectively sell to the middle market, you will want to serve as a credible and independent source of information and advice and be fully engaged in educating them about simple steps to address their long-term goals.
You need to carefully craft your messages to engage these clients. Research by the Center for Retirement Research found that people are more likely to engage in financial planning when they have a positive goal, such as to sustain a quality of life, than when they have a negative goal, such as avoiding financial disaster.
To be most effective, you must be easy to access on demand, and consumers will need to hear from you multiple times. This is one reason why delivering educational sessions is a good strategy for middle-market audiences.
You will also benefit from using a multipronged communication strategy to provide financial education and information through different channels and media.
Segmenting the Market
LIMRA and Epsilon recently segmented the middle market and offered some insights that can assist insurers and agents "retain their best customers, grow current relationships by identifying their customers' most critical financial needs, and focus on targeting the most receptive new prospects." Below are the segments identified in the study, and opportunities for insurers and agents as they deal with these different segments.
Segment 1: Full House, Big Dreams Market Size: 8 million households Opportunities: Contact current clients to review adequacy of coverage to protect family. Leverage cross-sell opportunities because this group has indicated that it values protection products after purchase. Include both partners and spouses—they have dual incomes to protect.
Segment 2: Balanced Believers Market Size: 11 million households Opportunities: Leverage crosssell opportunities due to current satisfaction with insurance purchases. Financial planning to eliminate debt and plan for the future.
Segment 3: Eyes on the Prize Market Size: 6 million households Opportunities: More likely to buy P&C insurance online. Last life insurance purchase influenced by an offering at work. More likely to buy based on agent recommendation. Works with independent agent—strongly influenced by agent. Also open to direct mail and online channels.
Segment 4: Watching Every Dime Market Size: 21 million households Opportunities: Because they currently rent, they may need insurance when they buy their first home. Recommendations of family and friends are important and referrals should be leveraged.
Segment 5: Controlling My Destiny Market Size: 1 million households. Opportunities: Tougher segment for protection products. Investments, i.e., bonds or annuities, may be appealing to some. Source: LIMRA
"Middle-market people relate to others better if they're met on common ground," Alford says. "You will get their business if you develop a personal relationship with them."
You will get their business also if you carefully select events that appeal to them. For instance, Alford suggests you spend time with them in events they actually like. The fancy dinner at a country club, followed by a presentation, is a no-no for most of these folks, who may view you as elitist and someone who can't relate to them.
For example, Alford knows someone who hosts "Wing Nights" for second-shift factory workers. He'll rent a room with a TV in it at a local pub near the factory where they work, and together, they will watch sporting events, eat wicked hot wings, and chat. The relationships he develops with them are followed closely by referrals.
To build and cement relationships, Alford's firm hosts a movie night at a cinema for their clients and their families. They do this around the holidays every year. They show a funny holiday movie and even have Santa Claus visit the theater, with small gifts for the clients. Alford also suggests taking 5 to 10 of your clients to a shooting range or hiring a golf professional player to counsel them at a driving range.
Finding success with middle-income folks is not as challenging as it is sometimes made out to be. Yes, you do need to work with more of them than you would if you were dealing with wealthier clients, and yes, you may sometimes need to spend more time with them as you teach them basic financial concepts. And since they tend not to have a great deal of disposable income, you may need to help them find the money they need to purchase the products and services you are recommending.
But as the advisors interviewed in this article point out, working with this group affords you the opportunity to deal with real people with real problems, and to perform a task that is near and dear to you: Making a positive difference in the lives of others.
This article appeared in Advisor Today.
Topics: Sales