Taking Incremental Steps Toward Success
Leverage the tips outlined in this article to move your practice forward, one step at a time.
Taking Incremental Steps Toward Success by Mike Morrow, CFP
Some financial advisors make it look so easy. They continue to keep their prospect pipeline full, generate leads and increase their bottom line even in a less than favorable economy. I believe that the key to this success lies in taking small incremental steps every day and moving forward toward business goals, no matter what the day brings.
Remaining positive in this market environment is challenging, but we have to be focused on expanding opportunities and building our practice. The five tips outlined below have proved to be important in helping me achieve success, and can be leveraged in your business to move it forward, as well:
1. Control interruptions.
There are interruptions that no matter how hard you try, you simply cannot control. From instant messages, emails, phone calls and someone simply walking through the door, we are constantly bombarded with unannounced interruptions. While these can lead to potential business, they remove you from what you were currently working on.
• Take control of distractions that are destroying your productivity by trying these useful tips:
• Schedule a specific time to answer emails and text messages.
• Get to the office an hour earlier.
• Give yourself one hour away from the computer.
• Use time-management strategies.
2. Be an early riser.
The saying goes, "The early bird catches the worm," and there's no exception in the financial business. Waking up earlier allows you to start the day with a victory and set the tone for a happier and more productive day. Early risers typically begin their day by prioritizing what they want to accomplish, which helps them identify long-range goals. It is possible for those less inclined to become early risers with a little willpower strengthening. Tap into the power that mornings have to offer to help you: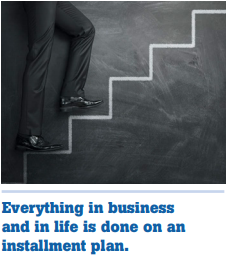 • Anticipate problems.
• Experience fewer interruptions.
• Be more proactive.
• Have greater job performance and success.
3. Embrace technology.
Today's evolving technology allows us to bridge communication gaps and offer great service to clients near and far. Incorporating new technology into your management strategy can provide greater transparency, faster information and improved service. It also appeals to the convenience and responsiveness that clients have come to expect in this digital age. Reap the benefits technology has to offer by incorporating one of these tools:
• Conferencing software such as GoToMeeting to conduct meetings with clients who can't make it into the office.
• Power Presenter app for your iPad is a remote presentation tool for out-ofoffice client meetings.
• The Cloud to safely store client presentations, documents and account information to access virtually wherever you are.
• All-in-one desktop computers that have network-ready hardware that responds to touch, keyboard and even voice.
4. Sharpen your skills.
Any skill requires maintenance and ongoing development. In the financial industry, there is an incredible amount of information you need to stay up-to-date. Don't lose sight of the importance of furthering your education. Improve your skills today by:
• Listening to educational audio programs
• Joining financial associations
• Attending industry conferences
5. Find your niche.
To market yourself as an expert in our fastpaced industry, it is necessary to be focused and have a plan. Going after anyone and everyone to grow your business ultimately will not bring you much success or credibility. I suggest identifying your niche market and immersing yourself in it by:
• Exploring what excites you the most in the business
• Learning the ins and outs of a specific field and focus your efforts on becoming an expert in that area • Identifying common characteristics of your current clients and trying to attract more with a similar profile
There is no secret recipe for success. It is out there for everyone to achieve but only through engagement and effort. Many people get discouraged when they don't see immediate results. But remember that we don't succeed all at once, and we don't fail suddenly. Everything in business and in life is done on an installment plan. You can leverage the tips outlined in this article to become even more successful than you were the day before.
Michael Morrow, CFP, is an international speaker and the author of Leading Marketing Strategies and The Picture Sells the Story. Morrow knows what it takes to build a successful, referral-based business from the ground up. Many successful professionals have grown their business by implementing his marketing strategies. For more information, visit www.ideasforadvisors.com.
This article appeared in Advisor Today.
Topics: Sales/ Running Your Practice