Leveraging the Power of Study Groups
Study groups provide an effective learning strategy for many agents and advisors. Although they can be successful, they are not being fully utilized by many agents and advisors. As an advisor looking to grow your business, should you consider creating or joining a study group?
Study Groups: Are You Overlooking a Fantastic Opportunity? By Bryce Sanders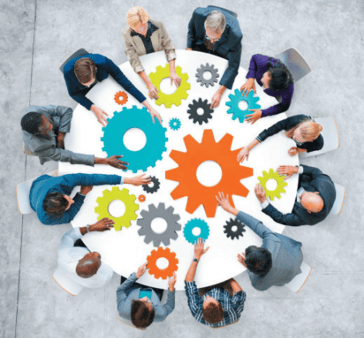 Study groups offer many benefits, including the opportunity to address common concerns and learn from the best in the business.
As most of you know, study groups provide an effective learning strategy for many agents and advisors. Although they can be successful, they are not being fully utilized by many agents and advisors. As an advisor looking to grow your business, should you consider creating or joining a study group?
There are many reasons why you should. For example, everyone attends the same lectures and if they miss a class, they can share notes with someone else. Also, not everyone absorbs information in the same way. In a study group setting, participants can share key concepts by collectively reviewing notes. In addition, a group usually digests information better than an individual. If several reports are available, each member can review those reports and summarize them. Also, since people tend to learn at different speeds, members who learn quickly can explain complex concepts to other members in simple terms.
I recently sat down with Vita Trincali, formerly with MetLife and now a training director, to find out how study groups function in the insurance industry and some of the advantages they offer.
Bryce Sanders: What types of study groups have you organized?
Vita Trincali: Some are composed of top producers, while others have newer or experienced advisors who want to move to the next level of success. We've also organized study groups consisting of advisors from different levels.
Sanders: Which work the best?
Trincali: Homogenous groups tend to work better. Getting top producers together is amazing. They might have egos; yet, they respect what others have to say.
Sanders: Describe some of the study groups that exist today.
Trincali: Some groups consist of advisors who want to grow their business, while others are made up of small-business owners. A common thread is that their target audience has similar values or needs and has the ability to pay for their products and services.
Sanders: Where does a training director or manager fit into a study group?
Trincali: Study groups perform at their best when they are facilitated instead of when they are run. When you run one, it tends to feel like a class, with someone presenting information. A good study group determines the goals and objectives of its members--specifically what they want to achieve. Four topics might be on the agenda. Each group member is responsible for one topic. The facilitator kicks off the session, draws people out if necessary and provides a summary of what happened during the meeting.
Sanders: Is there homework?
Trincali: Group members need to be prepared in order to present their assigned topics. They must take ownership of their topics. At the meeting, each member explains how they are going to apply their strategy and share results.
Sanders: How do you measure the success of a study group?
Trincali: Firms often use metrics; yet, results often don't materialize immediately. Useful benchmarks to consider are if the advisor stepped out of his comfort zone, and if the group's behavior has changed.
Successful Study Groups in Action
While many study groups are small, there are some large ones that work very well. Take the case of the African American Study Group, which has been led for more than 20 years by Tim Mackie, CLU, ChFC, Executive Vice President for the South Central Branch of AXA Advisors, LLC. The group, which has been in existence for over 30 years, has different subsets of agents and managers totaling about 200 members, each with an accountability partner.
The group has been very effective. It's been trending at a 10 percent production growth, with a recent high point of 20 percent annual business growth. About seven and a half years ago, AXA Advisors recognized its success and spearheaded more culturally based study groups within the firm. Members convene at an annual conference, and the group attracts about 150 attendees. No qualification threshold is required to attend, which creates an environment in which newer agents can mingle with top producers.
Mackie explained, "We are drawing top producers who also happen to be African American. Members of the group share a cultural experience and ethnicity, but at the end of the day, we are all AXA Advisors financial professionals." He is passionate about the success the group has achieved by learning from each other.
An All-Female Study Group
Another successful group is the one that Debbie X, a financial planner in upstate New York, belongs to. Debbie first became involved with the group in 2003. About 14 years later, six advisors from Hawaii, Texas, Minnesota, California, New York and Colorado keep in touch regularly. Over a ten-year period, they have met annually.
"Involvement in our study group has been personally very helpful," said Debbie. "We each have someone we can talk to, someone who knows the industry and will keep our conversation about strategies or challenges confidential.
Being spread across the country also offers some advantages. We freely share strategies used in our home markets because we aren't running the risk of creating a local competitor."
Everyone in Debbie's group is a woman. "This makes sense for us," she said. "Women share ideas differently from men and often have different goals for running their businesses. Women are often considered nurturing and we build on that in our group." The group has been together for a long time, because, as Debbie noted, "We are still yielding results. We exchange great ideas about practice management and marketing. Our story is still being written."
Bryce Sanders is president of Perceptive Business Solutions Inc. He provides HNW client acquisition training for the financial services industry. His book, "Captivating the Wealthy Investor," is available on Amazon.
This article appeared in Advisor Today.
Topics: Getting Started/ Running Your Practice