Serving American Families
This financial planner worked with a client with scant financial resources—and learned why it is imperative to serve all Americans.
Serving American Families by Ayo Mseka
As an agent or financial planner, you have a pretty good idea of why you chose your line of work. Perhaps you wanted to use your talent to help people achieve their financial goals and dreams or to make a positive difference in the lives of others. Regardless of what inspired you to work in financial services, nothing drives home the value of what you do more vividly than an encounter with one of your clients, as the following story demonstrates.
NAIFA member Tyler Hirth is a financial planner at MetLife, where he provides various financial products and services to his clients, including assets under management, long-termcare insurance, disability income insurance and life insurance. In August of 2014 he acquired a client, Bruce, who at the age of 52 had been diagnosed with terminal pancreatic cancer.
Hirth did not know about Bruce's illness when he became his client as part of the Transition Solutions Program at MetLife. Under this program, if a client with group benefits were to leave his employer for whatever reason, his information is passed on to an agent or financial planner.
Once Hirth received this information, he contacted Bruce and requested a meeting to talk about his benefits. At that time, Bruce had life insurance, group health insurance and a 401(k) plan. His first response was to inquire if he would be charged a fee for meeting with him. Once he was told no, he agreed to meet with Hirth, who reviewed his benefits with him. When Hirth asked him why he had left his employer, he told him about his terminal illness. "All of a sudden, a light bulb went off," Hirth said. "Bruce was extremely worried about the possibility of losing his life insurance. He thought that once he left his company, he would lose it. Along with losing his life insurance, he didn't know how he was going to pay the premium."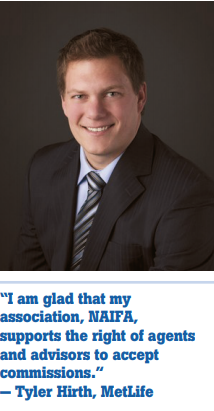 Insurance to the rescue
But after reviewing the policy, Hirth had some good news: Bruce had a group term policy with a clause indicating that if the policy owner were to suffer from a terminal disease, he would receive 80 percent of the face amount of the policy—an accelerated deathbenefit option. "I told him I could give him a check for 80 percent of the $240,000 life insurance policy he had within five to 10 business days, which would amount to about $192,000," Hirth said. "When he and his wife heard this, they started crying. The money would come in handy as bill collectors were already calling for payment of their medical bills."
When Bruce asked Hirth why the HR person at his previous company had not informed him about this feature, Hirth's answer was direct and to the point: "Because they do not know. They usually administer lots of policies and just can't know the details of each and every one. My job is to know the ins and outs of each policy, and an HR person cannot do that."
True to his word, Hirth delivered a check of $192,000 to Bruce shortly after their meeting. When he was asked what he planned to do with the money, Bruce said he wanted to pay for his daughter's college education. Then, when Hirth asked him what he planned to do for himself, he said he wanted to redo the kitchen in his home, since he and his wife love to cook. His wish, Hirth pointed out, was for his wife to always have a beautiful kitchen to cook in.
A rewarding experience for all
The work Hirth did for Bruce was no doubt very rewarding to Bruce. Even as he grappled with a terminal illness, he was able to meet some of his financial obligations and take care of his loved ones.
But perhaps the person who benefited the most was Hirth. "It was one of the most rewarding moments in my career." he said. "It opened my eyes to why we have to operate under a suitability standard in the way we administer and sell our products and services. As a commission-based planner, I did not have to charge Bruce a dime. This was great because if I had to charge him, he would not have taken an appointment with me, I would not have met with him, and I would not have been able to show him what his policy could do for him."
Hirth's willingness to go the extra mile produced an additional benefit for him. At a football game not too long ago, two of Bruce's friends wanted to shake hands with Hirth because Bruce had told them about the great work Hirth had done for him. Moreover, they wanted him to serve as their financial planner. And when Hirth shared this story with Congressman Erik Paulsen of Minnesota, the lawmaker was highly impressed. "He did not know that some life insurance policies could do what Bruce's policy did," Hirth said. "He asked me to write up my story and forward it to his staff person so it could be used."
"What we do is noble," Hirth concluded. "I hope that the industry will not be forced to operate under a fee-based system, because if that happens, Middle America will be largely underserved. Many in this group may not have the money to pay for our services or be willing to pay for our services. I am glad that my association, NAIFA, supports the right of agents and advisors to accept commissions."
This article appeared in Advisor Today.
Topics: Running Your Practice/ Testimonials