Many workers feel more financially secure because of workplace benefits.
Security Begins at Work Ayo Mseka
Nearly six in 10 middle-income Americans say they feel more financially secure as a result of financial and insurance benefits they receive through their employer, according to a study by Massachusetts Mutual Life Insurance Co. (MassMutual).
However, not all workers agree, especially those with lower-incomes, which may indicate a need for more financial education through the workplace.
Fifty-eight percent of middle-income workers say they feel more secure because of benefits at work, according to the MassMutual Workplace Benefits Study.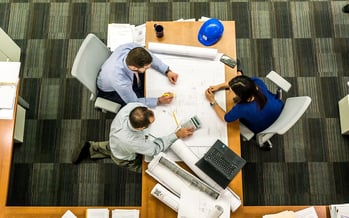 The Internet-based research was conducted on behalf of MassMutual by Greenwald & Associates and polled 1,010 working Americans ages 25-65 who had annual household incomes between $35,000 and $150,000 and participated in making household financial decisions.
While 65 percent of upper-middle-income Americans or those with annual household incomes of $75,000 to $150,000 point to employee benefits as a source of greater financial security, only 42 percent of those with incomes of less than $45,000 say the same, the study finds.
Those who do not feel as financially secure are less likely to have access to benefits such as a 401(k) or other retirement savings plan, or life, disability, accident or dental insurance.
"MassMutual's study indicates there may be a knowledge gap in the understanding and use of employee benefits among certain employee populations," said Jon Shuman, leader of MassMutual's voluntary benefits unit. "More low- and middle-income workers are likely to say they wish their employer did more to help them set financial priorities than upper-middle-income workers."
MassMutual is stepping up its efforts to educate workers about how insurance benefits may help solve some individual financial problems and protect household finances. The insurer is systematically training dozens of retirement education specialists around the country to educate workers about how insurance benefits may complement their retirement savings and be used to meet individual financial security needs.
Although only one in four employees is offered financial education at work, MassMutual's study finds as many as half would welcome additional help or guidance on personal finances from their employer. Moreover, 51 percent expressed a desire for their employer to provide more education about saving for retirement.
What Workers Want
Millennials are dramatically more open and interested in receiving help at the workplace. Seven in 10 millennials would welcome financial planning services and six in 10 would be interested in budgeting assistance at work, according to the study.
When polled, many workers expressed interest in specific employee benefits. For example, 78 percent of survey respondents said they were "very interested" or "somewhat interested" in disability insurance, MassMutual's study found, with interest high across all income levels.
"While workplace benefits can help employees feel more financially secure, each employee's personal financial situation is unique," Shuman said. "Employers and brokers can help through education and make a wide range of benefits available on a voluntary or employee-paid basis to meet as many individual financial needs as possible."
This article appeared in Advisor Today.
Topics: Financial Planning