Riding Out the Stock Market Roller Coaster
Use these ideas to help clients weather market volatility.
Riding Out the Stock Market Roller Coaster By Andrew Crowell
Market gyrations in 2018 have caused many to question whether or not the strong bull market that began in March 2009 is about to come to a crashing end. The relative calm and upward trajectory enjoyed in 2017 has been followed by extreme moves both up and down this year.
For example, the S&P 500 made daily moves of 1 percent or more just 10 times during 2017, whereas just the first quarter of 2018 has already seen 27 moves of at least 1 percent, according to D.A. Davidson Wealth Management Research. Risks associated with inflation pressures, trade disputes and the upcoming midterm elections have all provided fuel for the volatility fire.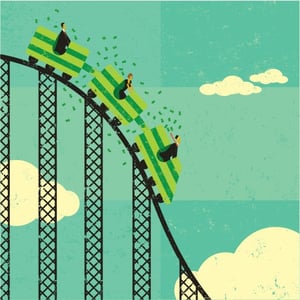 Reassure and reaffirm
It is in such times of volatility that it is most important for advisors to reassure their clients, helping them navigate these choppy waters so they can still arrive safely at their desired investment goals.
But how is this done? A good starting point is to advise clients to relax and keep perspective. Advisors should keep in mind that the markets were unusually calm and placid during the past year and should remind their clients that market volatility is actually quite normal and that corrections happen with regularity. Choppy markets are to be expected as part of a healthy bull market, and the good news is that they don't last forever. Today's 24/7 news cycle and myriad portable messaging devices make it nearly impossible not to hear and want to react to the latest sound bite.
However, acting on those emotional impulses may actually sabotage an investor's long-term plan. Emotional responses to headlines can cause investors to both buy and sell at inopportune moments.
Review and rebalance the plan
Advisors should refer to their clients' financial plans and, if they don't have one presently in place, use this time to develop one. Having a comprehensive financial plan can help keep a client's eyes focused on the destination rather than on the daily distractions. Comprehensive plans anticipate periods of volatility and are constructed to withstand periods of turbulence. Thanks to advances in medicine, we are living longer and that means a financial plan is going to need to weather not just occasional corrections, but even bear markets.
Assuming your client has a financial plan in place, there are some additional actions that may be warranted in light of volatility. Has their asset allocation drifted from their plan targets? If so, they may want to use the current volatility to rebalance and reaffirm those targets. Rebalancing should be a regular part of managing to a financial plan.
For example, if an investor had a 60 percent equity and 40 percent fixed income portfolio that had not been rebalanced since the bull market began over nine years ago, this same portfolio would now be nearly 80 percent / 20 percent just due to market moves. This makes the portfolio even more vulnerable to volatility at a time when the investor is nine years older and might be trying to reduce the risk of steep losses!
One of the other important benefits of rebalancing is psychological. Taking some action during times of extreme market moves scratches an itch many investors feel and helps in preventing radical "all in" or "all out" moves that can be so hazardous to plans.
Rebalancing gives your clients a practical action to take while still maintaining and reaffirming their broader financial plan objectives. Part of advising clients on rebalancing might also involve recommending that they raise a bit more cash. Having some cash reserves as part of a financial plan out of harm's way provides the mental peace of mind to help investors navigate the stormy waters.
Reassess Risk Tolerance
Perhaps the markets have better clarified a client's true risk tolerance. After all, it is quite easy for almost anyone to think they're a long-term investor who can ride through the drops—until these drops actually happen.
Sometimes market volatility provides the clearest insight into a client's real investment temperament. Advisors should have these discussions with their clients during times of market extremes and consider whether allocation targets should be adjusted in the context of the broader plan goals.
Having a thoughtful discussion first and gauging the impact that any revised targets could have on plan success will help ensure clients do not sabotage a well-crafted plan by getting too conservative too early.
While there are a number of actions that advisors can take with their clients in response to market volatility, it's important to always think in the context of a client's overall financial plan. After all, the plan is created to help clients think long term and should already have strategies in place for weathering volatile periods in the market. If advisors use these actions and stick to the plan, their clients should remain free from any potential emotional investing pitfalls.
Andrew E. Crowell is Vice Chairman of Wealth Management at D.A Davidson & Co.
This article appeared in Advisor Today.
Topics: Financial Planning