Prospecting Ideas That Work
These ideas have worked for many advisors—and may do the same for you.
Prospecting Ideas That Work
By Ray Vendetti, CLU, ChFC, and Robert Arzt, CLU, ChFC, LLIF
Ask any advisor what his biggest challenge is and he will most likely tell you that it is attracting a steady stream of highly-qualified prospects. If you, too, are having trouble attracting enough prospects, the ideas from these two industry experts will help you strike gold in your search for a more profitable practice.
Partner with other business owners to attract high-quality prospects. Many prospects for new business lie right under our noses- they are our current customers. Programs like calling them to offer a rate quote at renewal time, informing them of the many discounts they're missing or event offering annual review, tend to have limited results. So how do you effectively "mine" your current customers?
One event that many of my coaching clients have conducted successfully is an open house at their offices. However, in order to attract attendees, you need to use more than "a come in and meet us" approach. An effective approach is to partner with another business owner and offer a free information-type seminar.
For example, you can invite a local wine merchant to present ideas on different wines by type, price, locality, etc. As you ponder this approach, though, keep in mind that wine tasting may not be allowed by your community regulations. However, you can offer a drawing prize of featured wines at the end of the talk. There will be more on this later.
Another good idea is to team up with a local nursery and offer tips on growing an organic vegetable garden or on how to plan drought-resistant plantings (This is a big topic here in parched sunny Southern California!). Again, you can offer attendees a gift certificate for the nursery as a drawing prize.
Other ideas include having a travel agent on specialty cruises or vacation resorts or having a massage therapist talk about the benefits of therapeutic massages, with demonstrations. The ideas are limitless and you can become very specific, based on your customer base. Following each talk is an opportunity to have a drawing for a related prize, a gift certificate or discount coupons.
A great marketing idea is to have your guest invite his or her base of customers to your event. Both of you can benefit by reaching out to each other's customer base for new prospects.
The drawing for these prizes is extremely important. Create an information card for your drawing that includes your guest's name, telephone number and email address. But also include boxes that participants can check off for more information about the products and services you offer, such as college planning, retirement strategies, life insurance, or income replacement. You only call back the participants who checked off a box, and on some cards, multiple boxes will be checked.
This goodwill-type seminar that involves no selling will not only help you identify current customers who may have an interest in one or more of your products or services; it will also help you identify several new prospects from your partnering business customers.
R. J. Vendetti, CLU, ChFC, is with Vendetti Insurance Services in California. Contact him at 760-443-1719 or atray@rayvendetti.com.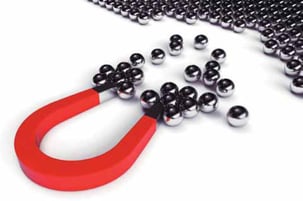 Define your ideal prospect. When I first started my insurance sales career, my mentor told me that the one skill I needed to master above all others was the ability to prospect. Of course, there were a host of other talents and traits that were also important to possess, but the truth is that if you didn't have enough people to work with, you were at great risk of failing. This had absolutely nothing to do with how accomplished you were with your product or case-design skills.
So, what is the best way to ensure that your prospecting pipeline is always full? It all starts with defining your ideal prospect. The problem that I see so often in my coaching practice is that advisors confuse personal characteristics with real identifiable target marketing prospect characteristics.
For example, wanting to work with people who are between the ages of 35-55, live in a certain geographic area, and have children and a spouse that they care about would be great; however, that description of the ideal prospect is not specific enough.
A better approach would be to pick a market segment with people who possess those characteristics, have something in common with each other and have a way to communicate with each other. In that way, your reputation will precede you and prospects in that market may hear about you first — before you ever have the opportunity to contact them.
However, finding a market segment that's the best for you may take some time. One way to get started is to find and develop a personal sphere of influence. To do this:
Identify groups, organizations, businesses, social or spiritual organizations, etc. where you have been either successful in the past or present, have a good reputation and/or have active connections. I am referring to groups here and not individuals.
Create a contact list of the people in the groups you have identified, reach out to them and offer to re-introduce yourself to them.
Think about all the people you may know in those groups who you never really had a serious conversation with about what you do. Offer to meet with them, not to sell them anything, but to show them what you do. It is important to communicate to them that this is not a sales call.
After showing them what you do via a sample presentation, case study, etc., ask them who they may know (inside or outside of the group) who might benefit from what you do.
You'll be surprised at how many people in your "warm" or natural market will agree to meet with you, how many will have referrals for you, and yes, how many will do business with you.
Robert Arzt, CLU, ChFC, LLIF, is President and Founder of Polaris One and Insurance Coach U. Contact him at 510-671-6226 or at bob@insurancecoachu.com. He offers a free coaching session and a free download of his book, «What Every Great Salesperson Knows, A No-nonsense Guide to Success." His website is www.insurancecoachu.com.
This article appeared in Advisor Today.
Topics: Networking/ Getting Started