Properly Preparing for a Closing Appointment
Financial advisors are sometimes more focused on closing the appointment, instead of focusing on the appointment itself. It is important to map out conversation points before meeting with your prospects. By having properly planned out conversation points, you will set yourself up for success. Read this article for more information on how to successfully close an appointment with your prospects.
Properly Preparing for a Closing Appointment by Dan Finley
Before meeting with your prospects, map out the conversation points you need to have with them.
Most financial advisors wouldn't dream of not preparing appropriately for a second appointment. However, finding out what your prospects need to do to reach their financial goals is not enough. You need to also properly plan out conversation points to have with them.
When I coach financial advisors and agents, they often want to focus our session on how to prepare for an important upcoming appointment. Many times, it is their second appointment with a high-net-worth prospect that they want to close. However, rarely do they initially understand that there is a psychology to closing a second appointment, which, if done properly, will have prospects wanting to buy well before they are shown any recommendations. My second appointment formula has several strategic steps that work. You may want to skip a couple in the process, but don't. Each step is vital to the next.
• Preparing your questions. It's no secret that first appointments are typically introductory meetings when you ask the prospect a number of questions to get to know him and uncover his specific needs and financial goals. This will help you put together your recommendations.
Unfortunately, after that first meeting, most advisors don't take the time to ask some necessary additional questions. If you ask those questions before presenting your recommendations, you can actually take the prospects down on what I call the "Questions Path" to help them uncover what it is they need. As a result, they will end up telling you what they should "buy." If you do this successfully, they will see the need for your recommendations even before you show them what those recommendations are.
• Preparing to listen. It's been said that "people don't care how much you know until they know how much you care." Try using a technique I call "The 4 Levels of Empathetic Listening." When a prospect says something, most advisors often mimic what they hear or rephrase what they hear.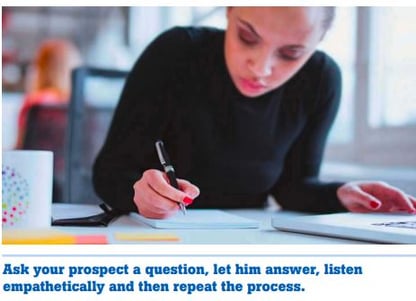 While I don't recommend mimicking, I do recommend rephrasing. If you want to make an even better connection, reflect on what a prospect is indicating that he is feeling. An example may be, "That sounds frustrating, is it?" After you've started incorporating this, try reflecting the feeling and then rephrase it as: "That sounds frustrating because it sounds to me that you really aren't sure what to do to reach your financial goals?"
• Preparing the close. Once you use a combination of questions and empathetic listening, the prospect will hopefully come to the realization that he needs YOUR help. At that point, simply explain your recommendations, but also reiterate how this will help him fill his need.
Use a question like this: "Based on what we talked about, how do you think these strategies will help you the most to reach your financial goals?" If you used the aforementioned techniques, he should be able to answer this question. When he does, simply ask, "What do you think is the best course of action for you?"
Putting it all together
To implement these strategies in your practice, use the formula: Think Question, Answer, Filler. Ask a question, let the prospect answer, use empathetic listening, and then repeat the process. When you prepare your questions ahead of time and practice your listening skills, you will make it easy for your prospect to want to work with you.
Daniel C. Finley is the President and Co-Founder of Advisor Solutions—the Premier Financial Advisors Business Consulting and Coaching Service dedicated to helping Advisors Build a Better Business One Solution at a Time. He can be reached at dan@advisorsolutionsinc.com or via 715-262-2040.
This article appeared in Advisor Today.
Topics: Sales