As an advisor, your number-one job is to prospect; your number-two job is to sell yourself; and your number-three job is to sell your products and services. Achieve your version of success by combining the key components of successful prospecting with a plan for constant action.
Profitable Prospecting By Connie Kadansky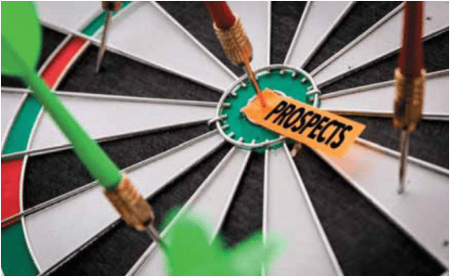 Achieve your version of success by combining the key components of successful prospecting with a plan for constant action.
Today's ever-changing business world means that selling is now the key differentiator. As a financial advisor, you are a seller of products and services, and it's time to embrace that title. Daniel Pink, in his book, To Sell Is Human, defines sales as "solving people's problems for a profit."
I recommend that every financial advisor become a professional lead generator who happens to sell financial services. As an advisor, your number-one job is to prospect; your number-two job is to sell yourself; and your number-three job is to sell your products and services.
With this clear understanding of who you are and what you do for a living, it is time to address the following questions:
How Many Appointments Do You Strive to Set Per Week?
The matrix below illustrates that to have new business consistently, advisors need to build their prospecting activity around a strong vision. Without a vision, there is confusion as well as a lack of direction and motivation. What is the most important piece of a puzzle? Most people say it's the corner piece, or the last piece. In reality, it is the picture on the box.
What Is Your Vision?
Vision is the starting point of all high performance. Whenever you create something, you do it twice—first mentally and then in actuality. The biggest barrier to high performance is mental creation because you will never outpace your mental models. Vision creates ownership. When you have a strong vision, you are driven toward that vision and remain focused on it.
What Are Your Skills?
In addition to having a vision, you need skills to prospect. You need technical skills to craft a 2017 prospecting script that is outwardly focused—around engaging prospects in a way that allows you to discover how much personal attention your prospects give to managing their financial well-being. You also need emotional skills to prospect consistently with enthusiasm and warmth so that you create trust with your prospects. And ultimately, you need the emotional capacity to be resilient and detached from the outcome.
An emotionally resilient financial advisor knows that they can only control their own activity—they cannot control their prospect. They can influence their prospect, but they cannot control them. When a financial advisor lacks the skills to prospect consistently, they typically have anxiety that can paralyze their new businessdevelopment intentions.
What Are Your Incentives?
The incentives for landing new business go beyond income. Certainly, income is a powerful motivation that a certain amount of assets under management will bring in a nice amount of income.
Incentives beyond income include how your efforts impact people and bring value to their lives. When a client retains you as their advisor, you feel connected to that client, and your relationship with him becomes part of the incentive. An unspoken incentive in many cases is the impact your work has on your clients' families and businesses.
How Deep Are Your Resources?
It takes resources to profitably prospect. When an advisor lacks resources, they can easily become frustrated. Resources include everything needed to be effective, such as a contact-management system, a list of prospects and appropriate time to prospect. This can be a challenge for some; however, with genuine introspection and by employing your problem-solving skills, you can begin to build a consistent flow of prospects. Opportunities are everywhere.
Resources for effective prospecting include a good list of prospects, an effective tool for managing conversations, and the time to do it effectively.
A CRM will ensure you don't lose track of any real opportunity. CRMs keep your tasks organized and provide reminders of past conversations. They have the added advantage of allowing you to figure out what activity leads to what revenue and in what timeframe. Product knowledge is a resource, and expanding that knowledge is wise. Lastly, a playbook that includes 2017 scripting allows you to develop the best approaches for diverse scenarios.
What Is Your Action Plan?
Most advisors admit that an action plan is what is missing in their prospecting equation. They start out with good intentions that tend to go by the wayside with the first phone call.
A written action plan holds you accountable to perform. It means being willing to be measured, whether you like it or not, and allows you to know with certainty where you are and what you have. Those who are trying to succeed without an action plan do not know what it takes to win.
To have an action plan, one must again have vision. Without vision, there is no consistency, motivation or direction.
Written plans are the ones that work, starting with designing your ideal work week by accounting for every hour and every minute of every work day.
Begin by writing down your high-value activities, such as appointment- setting time (prospecting), case preparation, client review, team meetings, continuing education, study, business reading, training, managing inbound calls, emails, exercise, volunteering, networking, client meetings, succession planning and administration.
Planning is about imagining the future and reducing it to paper with action steps, due dates and, ideally, accountability. The power of a good plan is that it pulls you through distractions and resistance and leads you toward what you really want. The reason you don't currently have what you want, even though you may have originally set out on a clear path, is that you ran into your own resistance to achieving it. A plan lets you know where you run off the rails and keeps you focused on your high-value activities.
How Effective Is Your Process Control?
Process control comes from knowing which activity leads to what amount of revenue and when it comes in. For example, prospecting will return revenue at a certain rate, marketing at another. Process control tells us the most effective use of our time. The only way to know whether cold calling, networking or any other method of finding new opportunities is the most effective is to track it in any standard CRM.
The gift in this is that it gives you the power to release the deals, projects and prospects that you hope will work out but never do. Start qualifying prospects as you become aware of them, and decide quickly whether to pursue them. Applying qualifications enables you to keep your prospecting moving. Regardless of your lead-generation process, eat it like a whale eats: Take big chunks and spit out everything that doesn't express interest. Do whatever it takes to create qualifications and apply them to each prospect. This kind of critical strategic planning is necessary if you are to achieve your goals. Train yourself to create an ideal work-week visual that includes only actions that are strategic and critical in nature. Email me for a sample template at connie@exceptionalsales.com.
"What Gets Measured Gets Done"
Attributed to many people, the above statement could not be more essential to your prospecting success. Measurement drives your action plan. This is where a daily scoring system comes into play. Many may scoff at this because they first encountered it during training; however, daily measurements keep successful advisors focused and magnetized toward their vision.
Regularly measuring activity makes many people uncomfortable. How likely are you to jump on the scale after you've binged on chocolate cake and ice cream? We let the fear of a setback make us emotionally incapable of looking at the numbers. However, numbers are what this business is all about. For a scorecard designed to measure high-value activities for financial advisors, email me at connie@exceptionalsales.com.
How Are You Using Your Time?
Time is a finite resource, and poor time management distracts many financial advisors. When it comes down to it, time management is really self-management. Most performance experts advise you to time-block in order to take control of your day. Strategic blocks should consist of three hours of focused attention on your business. This is where you define the specifics that help you make the right choices and get the opportunities you desire.
Identify your top priorities and plan your week, including all the activities for the week. Block out prospecting time on a daily and or a weekly basis. Make at least two to five prospecting calls per day to get into the rhythm. Buffer blocks are designed to deal with lower-level activities like checking email messages, answering phone calls and performing administrative tasks.
The authors of "The 12-Week Year" recommend breakout blocks designed to prevent burnout and create more free time. What would you do for three hours a week during your work-week if you could do whatever you wanted? Watch your creativity soar when you unplug from work and enjoy your personal time. Make sure this happens by scheduling it.
StrategicCoach.com recommends disengaging from any work activity, including emails, reading or talking about work, from midnight Friday night to midnight Saturday night, or midnight Saturday night to midnight Sunday night. When you do this, notice how much more you enjoy your Mondays and how fresh you show up for work.
Once you learn to master the components of profitable prospecting and couple them with a plan for constant action and execution, you will be shocked to discover how easy it is to achieve your personal definition of success.
Connie Kadansky is a coach and speaker specializing in overcoming sales call reluctance. She offers effective tools and training to diagnose call reluctance and assists salespeople in highly profitable prospecting. For more information, contact her at (602) 997-1101 or visit www.exceptionalsales.com.
This article appeared in Advisor Today.
Topics: Lead Generation