Presenting All Facts Essential
The focus is not just all facts needed for our recommendations—it is also all facts needed for our clients' decisions.
Presenting All Facts Essential By Frank C. Bearden, Ph.D., CLU, ChFC
In this issue, we consider the third obligation in the NAIFA Code of Ethics. These obligations are rules for our professional behavior, based on the values of NAIFA expressed in the Preamble of our Code of Ethics. The third obligation is: to present, accurately and honestly, all facts essential to my clients' financial decisions.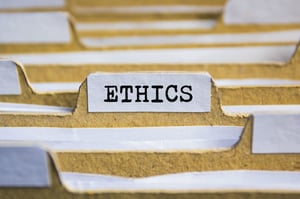 When we prepare for an annual review with clients, what documents do we include? If the clients are preparing for retirement, do we include a current progress report on the clients' retirement funding? If insurance or investment recommendations are to be made, do we provide pertinent disclosure and performance documents?
I'm sure we do, but the key point of this obligation goes beyond these assumptions. The focus is not just all facts needed for ourfinancial recommendations; the focus also extends to all facts needed for our clients' decisions.
In compiling information for clients, we know the information that is important for making summary statements about client financial circumstances and for making recommendations. We are aware of the clear supporting information we require to be confident about our conclusions.
That information, of course, is important, and the foundation for the third obligation. We are also interested in all of the information that clients will require in order to form sound financial decisions. This may amount to the same information on paper, but it may also include information our clients require that we have not considered.
A case in point
Let's look at an example to see the importance of providing facts for our clients' decisions.
Mary and Kenneth Barkley are scheduled for their annual review this morning with Rhonda Norris, their financial advisor. In the preliminary information they requested for this meeting, they inquired about the adequacy of continuing their retirement funding until retirement at age 67 for each, various times to begin their Social Security benefits, and payment variations on Kenneth's variable universal life policy.
As the meeting began, Rhonda reviewed their retirement funding to date. She stated their retirement funding was on track based on Mary and Kenneth retiring and taking Social Security benefits at 67, but Rhonda did not provide any written verification. Rhonda then proceeded to recommend that the Barkleys begin their Social Security benefits at age 70, due to the increase in benefits after age 67.
She also stated this would require increasing their contributions to their retirement plans. She distributed an illustration to show this point. Finally, Rhonda neglected to provide payment variation illustrations of Kenneth's variable universal life policy.
At the close of the meeting, Mary and Kenneth requested an illustration tracking their retirement funding, with the assumption of retiring and beginning Social Security at their NRA of 67. They stated that increasing their retirement account contributions would be difficult, as their youngest child was completing college and had been accepted to attend veterinary school in the fall. Finally, they again asked for payment variations on Kenneth's life policy. Rhonda assured them each of these would be produced and sent by email attachment shortly.
The point of this example
The point of this example is that Mary and Kenneth should have been provided the information they requested. They thought each of these requests would be pertinent to their planned retirement. Their financial advisor could then have included any other illustrations and information she deemed pertinent, as she worked with the Barkleys to further plan for their retirement.
As advisors, we should be sensitive to our clients' financial circumstances and objectives, as well as to the recommendations we form to advise them. The point of this example is that we should provide well-supported recommendations we believe are suitable, as well as discussion and information reflecting the clients' interests.
Ultimately, the clients will make the financial decisions, and we should provide all needed information to enable them to make informed, comfortable decisions. This is the point of the third obligation.
Frank C. Bearden, Ph.D., CLU, ChFC, is managing member, Frank C. Bearden, LLC. Contact him atfbearden@outlook.com or at 210-724-1958.

This article appeared in Advisor Today.
Topics: Sales