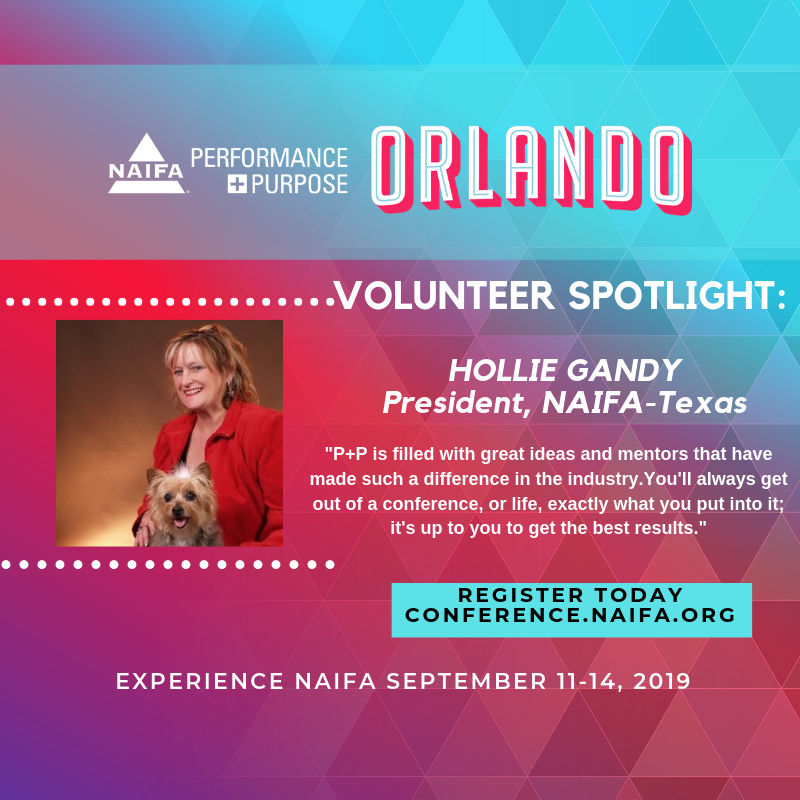 In anticipation for NAIFA's Performance + Purpose 2019 conference, we are highlighting our incredible volunteers who will play an instrumental role in making our conference a success. Our second spotlight is President of NAIFA-Texas, Hollie Gandy.
Hollie hails from Amarillo, Texas and currently serves as President of NAIFA-Texas. A NAIFA member for the past 20 years, Gandy will be attending P+P for the 11th time this year. Throughout her tenure as a NAIFA member and leader, she made various connections with members throughout the country and even met her husband, Rusty Donohue, through a NAIFA state conference.
As the principal of Safe Money Solutions, Hollie gains a multitude of resources from being a leader in NAIFA-Texas and from the immersive sessions at P+P. Each year Hollie attends P+P, she leaves with endless skills and forms strong connections with NAIFA members from across the country.
She believes that attending P+P is a pivotal aspect of the NAIFA experience. "P+P is filled with great ideas and mentors that have made such a difference in the industry. There are endless opportunities to rub shoulders with top producers and focus on growing your business as well as your professional career," Hollie says. "You'll always get out of a conference, or life, exactly what you put into it; it's up to you to get the best results. "
Due to her positive experience as a P+P attendee, Hollie decided to make a difference by volunteering at the conference. She looks forward to meeting new members and influencing them to make the most of their experience by attending as many workshops as possible. Hollie adds, "For all of those coming for the 1st or 15th time, there's so much to choose from and tailor their experience to. Embrace it, and have an amazing P+P. You truly can find your Purpose and increase any kind of Performance. All it takes is a shift in your attitude." She encourages attendees to soak up the atmosphere of the conference while taking the time to utilize the resources provided to grow their businesses.
Hollie is appreciative to everyone who has paved the way on her P+P journey thus far and looks forward to having a lasting impact on this year's attendees.
We are #NAIFAproud of our incredible volunteers and appreciate their commitment to making P+P 2019 a success. Learn more about P+P.