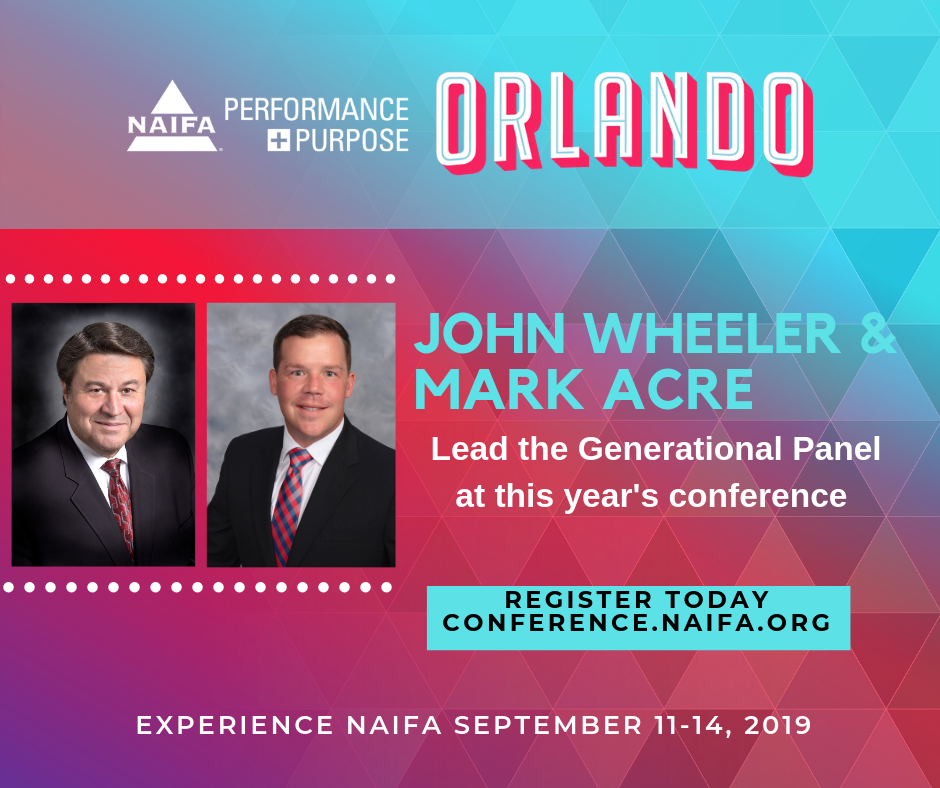 46 year NAIFA member John Wheeler and 20 year member Mark Acre lead the Generational Panel during this year's NAIFA conference. As Executive Vice President of Water Tower Financial Partners, LLC, John Wheeler is a registered principal and financial advisor with MML Investors Services, LLC. (MMLIS). With an extensive background in the financial services industry dating back to 1969, John does extensive seminars, advanced joint sales work, recruiting and the development of the agency's financial planning endeavor. Mark Acre is President of the Ozark, Mo.-based OneSource Insurance Group, a company he launched in 2007. Mark started his own agency in 2007 where he serves clients in all lines of insurance.
Crediting NAIFA for helping him become a successful advisor, John is now at the legacy point in his career and is focused on giving back more than taking in. He will share the key statements and questions he asks his clients. Representing the other end of the business spectrum, Mark will talk about how he sets his business up for future success. He'll go over his performance goals such as what gets measured gets done, always begin with the end in mind, and the importance of stretching yourself past your comfort zone to reach success .
John and Mark will be joined by Steve Cassaday, founder of Cassaday & Company, Inc., an independent advisory firm. Cassaday & Company, Inc. has been nationally recognized as a leading firm and has grown from $40 million in assets under management or supervision to $2.7 billion (as of June 2018) with 48 employees, assisting more than 1,900 households throughout the United States.
Steve's vision was based on simple concepts about what clients want:
Comprehensive, integrated financial advice that is proactive, objective, impartial, unbiased, and continuously applied.
Advisors who are highly trained, credentialed, and experienced.
A firm that controls its own destiny by remaining independent from any bank, brokerage firm, or insurance company where conflicts of interest exist.
Advisors who are fiduciaries.
This is a session you won't want to miss!