NAIFA Advocacy: Fighting for Members and Achieving Results
Through grassroots networking, experienced staff, and well-targeted PAC spending, NAIFA ensures that policymakers make informed decisions on rules and regulations that can dramatically affect your livelihood.
NAIFA Advocacy: Fighting for Members and Achieving Results
By the NAIFA Government Relations Team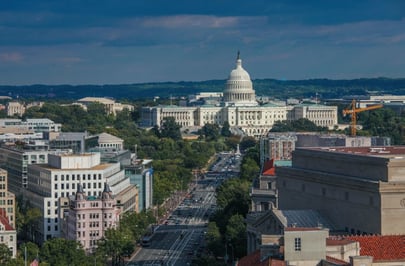 "There are a lot of powerful lobbying groups in Washington, D.C., and throughout the country, and it's vital for NAIFA to be represented. If we fail to contact our legislators about issues affecting our industry, you can be sure the other guys will. And their views—not NAIFA's views—will be best represented."
This statement by NAIFA Past President Larry M. Lambert, CLU, CFP, is exactly why so many NAIFA members are deeply engaged in government relations and political advocacy. It is critical for advisors to be active in the political process so that policymakers hear directly from NAIFA on the issues affecting their business.
Through a vast grassroots network, experienced government relations staff, and well-targeted Political Action Committee (PAC) spending, NAIFA continues to be highly effective in ensuring that policymakers at the federal and state levels make informed decisions on sweeping legislation and regulation that can dramatically affect your livelihood.
Over the past year, your membership and participation have been critical in helping NAIFA achieve substantial victories in the political arena. For example, in a tremendous win for the industry, NAIFA led a federal lawsuit challenging the Department of Labor's (DOL) fiduciary rule that resulted in the 5th Circuit Court of Appeals siding with NAIFA, which effectively ended the DOL regulation.
In fact, even before the court's decision, NAIFA members successfully lobbied the DOL to delay the effective date of the fiduciary regulation's key provisions until 2019. The rule would have made it difficult—even impossible—for advisors to serve clients with modest or moderate means.
The fight, of course, is not over. The Securities and Exchange Commission (SEC) has proposed a "best interest" regulation for securities licensed representatives, and NAIFA has already met with SEC Commissioners to express its views on the potential regulation of our members' profession.
NAIFA also achieved significant victories in lobbying Congress. Due to the association's advocacy, the recently-enacted Tax Cuts and Jobs Act did not include the ill-advised "Rothification" of retirement accounts, harmful changes to non-qualified deferred compensation, or other measures that could have made it more difficult and expensive for families to plan for their long-term financial needs.
We are also very pleased to say that in March, the U.S. Senate overwhelmingly passed the NAIFA-backed Senior Safe Act. This legislation helps protect vulnerable seniors from becoming victims of financial exploitation, and, importantly, shields advisors from civil liability if they report suspected financial abuse of a senior client. We are proud to say that NAIFA members took a lead role in passing this measure.
State Victories
NAIFA's success also extends to the states where the NAIFA State Associations are constantly engaged in advocacy to protect the business of their members. For instance, last summer, a large health insurer based in the Washington, D.C., metropolitan area announced that it would stop paying commissions for the sale of individual market policies for 2018.
Quickly responding, NAIFA-Maryland, NAIFA-Virginia and NAIFA-Greater Washington, D.C., led a successful effort through which they lobbied state insurance regulators who then directed the carriers to pay commissions as required by state insurance law.
Similarly, other NAIFA state associations successfully worked to enact laws that allow financial advisors to charge consulting fees for the sale of a health insurance policy, particularly if the advisor is not going to receive sales commission from the carrier.
Thanks to the efforts of NAIFA state associations in Tennessee, Florida, Minnesota and Louisiana, advisors may now charge fees for the sale of a health insurance policy to ensure that they are fairly compensated for their work.
Looking out for your interests
On another front, NAIFA state associations in Colorado, Hawaii and Tennessee acted swiftly to help defeat legislation that would have established a state-run retirement plan for private-sector employees who do not have access to an employer-sponsored plan.
Had any of these bills been enacted, costly new government programs would have needlessly competed with private market retirement products and solutions, which already offer consumers a comprehensive range of plan options that can be tailored to the specific needs of individuals and companies.
NAIFA also succeeded in getting laws enacted to help NAIFA increase its influence and bolster its already high reputation as theassociation representing financial advisors. Earlier this year, NAIFA-Nebraska was instrumental in getting legislation signed into law that allows financial advisors to obtain up to six hours of continuing education (CE) credit for their membership in an agent or advisor trade association. Nebraska is the latest state to allow CE credits for association membership, joining nine other states.
In another remarkable success story, an increasing number of states are participating in the U.S. Department of Veterans Affairs (VA) program that reimburses military veterans for the cost of taking the insurance producer-licensing exam.
NAIFA testified before the National Association of Insurance Commissioners (NAIC) and urged state insurance departments to participate in the VA program, and many NAIFA state associations approached their respective state insurance regulators to make the same request.
Before NAIFA got involved in promoting this VA benefit a couple of years ago, only about six states were participating in this program. We now have 29 states supporting this benefit for veterans. This is yet another powerful example of NAIFA's effective advocacy.
NAIFA has also seen major success at the NAIC. Recently, the NAIC completed a review of its model regulation governing the use of senior designations and certifications by advisors to determine if the model should be updated to better reflect current market conditions. NAIFA took the lead in challenging the position of several regulators and consumer representatives who had strongly argued that the scope of the model should be expanded to apply to all designations and certifications. NAIFA successfully convinced the NAIC to decide against making any revisions to the model.
The Capital 50 Fund
NAIFA-National wants to bolster the success of the NAIFA state associations. Understanding the tremendous importance of effective political outreach in the states, NAIFA launched the Capital 50 Fund grant program to provide financial resources to NAIFA state associations to improve their political advocacy operations.
To date, the Capital 50 Fund has awarded grants to a dozen NAIFA state associations, totaling $46,637. State associations are encouraged to apply for a Capital 50 grant through the NAIFA website.
NAIFA's PAC is ahead of the pack
Another element of NAIFA's political success is the ongoing strength of our PAC. Through IFAPAC, NAIFA contributes funds to the campaigns of members of Congress who support NAIFA's positions on key issues affecting financial advisors.
Thanks to the continuing involvement and support of NAIFA members in the 2016 election cycle IFAPAC was again the top insurance industry PAC, distributing just over $2.4 million to the re-election campaigns of members of Congress. Support from IFAPAC matters and makes an impact since many NAIFA-supported candidates win re-election. IFAPAC is yet another factor in NAIFA's advocacy success.
A call for action
In Congress and in the states, there will always remain ongoing threats to our industry, as well as opportunities to advance issues that are important to NAIFA and its members. Please encourage your colleagues—especially those who are non-members—to get involved and stay engaged. This ensures that NAIFA will continue to be a powerful advocate for our members—and the clients they serve.
Topics: NAIFA Events/ Advocacy