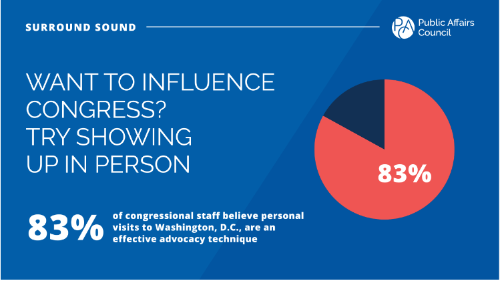 Show Up – It's That Simple
If you want to influence Congress, studies show you need to show up in person. Registration for the December 2-4, 2019 National Advocacy Meeting and Day on Capitol Hill will open in early September. Ideally, each state will have a minimum of two participants – one to cover PAC and one to attend grassroots concurrent workshops. Dynamic and interactive general sessions are being planned for this year. All attendees will participate in the December 4th Day on Capitol Hill.
We look forward to having 100% of the states represented. Who will represent your state?
---
State Advocacy Risk Assessment Results
NAIFA exercises considerable political influence in the state capitals thanks to your participation. Our political activity is motivated by an eagerness to ensure the integrity of the marketplace so that qualified professionals can work in an environment of fair competition where ethical business practices prevail. The 2020 State Risk Assessment and State Activation surveys completed by state leaders and lobbyists reveal NAIFA will again face many legislative challenges in 2020. The risk assessment suggests California, Colorado, Florida, Illinois, Massachusetts, Maryland, and New Jersey will face the greatest battles addressing fiduciary, privacy, genetic testing, state-run retirement and health plans balanced with the opportunity to enhance senior protection. NAIFA is committed to legislative and regulatory success in all states.
NAIFA engages directly with state legislators and insurance commissioners to build and maintain relationships, help shape policy, and serve as a resource of information. NAIFA's political strength is rooted in the geographic diversity of its membership. Building personal relationships between NAIFA member constituents and lawmakers creates a long-lasting path to political power in all 50 state legislatures. State relationships are typically tracked and activated, utilizing excel spreadsheets and email. NAIFA is exploring ways to enhance and simplify tracking and activation.
---
Advocate Spotlight – Rep. Joe Wilson Discusses Issues with NAIFA – South Carolina Members
Members of NAIFA-South Carolina met with Congressman Joe Wilson on August 20th to keep him apprised of the latest issues facing their industry and their clients. During their visit they were able to discuss topics such as the SECURE Act, the newest SEC regulations, taxation and healthcare. Rep. Wilson, who has been supportive of NAIFA throughout his time in Congress, agreed to assist us in any way possible. Pictured in the below photo is (left to right): NAIFA member Jamey Dye, NAIFA-South Carolina Government Relations chair Bruce Pope, Congressman Wilson, and NAIFA- South Carolina IFAPAC Chair Blake Amick.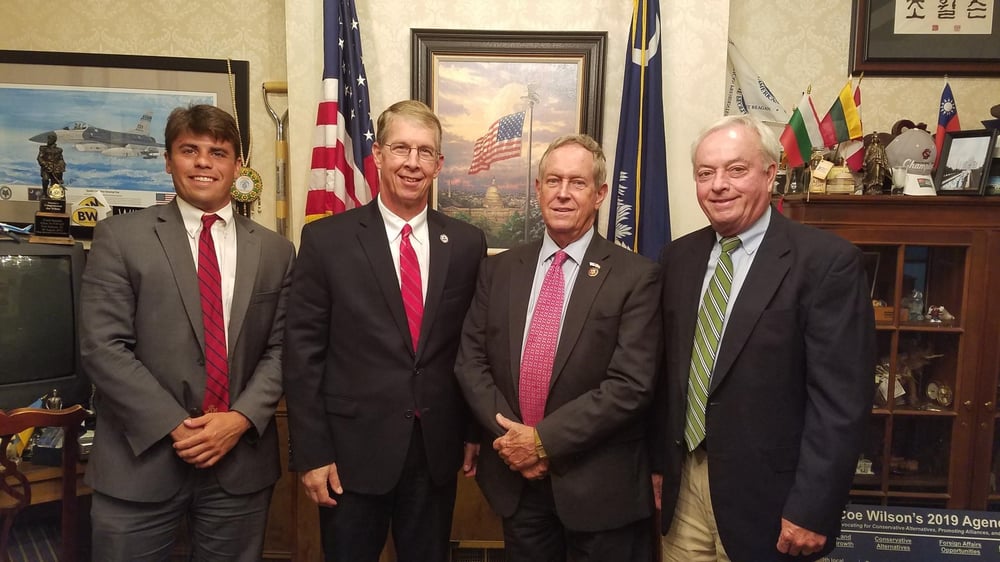 We'd love to highlight any meeting you have had with your legislator this summer! Send photos and meeting details to advocacy@naifa.org.
---
New Hampshire Enacts NAIFA-Supported Measure to Protect Seniors from Financial Exploitation
Due to the successful advocacy efforts of NAIFA-New Hampshire, Governor Chris Sununu recently signed into law NAIFA-supported legislation that aims to protect seniors from financial exploitation. The New Hampshire law, which is based on model legislation developed by the North American Securities Administrators Association (NASAA), allows a broker-dealer to temporarily delay executing a client's disbursement of funds request if the broker-dealer suspects that financial exploitation may be involved. Further, the broker-dealer and the financial advisor may voluntarily report the suspected financial exploitation to state authorities, and advisors and their firms are immune from civil liability for following the provisions of this important new law. The law will take effect on September 8, 2019. To date, 23 states have passed a law or approved a regulation based on the NASAA model.
The New Hampshire Bureau of Securities Regulation issued a press release specifically thanking NAIFA for its support. From the Bureau's press release: [Bureau] Director Glennon thanked the legislature, the governor, and the Bureau of Elderly and Adult Services of the NH Department of Health and Human Services for their support. He also expressed appreciation to the Financial Planners Association, National Association of Insurance and Financial Advisors, and NH Legal Assistance and its Elder Law Project. "This law is good for everyone involved, especially for vulnerable adults and securities firms trying to protect vulnerable clients."
NAIFA generally supports proposals intended to protect seniors and other vulnerable adults from financial fraud and exploitation provided it allows for a voluntary reporting process and affords a legal "safe harbor" provision for advisors who report suspected financial exploitation to government officials and authorized third-parties.