Moving the Sales Process Forward
These helpful hints will help move you closer to sealing the deal.
Moving the Sales Process Forward by Ed Skelly, Peter Hill, Marc Gelman and Bryce Sanders
Every day is an opportunity to drive commitment and engagement among your existing clients, prospects and colleagues. The following are triedand-true strategies that you can implement today to provide longlasting value.
• Build effective relationships with CPAs. When I began my career in the financial industry 25 years ago, I took a seasoned veteran out to lunch. I asked him what one thing I could do to set myself apart from others, which would help me grow. He told me to read and understand the tax return. Until this day, I routinely have lunch with CPAs to stay up-todate. My assistant sets up lunches during a time when they're not busy. I make sure to take one item or issue we are working on in my office and ask for their opinion. Before the end of our conversation, I make sure I ask them: "How can I help you?"
Another way we strengthen our relationships with CPAs is by taking lunch to their offices or sending them a package around tax time. In the package, we include fun things like an abacus, lemon drops to "make lemonade out of lemons," and a flashlight to use when they go out late at night after they finally get done with their tax returns. They remember, and more importantly, the staff remembers these simple and thoughtful gestures. In return, when you or a member of your staff calls, he is more likely to get through to the CPA.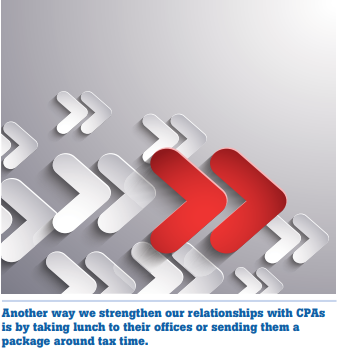 • Send regular communications materials to clients and prospects. Every month, my office mails clients and prospects big green envelopes that are the color of our branding and logo. Clients also receive a newsletter that promotes our growth-initiative strategy for the year and information about events we host. At the end of the newsletter, we ask if the client has any referrals to share. On the other hand, prospects get a newsletter that welcomes them and asks them to visit our office for a free financial check-up. These easy-to-send and eyecatching materials have helped increase our number of referrals, and more importantly, have increased client retention. Consider these tips to boost loyalty among your clients, prospects and CPAs. They are easy to apply to your office practice, and can go a long way.
(Edward Skelly is with Sterling Financial Partners and a 22-year MDRT member.)
• If your client is a beneficiary of a policy, look for options that offer him the most flexibility. While visiting with a new client, I learned that his father had recently passed away, and he was inheriting a non-qualified variable annuity with a sizable gain. I asked if he would be interested in inheriting the annuity over his life expectancy, thus "stretching the income and tax liability, yet maintaining full liquidity.
However, we found out that this particular variable annuity (issued in the early 1990s) only allowed for a lump sum or the five-year rule of his benefit. When I learned of this, the father's date of death had occurred over 12 months earlier, and now, the only option was the lump sum, thus creating a substantial taxable event.
It came to our attention that his mother had the same variable annuity as his father, for which he is the beneficiary as well. I looked into insurance companies that would do a 1035 exchange into a new annuity contract, and allowed for nonspousal beneficiaries to receive the money over their life expectancy.
In addition, I was looking for an annuity that had the latest maturity date possible since the beneficiary options change after the contract matures. The mother's existing annuity's death benefit option had a return of principal guarantee, with the gain being three to four times the principal amount. Essentially, the mother was paying for something that did not offer much benefit.
Since his mother was still at an age that we could write a new annuity with a return of principal guaranteed death benefit, we stepped-up the guarantee to the underlying account value when we did the 1035 exchange. The basis came across, and my client now has the ability to stretch income over his life expectancy when his mom passes away.
When your client is the beneficiary, it's essential to understand the available death benefit options to ensure he has the most flexibility to meet his needs. You can then look for alternatives and help navigate your client to a better financial plan.
(Securities and investment advisory services offered through Voya Financial Advisors, Inc. (Member SIPC). Vision Financial Group is not a subsidiary of, or controlled by, Voya Financial Advisors.) (Peter Hill is a 19-year MDRT member and is with Vision Financial Group.)
• Use a three-way telephone line when helping your clients get the information they need. When I am working with clients who need information regarding their insurance policies or other financial products and services, I usually try to expedite the process by setting up a three-way telephone conference call between myself, the client, and the insurance company representative.
While on the phone, the client can ask her questions and she can also listen in as I ask the insurance representative my questions, which are typically technical in nature. These questions usually cover the entire gamut—from death benefits, to terms of the contract, to Social Security benefits, etc.
This approach accomplishes a couple of important goals. First, it is quicker than getting the information from the insurance company and then relaying that information to the client. I save my time, as well as the client's time.
Second, it provides an opportunity for the client to hear me ask a lot of technical questions, which helps her, understand the value of what I do and goes a long way in separating me from others in the industry. The client sees that I am an industry professional, who is always ready, willing and able to take the lead in helping to solve her financial problems.
(Marc Ring Gelman is a Registered Representative with and offers securities through Voya Financial Advisors, Inc., (member SIPC) His office is in Livingston, New Jersey. Contact him at marc.gelman@voyafa.com.)
• Follow these steps when asking friends to do business with you. It's easy to ask strangers to do business with you. If they tell you to get lost, you won't feel too bad. After all, you will probably never see them again. But asking friends to do business with you is something else. It can be difficult because of the ongoing relationship you have with them. You worry about the risk to your friendship and if they will be offended.
But what if you made the risk to that friendship the reason for the conversation? Here is how this approach works:
❏ Stage One: During Stage One, you say to your friend: "You know where I work and what I do. I have never approached you for business before because you are a friend. I've never wanted to put our friendship at risk." Actually your friend was expecting you to bring up the subject of business someday. He might be uncomfortable when you bring up the subject; however, this approach gives him a way out. At any point during the conversation with you, he can safely say to you: "I don't like to do business with friends either." But most likely, he will let you continue the conversation.
❏ Stage Two: Your next conversation with your friend should go something like this: "Besides, I've always assumed you already work with someone else, who probably takes great care of you and provides excellent service. Most successful people have that kind of relationship with their financial advisor."
Now you have stated the obvious— he does work with someone already. But you said something else too— successful people are important to their financial advisors. Most people identify with the word successful. So this gets him to wonder if he is important to his current advisor. He might indicate that he does not get any attention from him and can ask what you can do for him. But if he says nothing, you can move to the next stage.
❏ Stage Three: During this stage, you can say to your friend: "The market has had its ups and downs over the past few years. You may know someone who hasn't been as lucky as you. I thought we might spend a few minutes talking about what I do. Then, if you come across one of those people, you will know how I might be able to help them and you can send him my way.
In a non-threatening way, you have asked for permission to explain what you do to a potential client. You are many things to many people and you can align your explanation to suit their situation. They will understand how you can help them or someone like them.
Bryce Sanders is president of Perceptive Business Solutions Inc. in New Hope, PA. He provides HNW client acquisition training for the financial services industry. His book, "Captivating the Wealthy Investor," is available on Amazon.com.
This article appeared in Advisor Today.
Topics: Sales