Love & Recognition: National Membership Day Case Study
If you're using the Internet and researching better ways to develop leads, the likelihood is you've stumbled across companies such as HubSpot that tout the benefits of inbound marketing over cold calling. In fact, proponents of digital marketing will tell you that cold calling is not only an extremely expensive, low ROI and antiquated way to develop leads, but that it is downright obnoxious and offputting in today's consumer-driven buying culture.
What you'll likely have heard, or read through downloading ebooks or skimming blogs, is that the better way to build your business is through the #1 lead generator: word of mouth or commonly abbreviated as WOM. We all know that a referrral is the best type of lead so the question should really then become, "how do I generate more word ofmouth referrals at the lowest possible cost in today's marketplace"? When this question is posed, it is almost impossible to come up with a more economical or effective method other than social media.
For good word of mouth, you really need two things--someone that will testify to the authenticity of your merit and secondly, a forum where other people can readily see the testimony. While everyone will still take the private one-to-one referral given verbally over coffee, or dinner, these suffer from two maladies. First, this is nearly impossible to measure and secondly, it isn't scalable. We know we have to build our business client by client, by if we could somehow amplify this and spread the word faster, we would increase our probability of warm lead development which would increase our probability of meetings and increase closes. Yes, this is sounding like the path we want to take and is the reason so many businesses are getting on the digital marketing bandwagon.
So what does all of this have to do with NAIFA's National Membership Day? The background provided is exactly what we used as our premise when re-designing the day. Traditionally, we used National Membership Day as a volunteer-driven initiative to cold call prospects to entice them to join. The results weren't great and the burden was heavy on volunteers who are trying to run their own businesses. Why weren't the results great? We hadn't changed our model to reflect today's consumer buying culture which is one based on online research, word of mouth and then consideration.
What would be a better way to generate prospective members for NAIFA? Why not focus on the value of NAIFA--our members and instead of focusing on prospecting, focus on gaining testimonials from our members about what NAIFA means to them. We dubbed this being #NAIFAproud and asked our members in a very quick turnaround (less than a week) to post their testimonial on social media with the #NAIFAproud. We had no idea what we would get, but we were so pleased that so many of our members took the time to send in videos, post pictures, write their story up, like, follow and love what other members were saying.
The results? Our cost to run the campaign was extremely low-- staff hours and the purchase of a few online photos. From this, we picked up:
Over 100 new followers
Over 13,000 impressions on Twitter
Close to 300 engagements on LinkedIn
Over 10,000 page views on our website
Over 500 likes & loves on Facebook & Instagram
125 individual stories about the value of NAIFA
The best part of the 125 individual stories? The fact that this group of people influences over 30,000 people just through their Facebook followers alone. This doesn't include their networks on LinkedIn, Twitter, etc. That's a lot of word of mouth for the investment; best of all, we now have so much great material that we can continue to put back into our marketing to continue to tell the story for why to join NAIFA.
What else did we do with the posts? We loved our members right back by thanking them, retweeting them, writing about them and overall, recognizing their value by saying thank you and we are grateful that you've committed resources to our organization. What else did we just do, in reality, with this investment of primarily sweat equity? We just started a whole new way to retain through gratitude and being purposeful in our approach.
While the idea that it's more cost effective to retain a customer than it is to acquire one is a well known fact in business, this idea of using social media to recognize and praise people is still catching on. You should ask yourself if you're using social media in your own practice to praise your clients, say thank you, congratulate them on life events or achievements, follow and like their social media posts as appropriate? Social media affords us a great way to have a continuous relationship human-to-human that can be just as real and authentic as a phone call or meeting. You are going to see a lot more emphasis on using social media for relationship building from NAIFA National and we recommend you do the same in your own business.
One of our NAIFA members who is using social to build his practice is Brenton Harrison. He is our YAT Advisor Ambassador content leader for Week #3 of our October class. Advisors like Brenton are blazing the trail for how business gets done in the modern world. Consider signing up for our November class to get access to his session and hear from our November All-Star line-up of speakers.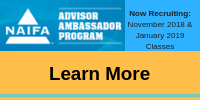 Topics: Member/ Marketing/ Lead Generation/ Testimonials