Is Your Website Hurting Your Referral Acquisitions?
In today's business landscape, your online presence can make or break you. It is vital to examine your website, and determine whether it is helping or hurting the growth of your business. This article demonstrates different ways in which your online presence can hinder you. Additionally, it answers five key questions about providing prospects with the information they want and need.
Is Your Website Hurting Your Referral Acquisitions? by Maribeth Kuzmeski, MBA
Make sure your website addresses five critical questions.
Referral acquisition is no longer reliant on word-of-mouth. Just a few short years ago, in order to cultivate referrals, financial professionals needed to deliver quality products and services, communicate consistently and give clients an experience they wanted to share with others. Today, these skills still apply, but they become meaningless unless they are represented online.
If one of your clients says something incredible to a prospect, such as, "You have to go see my financial advisor! She is very bright, she cares about her clients so much and I personally trust her to take care of my money and the money I will pass on to my kids," you have only reached your first step. Before coming in to see you, the prospect will likely search online for more information, no matter what she said.
Why? Because they can (and should) conduct research and do some due diligence to find out about you and your firm before coming in to share their confidential personal financial information. Think about it—people go online to do research if they are considering buying new refrigerators. If prospects are considering working with new financial professionals—with whom they may invest their life savings—they are even more likely to go online to do research.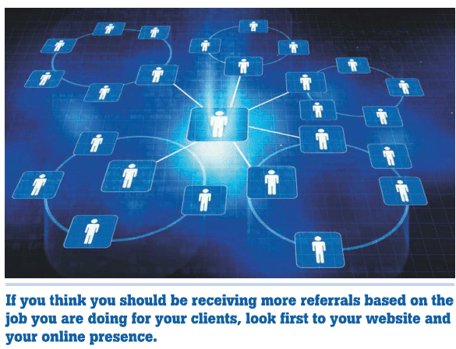 The problem begins if they can't locate you online, or if what they find is not up-to-date, clearly stated or does not share the benefits of working with you and your firm. What's worse is if the information they find online doesn't come close to matching the perception they had been given about you. That disconnect alone could give a prospect a reason to pause. That pause alone can be the reason you are not converting hard-earned referrals into appointments and sales. Ask yourself: does my online presence match who I really am?
Five questions for your website
To create that matching perception, your website homepage should include answers to five critical questions. If it does not, it's time to make some immediate changes.
The five questions are:
What do you do and for whom?
Who are you?
What is unique about you?
Why should someone do business with you?
What are the benefits of what you will do for them?
These questions can be answered with short, concise verbiage. And sometimes, your pictures, navigation bar, newsletter sign-up page or other content can infer the answers to these questions without your writing them down. If someone gets to your website and doesn't know what you do, who you work with, what is different about you, why you are interesting and appealing and the benefits you deliver, they will leave your page without ever clicking to find out more. If you think you should be receiving more referrals based on the job you are doing for your clients, look first to your website and your online presence. If you are doing the type of work they consider valuable, your clients are likely talking about you. They are referring you to others. But a poor online presence may be cause of unfortunate fumbles when you are seconds away from converting those referrals into appointments and sales.
Maribeth Kuzmeski, MBA, is the author of seven books including…And the Clients Went Wild! and The Connectors (John Wiley & Sons) and is a national media contributor. Her firm, Red Zone Marketing, Inc., consults with some of the nation's top advisors and agents and broker dealers on strategic marketing planning, recruiting and the development of more effective business growth strategies. For more information, visit www.RedZoneMarketing.com.

This article appeared in Advisor Today.
Topics: Lead Generation