In Step with a Winner: David Simkowitz
David Simkowitz has done quite well for himself since he won Advisor Today's Four Under Forty Award a few years ago. When we caught up with him recently, he shared with us some of the obstacles he encountered when he first became a financial advisor and the steps he took to overcome them.
In Step with a Winner: David Simkowitz By Ayo Mseka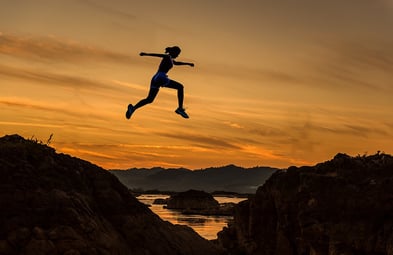 Advisor Today: What motivated you to work in this industry?
David Simkowitz: My older brother, whom I greatly respect, encouraged me to consider a career in financial planning and life insurance. Obviously, he saw something in me that I did not see in myself. In retrospect, I did not really understand what I was getting into. I didn't know that the job is 90 percent focused on listening, consulting and helping people, and only 10 percent focused on selling a product. I didn't understand how life insurance solves many financial and estate planning challenges. Had I known then what I know today, I would have been extremely motivated to enter the business.
Advisor Today: What were some of the biggest obstacles you faced initially?
Simkowitz: My biggest obstacle was my lack of knowledge and information. I wanted to service successful, highnet-worth clients, but at first, I did not have the tools, resources, capacity and knowledge to do that well. I also did not enjoy the fact that I had to find new clients and sell and peddle products.
Advisor Today: Did these obstacles make you consider leaving the industry? If so, what inspired you to stay?
Simkowitz: Yes, they did. One of my peers once told me that every person in the life insurance industry thinks about leaving the industry. The frequency of that thought depends on your degree of success. If it's really rough, you think about leaving once an hour. Even when you're doing well, you may think about leaving once a week. And then after a while, you think of leaving once a quarter and so on because you are thinking that with the time and energy you put in, you might as well do something different.
At this point, I can't see myself doing anything else but meeting people, listening and solving their problems and creating family harmony.
I'm inspired to continue this work because I see that people are desperate for our help. Our work truly changes clients' lives and the lives of future generations.
Advisor Today: What additional knowledge have you gained since winning the Four Under Forty Award?
Simkowitz: I learn every single day. My focus now is on developing my ability to train others and instill quality processes so that we can ensure consistent client experiences as we grow and scale. By doing so, we can reach more families and touch more lives.
Advisor Today: Why is being a NAIFA member important to you?
Simkowitz: It's critically important to be involved in industry associations. By networking with others, you know you're not alone, and you can share resources and ideas with like-minded professionals. You can also get involved in issues and legislation that affect our industry. NAIFA is there to protect what we do – you have to be part of that.
Advisor Today: What do you value the most when working with a client?
Simkowitz: Above all else, I value the family harmony that we can help facilitate. I also love the problem-solving process of working with families. In the beginning, you see a million different pieces. Then, over time, you start to see how the pieces of the puzzle can fit together to result in a fluid, defined result. It's highly rewarding.
Advisor Today What advice do you have for advisors just starting out?
Simkowitz: First, identify your strengths and delegate the rest. When I hired my first assistant, she asked me for her job description. I told her: "I can't tell you what your job is, but mine is meeting with people. If you see me doing anything else, you're not doing your job."
Second, embrace the opportunity to know what you are doing and be an expert in the area you choose. Clients desperately need smart, capable, professional and caring advice.
David Simkowitz is the founder and president of SimkowitzCo in Brooklyn, New York. Simkowitz has had the honor of helping hundreds of high-net-worth clients complete effective estate plans and is consistently a top-ranked leader and innovator in the industry. For more information, visit www.simkowitzco.com.
(SimkowitzCo does not provide tax, legal, or accounting advice.)
This article appeared in Advisor Today.
Topics: Lead Generation/ #NAIFAProud