In Step with a Winner: Becoming a Successful Advisor
Over the past 14 years, Eszylfie Taylor has been rising to the top in the financial services industry. His success is achieved through his determination for putting his clients' interest ahead of his own. Read about Taylor's road to success through this article and get tips on how you can reach your career goals.
In Step With a Winner By Ayo Mseka
This advisor's meteoric rise to the top is due mainly to his penchant for putting his clients' interests ahead of his own.
Since financial advisor Eszylfie Taylor entered the financial services industry 14 years ago, he has achieved a great deal of success. He was a Top Agent/ Advisor in the African-American Market at New York Life from 2006 to 2012, made the Top 25 Agents in the Country List at New York Life in 2012, and is a perennial Top of the Table producer. Advisor Today recently caught up with this rising star to find out what drives him to reach higher, each and every day.
Advisor Today: Briefly describe your financial practice and what you do to serve your clients.
Eszylfie Taylor: I am president and CEO of Taylor Insurance & Financial Services, an independent brokerage firm in California. We provide a wide array of services to our clients, starting with a thorough analysis of their current policies, investments, and financial goals. We also have access to tax attorneys, CPAs, and other financial-services professionals, and we update our research and methodology regularly to successfully manage a continually changing tax and regulatory environment. The breadth of services we specialize in allows us to find a tailored solution for each client's needs.
Advisor Today: You have risen to the top at an early age. What are some of the secrets of your success?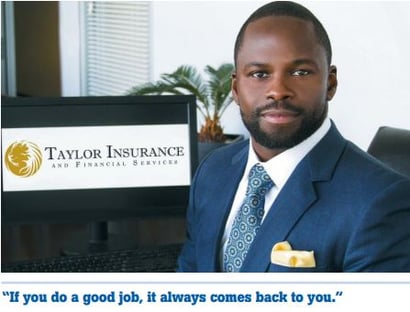 Taylor: I believe in working hard and learning from my mistakes. When I first started in the industry, I failed at just about everything once, but I learned from that failure and came back to do a better job. So you need to work hard, learn from your mistakes, never settle for mediocre results, and seek to be uncomfortable, because it is only when you are uncomfortable that you will learn and grow. Also, remember that no matter how far you have come, there is always room for growth.
Advisor Today: What are some of the challenges you faced during the first few years in the business, and how did you overcome them?
Taylor: When I first started, my main problem was not having enough contacts and not realizing that people are the lifeblood of the business. So, I worked hard at meeting as many people as possible and building relationships with them. I attended every meeting and went to every party—my goal was to increase the number of contacts and build meaningful relationships, which I eventually did. You will make as much money as your client makes; so I learned the importance of prospecting up! If your clients are broke and live paycheck to paycheck, so shall you. But if your clients are affluent, then you will have the opportunity to solve more expensive problems if you will, and that will directly impact your income.
Advisor Today: As mentioned earlier, you were a Top Agent/ Advisor in the African-American Market at New York Life from 2006 to 2012. Did you use any specific techniques to achieve this level of success in that market?
Taylor: No. I did not use any specific strategies, and in general, I do not have any methods for penetrating specific markets. But I know that in dealing with any group of people, you need to do several things if you want to find success. You need to identify what you and the group have in common and help them improve their financial situation, because if you do, they will have the money needed to fund the plans you are selling. Also, you should be professional at all times and don't lead any client discussion or meeting with a product. Remember that your client's needs will ultimately dictate the plan he ends up buying from you.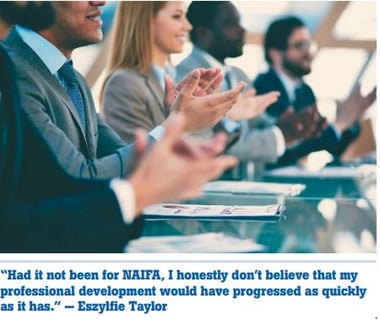 Advisor Today: What role has NAIFA played in your professional success?
Taylor: NAIFA has helped me build great relationships with other agents and advisors and has helped me learn and grow. Had it not been for NAIFA, I honestly don't believe that my professional development would have progressed as quickly as it has.
Advisor Today: What words of wisdom would you like readers to take away from this interview?
Taylor: My words of advice are straightforward and to the point: Work hard, avoid shortcuts, and always do the right thing by your clients. Remember that if you do a good job, it always comes back to you.
This article was published in Advisor Today

Topics: Sales/ Getting Started/ Diverse Markets/ Running Your Practice/ Lead Generation