Ignite Your Sales Potential
Convincing your clients that they need your products and services can be the trickiest task as an advisor. Everyone needs financial security, and it is up to you to prove to them how important it is. This article shares advice from successful advisors who have found the best techniques to convince their prospects in taking the first step to a secure financial future.
Ignite Your Sales Potential by Ayo Mseka
Pay careful attention to these words of wisdom from some of the industry's top producers.
Some of them might be just what you need to spark your next sale.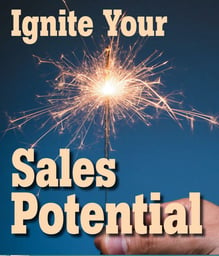 Persuading consumers to buy the protection they need to secure their financial future is never an easy task. There is always something else that demands their time and money, and before long, the decision to buy is placed on the backburner.
But consumers do need your products and services, and it is up to you to convince them that now is the time to take that important step. To get you started, we asked several industry heavyweights for the best techniques they have used to get their prospects to take action, and this is what they told us:
D. Scott Brennan:
• Persistence pays. Working in the financial-services business for more than 35 years has given me a rewarding opportunity to provide guidance to many people about purchasing insurance. Your success—and that of your clients—very well might depend on this financial tool.
One effective strategy I found to drive home the importance of insurance is explaining how I am going to take a check to their loved ones when they pass away or become disabled. Selling life insurance at the high end is an art, and being persistent never goes out of style.
For example, a client I was referred to would see me when I called, but it always felt as if we'd go one step forward and two steps back. Even though we would meet, I didn't think I was making progress. The man needed to own a lot more life insurance then he had, and I needed to figure out a way to convey that information to him.
One afternoon, I was back in his office, and a man from the shop floor he owned came in. After the employer left the office, I asked how much he paid his employees. My client said, "Ten dollars an hour. Why?"
I picked up my briefcase and walked over to the corner of his office. I said, "Would you pay a man $10 an hour if he stood here with a million dollars in this bag for your wife, when you die? However, if you live, the man will give you the bag back with all the money you put in, plus interest?"
My client looked at me and said, "Now you have my attention."
After 14 appointments over an eight-month period, we placed a million dollars' worth of whole life in force, and he only paid three years' premium. The next three years waiver of premium paid for the policy while a sickness ravaged his body. A few years after placing this case, I had the honor of delivering a sevenfigure, tax-free check to a loving widow with a school-age son.
This illuminates the responsibility we have as advisors to develop a plan with the right resources and tools to provide financial security. Being an MDRT member has taught me the importance of wise financial planning and how persistence can help protect our clients.
D. Scott Brennan of South Bend, Indiana, is a Past MDRT President. He has been a speaker at more than 10 MDRT meetings, is a member of the Quarter Century Club, has numerous qualifications for Court of the Table and is a Legion of Honor Excalibur Knight of the MDRT Foundation.
---
Michael Morrow, CFP:
• Use the "12 Boxes" idea. Success for advisors means having the ability to move clients and prospects to action. When clients and prospects understand what they are doing and why, the decision-making process is elevated, and taking the next step to secure their future is paramount.
I have found that using pictures makes a complicated concept easy to understand. This particular strategy is so simple that it can even be done on the back of a napkin if you find yourself in a restaurant with a client or prospect.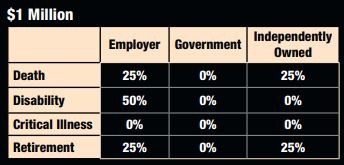 The 12 boxes idea is based on the fact that there are only three sources of income available at the times in your life when you need it the most in the event of death, disability, critical illness and retirement. Money is required for these four major life events, and the money is only available from the following three sources: your employer, the government, and/or independently owned.
To begin this exercise, simply draw 12 boxes on a piece of paper. Across the top, name each column from left to right:
• Income from Employer
• Income from the Government
• Income from Savings / Policies
These are the three sources of income that will be available to your client or prospect.
On the left-hand side, name the rows from top to bottom:
• Death
• Disability
• Critical Illness
• Retirement
These are the four important life events when your client or prospect will require income.
Together with your clients or prospects, work on filling in the boxes with what they actually have in relation to what they need. Their answers may fall between 0 percent and 100 percent of what they need in some cases.
This visual tool is powerful in the way that it illustrates financial security shortfalls. This is not a complete fact-find. It is a strategy that will motivate your client or prospect to take the next step with you because he will be compelled to address the many shortfalls that are identified.
Michael Morrow, CFP, is with Ideas For Advisors. He can be reached at michael@ideasforadvisors.com or visit www.ideasforadvisors.com.
---
Bryce Sanders
• Combine rollovers and WARN notices for a great sales opportunity. Rollovers are big business these days and Worker Adjustment Retraining Act Notices (WARN) notices are becoming increasingly popular among advisors. Combine these two and you get a sales opportunity.
The government requires firms that are planning to lay off workers to conform to certain guidelines, including providing advance notice. These announcements are called WARN notices. Since companies file them at the state government level, they aren't available in a standardized location. The easiest way to find them is to go to your favorite search engine and enter the words Worker Adjustment Retraining Notices WARN, followed by your state name.
This should yield a list, often in a PDF showing several listings, each including data such as the company name, city, number of employees, announcement date and effective date.
So what do you do with this information? Let's assume you know lots of people through the different circles in your life. For each person, know who they are, where they work and what they do. One day, you notice layoffs have been announced at the company where one of your gym buddies works. You approach him at the gym and ask: "I heard about the layoffs at your firm. Were you affected?" He says, "No. They missed me this time." You tell him that you are glad because no one wants a friend to lose his job. You then ask him if any of his friends were affected. "When someone leaves a firm there are a lot of things they should know about moving their retirement assets," you say. "I've helped others and I might be able to help him too."
You now have an agent on the inside!
Bryce Sanders is president of Perceptive Business Solutions Inc. in New Hope, Pennyslvania. He provides HNW client-acquisition training for the financial-services industry. His book "Captivating the Wealthy Investor," is available on Amazon.com.
---
Michael Harris, CFP, ChFC, CLU
• Use a niche approach that keeps it all in the family. Often, one of the best opportunities for advisors to grow their business is to focus on niche markets. By virtue of commonalities, including profession, need or interest, niche markets are typically easy to identify and provide opportunities to apply like problem-solving strategies.
However, the challenge is that most groups that fall into this category are limited in number and, not surprisingly, well courted by competition. So, no matter how good an advisor is, the opportunity may not match the required effort.
One idea that is a natural fit for most advisors may come from what they already know within their existing book of business—clients age 65 or older with children and grandchildren. Many folks love their children and would do anything for them, but are typically "in love" with their grandchildren. This powerful and emotional connection is extremely compelling for grandparents and lies at the heart of a multi-generational approach to financial planning that can help keep current clients happy, while paving the way for acquiring new ones.
When advisors talk with clients about creating financial plans that give grandchildren a financial head start, it is an opportunity to provide problemsolving solutions that can help bring financial security to several generations. Variable annuities can serve as great vehicles for helping to achieve this objective, provided the right investment strategy is put in place early on to supplement the annuity, ensuring a guaranteed, tax-efficient income stream that can be passed to children and grandchildren and so on without leaving the advisor's book.
Today's annuities are more flexible with Guaranteed Income Benefits (GIB) and optional living-benefit riders for customization. While GIB isn't unique, it may appeal to grandparents who desire to augment their monthly income and maintain their lifestyle. To that end, living-benefit riders may offer features like continued participation in the growth potential of the market, control of investment choices, access to the account value, and distribution strategies that enable tax-efficient legacy planning, which, in turn, encourages introduction to the client's children. For example, some riders allow for continuation of the GIB to the next generation and maybe the one after that when the original owner passes.
These product features are like a built-in, lead-generation system. Annuities allow the advisor to keep the client's children and grandchildren in their book of business instead of just doing the work of setting up a death benefit. This isn't just a tax deferral, income stream or legacy planning, but a business-growth strategy for the advisor.
Advisors who are looking for new ways to grow their business should consider looking at what business they already have and "keeping it in the family," with a multi-generational approach that may benefit everyone.
Michael Harris, CFP, ChFC, CLU, is head of the Advanced Solutions Group at Lincoln Financial Distributors, Inc. (LFD), the wholesaling distribution organization for Lincoln Financial Group.
---
Julian H. Good, Jr. CLU, ChFC, AEP
• Find your passion and specialize in it. The basic principles of building a successful business continue to stay the same. We must have consistent activity, obtain referrals, have integrity and build relationships of trust with clients as well as with other influential advisors. One effective strategy to succeed is to specialize in a specific area of interest.
I've always been fascinated by the process of underwriting different types of risk: dying too soon, living too long or becoming disabled. There are not many producers who are captivated by the science of underwriting and for good reason. It's hard work, there is a lot of rejection, and many times, you are not able to deliver good news. At times, it is extremely challenging to advocate for your client and to obtain the best offer possible from an insurance company. It's important to actively embrace this process.
As a member firm of a boutique broker dealer, I'm fortunate to have a highly experienced underwriting team and access to a proprietary process enabling me to deal with tough cases in an unconventional manner. Whether its life, disability or long-term-care insurance, I'm able to bring an underwriting team to the table.
Many years ago, I learned that specialists are able to build some of the most profitable practices. The science of underwriting is one of my areas of specialty, but it's one in which I separate myself from almost all other advisors. This has helped me create a niche in my community as one of the "go to" insurance advisors.
To find your niche or niches, outline and map out what you are really passionate about and ask yourself how you would like to be remembered at the end of your career. Once you discover your passion, it should naturally lead you to your area or areas of specialty.
Julian H. Good, Jr. CLU, ChFC, AEP, is a registered representative of, and offers securities, including variable life, through ValMark Securities, Inc. He is a 32-year MDRT member, with four Top of the Table and nine Court of the Table qualifications. He was also the 2011 MDRT President.
---
Leyla Lesina, CLU, ChFC
• Use the following points to make the case for whole life.
When recommending whole life insurance to qualified clients, advisors are often confronted with concerns about cost. Here are several factors to keep in mind to help your clients determine if whole life is the better option:
• A whole life insurance policy has a real return that performs competitively within other highquality, fixed-return assets. And depending on how you use it, it can end up being two assets and two returns. One is a living asset with tax-advantaged distributions, and the other is an income-tax-free and potentially estate-tax-free death benefit.
• The value of a whole life policy is uncorrelated to the stock market and is largely guaranteed by the insurer. As such, neither death benefits nor cash values are affected by declining markets. A whole life policy can serve as the stable component of an overall financial plan.
• The accumulated value in whole life grows tax deferred. Accumulated values on a policy may be withdrawn tax-free, up to the cost basis.
• Dividends can be used to fund policy premiums or buy more permanent increments of death benefit and cash value. Access to the policy's cash value is typically available through withdrawals and tax-free loans. Alternatively, the cash value of the policy can be pledged as collateral for a tax-free loan.
• Small business owners may borrow against their policies to provide working capital.
• Retirees with permanent life insurance can look to generate more cash flow from their other assets because of the certainty and inevitability that the ultimate death benefit will deliver to their heirs. They may choose to elect higher paying annuities or spend-down their other retirement assets instead of living only on current yield.
• While term life is typically affordable during the primary premium guarantee period (five to 30 years), annual premiums quickly escalate to an unaffordable level once the guarantee period ends.
• With term insurance, the policyholder does not accumulate any lasting cash value. At the expiration of the term of the insurance, the policyholder owns nothing, in contrast to whole life insurance, where premiums build cash value that belongs to the policy owner.
And one final point: You purchase whole life to protect your family in the event of your death. However, it's more than that. It's actually one of the most valuable assets in your financial portfolio. A whole life insurance policy has a real return that performs competitively within other highquality, fixed-return assets.
Leyla Lesina, CLU, ChFC, is VP Agency Sales Strategy & President - Innovative Underwriters, The Guardian Life Insurance Company of America. Richard M. Weber, MBA, CLU, AE, is president and primary consultant for The Ethical Edge, Inc.

This article appeared in Advisor Today.
Topics: Sales