Ideas for Profitable Practice
Finding prospects and persuading them to buy the financial protection they need is the biggest challenge for most agents and advisors. However, with the right conversation, you can lead your clients to the right financial plan and close a sale. In this article, read about tips you can use to address these challenges from two successful producers.
Ideas for a Profitable Practice By Daniel O'Connell and Peter Hill
These ideas might be just what you need to jumpstart your business.
For most agents and advisors, their biggest challenges are finding prospects and persuading them to buy the financial protection they need. In this article, two successful producers share some tips you can use to address these nagging problems.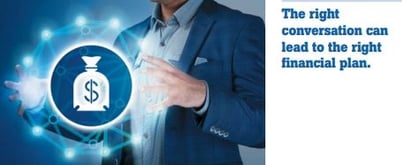 Don't overlook mid-level executives
When I hear about sales tips from fellow advisors, I consider two things: Is this something I can easily implement in my own practice, and is this something that will add value to what I do and to my bottom line? Here is one tip that helped me enter the business market, as well as achieve and maintain MDRT status.
When I entered the financial industry, it was tough to get into the business owner market. Many people were calling on business owners, and they already had friends, referrals and connections who were trying to earn their business.
But I quickly noticed no one was calling on the mid-level managers and executives. These key people who earn good salaries were also tired of answering the phone to have people like me on the other end trying to get "in" with the owner.
So I decided to start marketing and working with mid-level managers and executives for several reasons. First, no one was calling on them and they were flattered that someone finally recognized their value and they were ready to do business. Additionally, this level of employee was the next in line for leadership of the company and they would need new key person, life, disability income insurance policies, etc.
Finally, what I did not expect but what has been the most profitable was the business owner would come to them when their own policies were about to expire and ask them to "figure it out."
These owners had bought policies 20-30 years ago and found themselves now with changes in their health status. While the business owner might not convert the entire policy, he would still have a need for insurance and convert a portion. This has been a huge boost to my business, even though I never directly marketed to the business owner himself.
Daniel O' Connell, MBA, is a 7-year MDRT member, with six Court of the Table and five Top of the Table qualifications
---
Show clients several ways to pay for long-term care. How will your clients pay for the possibility that they may need long-term care (LTC)? While there are many options to help pay for LTC costs, the following are four options that are commonly used:
1) Do nothing and self-insure with existing assets and income sources.
2) Purchase an LTCI policy that can help pay for home-health care, assisted living and nursing-home care.
3) Purchase a linked-benefits policy or a hybrid LTC/life policy:
a. Buying a linked benefit can be used for LTC or life insurance, or the single premium used to fund this policy could be refunded, with no contingent deferred sales charges.
b. Buying a hybrid policy with a death benefit and/or an LTC benefit is funded with a monthly, annual or lump-sum premium.
4) Purchase a life insurance policy. For a couple, one of the greatest risks they face is if the first spouse has an extended-care need, there are no insurance dollars to use, and assets are liquidated. After this spouse passes away, what is the life expectancy now of the surviving spouse, and what are his or her resources?
Or if the couple has sufficient financial resources, maybe a secondto-die policy is used to replenish assets at the second death, should one or both of them need care.
Use proactive approaches to raise awareness and educate your clients about the possibility that they might need LTC, and show them the options that are available to them. The right conversation can lead to the right financial plan. If the client chooses options two, three or four, you have an opportunity to help them move toward a secure tomorrow. If he chooses option one, at least you've had the conversation.
Peter Hill is a 19-year MDRT member, with 14 Court of the Table qualifications. Securities and investment advisory services offered through Voya Financial Advisors, Inc. (Member SIPC)
This article appeared in Advisor Today.
Topics: Sales