Succession Planning: I Love My Job, But I Don't Want to Do it Forever!
Even though being a financial advisor has its many perks and rewarding moments, you're likely to want to retire eventually. When that happens, what will happen to your book of business? This article talks about options to consider when you're thinking of succession planning for your business. Learn how to gradually transition your clients to another advisor before you make your move.
I Love My Job, But I Don't Want to Do it Forever! by Bryce Sanders
Before you make your move, gradually transition your clients to another advisor or they might take their business elsewhere.
Not everyone wants to leave their business feet first, carried out of the office on a stretcher with a phone in their hand. You might want to spend the next stage of your life traveling the world. The practice you have built over the years has value, and you have a responsibility to your clients. So what do you do?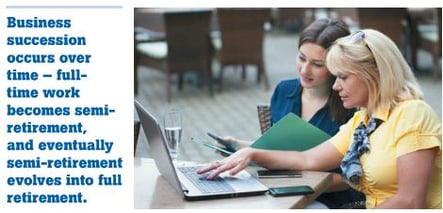 Meanwhile, many clients have their own succession plans. They see themselves as "your clients," but when you are no longer in the picture, they move to a free-agent status and are ready to take their business elsewhere. Often, they have met another advisor socially and his company is their next port of call.
Here are a few options to consider when thinking of succession planning for your business:
Bring in the next generation.
Transition the business to your children. This takes time and often involves addressing commitment and respect issues. For example, your kids just can't turn up one day and occupy your office. They need to get licensed and learn the business. Others in your office may not take them seriously until they have paid their dues. The major advantage is how your clients see the transition. If they are business owners themselves, handing the business to the next generation probably makes lots of sense.
Take on a partner.
This strategy is very similar to selling your book of business. You identify another agent or advisor at your firm whom you think would be a good fit. You complete the paperwork required. Initially, your books are kept separately, but new accounts opened from that point forward go into a Joint Production Number. Gradually, both books are combined. You receive a percentage of the total revenue, and this percentage declines over time as you transition out of the practice. This takes a couple Business succession occurs over time – fulltime work becomes semiretirement, and eventually semi-retirement evolves into full retirement. of years. Clients like this approach because you are still in the picture.
Form a team.
Forming a team is another long-term approach to transitioning out of your business. You bring on a couple of newer agents or advisors who start by focusing on new business development (prospecting). They also work your "B" and "C" books. You teach them the business and your clients gradually become comfortable with working with them. You then gradually make the transition, similar to the partner example described earlier. You are in the role of senior partner, collecting the lion's share of the revenue. The disadvantage is the initial added cost. You need to pay these junior team members as they come up to speed. Hopefully, their work on prospecting and deepening smaller account relationships pays off.
Promote your sales assistant.
In reality, you already have a team. Someone answers your phone when you are busy or visiting clients and prospects. Your clients are very comfortable with that person because he is the first point of contact. Your assistant knows the business and understands the products and services you offer. In reality, he could do your job. So why not give him a chance? This involves making sure he has the required licenses and transitioning him into an "associate" role. He gradually moves into performing more client-facing activities as the number of hours you spend in the office decreases, and you hire another sales assistant to replace him. This approach has several advantages. Your current assistant is probably great at everything except prospecting, since finding new business is a major part of your job. You also incur additional expenses when you hire a new assistant.
In each of these examples, you ease the transition for your client while continuing to provide great service. Notice that the entire process occurs over time — full-time work becomes semi-retirement, and eventually semi-retirement evolves into full retirement.
You might not consider any of these examples — you might just want to sell your book of business to a stranger, walk away and never look back. But keep in mind that when there's no effort made at gently transitioning clients to another advisor, the chances of their taking their business elsewhere greatly increase.
Bryce Sanders is president of Perceptive Business Solutions Inc. He provides HNW client acquisition training for the financial services industry. His book, Captivating the Wealthy Investor, is available on Amazon.
This article appeared in Advisor Today.
Topics: Succession Planning/ Running Your Practice