How I Use Social Media to Build my Practice
Using LinkedIn for Prospecting and Facebook to show your personal side.
How I Use Social Media to Build my Practice By Daniel O' Connell, MBA
During the past several years, I have attended numerous conferences and conventions, where I make sure I attend at least one social media breakout session. My goal is to walk away with two things I can use from these sessions. Social media is an ever-changing method of communication, and one has to keep up with the newest tools or run the risk of losing their audience.
The most common question I am asked by many financial professionals is: "Why should I use social media?" In an August 2012 Forbes.com article, research found that the average worker in the U.S. will now stay at a job for 4.4 years. This means that most workers will change jobs more frequently than they do cars. Survey results in the same article regarding millennials and their career expectancy found that on average, they expect to stay in a job for fewer than three years. This means that they would have nearly 15 jobs in their lifetime.
Keeping in touch
So, how do you keep in touch and stay in front of consumers if their contact information is changing so rapidly? The answer can be social media. While it is good practice to have Facebook for personal connections and LinkedIn for professional matters, reaching your clients and prospects through either source can pay dividends.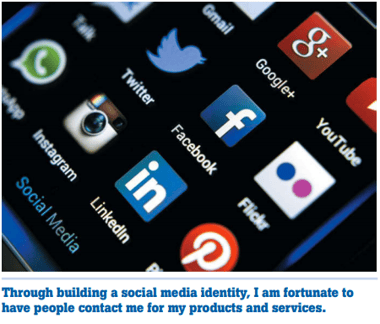 This is how I use these two methods of communications in my practice: Before and/or after appointments with new prospects, I use LinkedIn to connect with them, reaching out to learn more about them and, in return, sharing my experience and credentials. After all, they are interviewing you, and this is your modern electronic résumé. I even print out copies of my LinkedIn information and when prospects tell me that they have had their agent for X number of years and don't know anything about me, I hand this information to them, which addresses this objection.
LinkedIn is also a great source for prospecting because it allows you to see recent promotions and job changes of many employees. I have reached out to new contacts at groups with a specific message of asking how I can help them and have been able to set appointments with them this way. When prospecting, have a very clear message about how you can personally benefit the prospect.
Using Facebook
As I begin to build relationships with clients and prospects, I typically reach out to them on Facebook. This allows me to show my personal side and lets them know more about me and see what I am up to. Keep in mind that many people do not want to mix business with their Facebook account, and you have to be OK with this.
However, for those who do connect with you, make sure to "like" the things they are doing and posting. You can also use this for topics of conversation during your next meeting. Instead of scanning their office for something to talk about, tell them how much you enjoyed the pictures of them on vacation or with the grandkids, and use this to personally connect with them. The golden rule of social media don'ts is to not get into arguments with people, attack their belief systems, or pass judgment on their comments and posts through via social media. Try to be inspiring, uplifting and happy.
My use of social media has resulted in referrals from former employees, former referral sources introducing me to their replacements who have clients in need of my services, people contacting me about life changes who have a new need, and referrals from friends to people they know who need my help.
If you are just beginning, the best places to start are LinkedIn, Facebook and Twitter. Start by connecting with your family, friends and existing clients. My biggest success stories are from referrals, old clients who need help with something new, and existing clients who want to have conversations about my products. Through building a social media identity, I am fortunate to have people contact me for my products and services.
At the end of the day, it is amazing to see how well you can personally connect with someone through social media. You can gain further insights into your clients' worlds and serve your existing relationships on a new level. The additional business I have written in a mobile society has justified the time it takes to share my world with people through social media.
I encourage each of you to get started, reach out and, remember, happy posting!
Daniel O' Connell, MBA, is a partner at Benefit Resource Group and a seven-year MDRT member, with five Court of the Table and one Top of the Table qualifications. Contact him at doconnell@brg-tx.com or at 214-750-7557.
This article appeared in Advisor Today.
Topics: Lead Generation