As a benefits consultant, if you are not speaking spanish, you may be missing opportunities to grow your business.
Habla Espanol? By Tye Elliott
Latino employees are the fastestgrowing segment of the U.S. workforce. In fact, an estimated 1 in every 3 working Americans will be Hispanic by 2050. The growing influence of Latinos on our nation's culture and business community means smart benefits professionals are saying "Se habla Español"—"We speak Spanish"—both literally and figuratively.
Results from the 2015 Aflac WorkForces Report (AWR) reveal that 12 percent of today's working Latinos prefer to receive information about their benefits in Spanish, and many employers are responding. Today, 41 percent of companies offer benefits communications in multiple languages, but large-sized businesses are driving up the numbers. When it comes to small and medium-sized companies, multilingual communications are less prevalent, at 31 percent and 37 percent, respectively.
Opportunities await
The good news for brokers and benefits advisors is that employers who need or want to communicate about benefits in multiple languages present strong business opportunities. In addition to helping clients tailor their written messaging to increasingly diverse workforces, insurance professionals fluent in Spanish can provide much-needed one-on-one and group support to Latino workers during open enrollment.
Of course, all of this talk about multilingual benefits communications begs the question: Is developing materials in Spanish-or simply learning what drives Latino employees—worth the financial and overall effort? The AWR survey results indicate the answer is a resounding yes.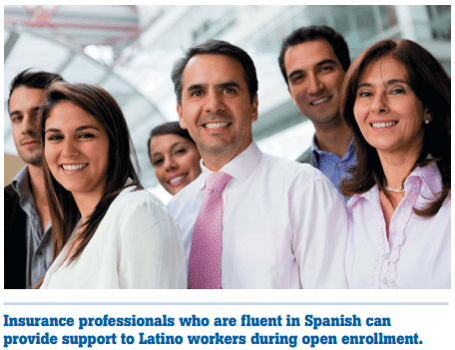 Here's why:
• The majority of Latino employees (76 percent) say they are the sole benefits decision-makers for their households. Just 24 percent share the responsibility with their spouses or others. Still, they need guidance: More than a third of Latino employees agree they need to be more engaged with their benefits decisions, and more than three quarters (78 percent) admit to spending an hour or less researching their benefits options during open enrollment.
• Latinos value employer-provided benefits and see a growing need for voluntary insurance. Almost half (48 percent) say their employeebenefits packages influence their work engagement. What's more, they understand that voluntary insurance helps provide a financial safety net in the event of an illness or injury. A convincing 91 percent agree that voluntary-benefits options are part of a comprehensive benefits program, and 67 percent see a growing need for such options, as compared to previous years.
• Latino workers are concerned about stress, health issues and medical costs. When it comes to stress, they're more uneasy than their non-Latino counterparts: 33 percent say they're stressed out, compared to 25 percent of nonHispanics. Additionally, nearly 20 percent are dealing with personal health issues, and 12 percent say high medical costs have had a negative effect on their credit scores.
The key takeaway
So what is the key takeaway for savvy benefits experts? It's simple: If they're not tapping into the large and growing Latino market, they're missing major opportunities to grow their businesses.
Not only are Latinos open to the concept of voluntary products, the need for those products is also evident and is based upon economic necessity. According to the Bureau of Labor Statistics, Hispanics working full time earn median paychecks of $590 per week, which is significantly lower than Blacks ($650), Whites ($835) and Asians ($966).
Given their limited median earnings, many Latinos may find it difficult to set aside funds for inevitable rainy days. That makes them prime candidates for voluntary insurance, which helps families stay financially afloat in the event of serious illnesses or injuries.
By taking time to learn more about Latino workers and their unique needs—in other words, to speak their language—insurance professionals perform a valuable service for themselves and their clients.
Tye Elliott, a 20-year insurance industry veteran, is Aflac's vice president of Broker Strategy. He is responsible for managing and implementing strategic sales initiatives for the Core Broker Sales division across the United States.
Visit aflac.com/brokers, call 888-861-0251 or send an email to brokerrelations@aflac.com to learn more.
This article appeared in Advisor Today.
Topics: Diverse Markets