Getting Your Clients Organized
Provide more value to your clients by helping them organize their financial documents.
Getting Your Clients Organized By Juli McNeely, LUTCF, CFP, CLU
In our firm, we have declared 2018 the "year to help get our clients organized". Experience has shown us that when clients are more organized, some of the stress of managing their financial world is eliminated.
Without question, it makes life easier for loved ones if someone passes prematurely and they are forced to pick up the financial "ball and run with it." As advisors, our jobs are also made easier if our clients have things in order as we assist the family during this difficult time. Lastly, with more and more financial transactions becoming paperless or bills being paid online, having logins and passwords stored in a secure location is critical.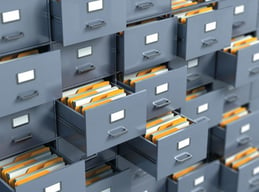 Getting started
So how can we as advisors help make things easier for our clients? Here is what we have done:
Bill Pay Guide.

We have designed a spreadsheet for the primary bill payer to document what bills are paid monthly/quarterly/annually, how bills are paid and if they are online, what is the website, the login and the password. This guide should be so complete that someone who hasn't used it before can pick it up and successfully complete the task.
Estate Directory.

We have also designed a multi-page spreadsheet that assists the client in listing out all important financial information such as, account numbers, vendor contacts, web addresses, logins and passwords for all bank accounts, investment accounts, insurance policies, and employee benefit information. In addition, the directory has space for them to list the names of their attorney, CPA and financial advisor. They can also list their physical property, how it is titled and where the title is located. We even went so far as to list a place to record their social media passwords. Again, this directory is designed for someone to get their financial "house in order" and should be so informative that someone else could pick it up and handle things in case of an emergency.
A Legacy Box.

Lastly, we have designed a file box that includes pre-made, color-coded file folders for each major category so that important records can be organized in one handy location. These major categories are Summary (yellow), Debt (red), Insurance (blue), Investments (green), Employee Benefits (orange), Legal (grey), and Legacy (purple). Each of these broader categories then has multiple folders to allow clients to get the documents filed appropriately. Based on a client's asset size, she is either given a plastic file box or a fire proof safe with a key lock. So far, the reception regarding these legacy boxes has been incredible. A lot of people don't feel they are organized and are excited to have a push to get it under control once and for all.
Creating a win-win situation
So why do all of this to help clients get organized? We see it as a huge value add to our clients and we are always looking for ways to add tremendous value. We are also often helping them identify "forgotten money." We've found that disorganized clients often forget they had that old 401k plan from their former job or they forgot they even had a group insurance benefit. We become the hero if we can assist with a daunting task and act as a resource to our clients. It also lets us simplify a task that many feel overwhelmed by. Simply put, It's a win-win for all involved.
I wish you great success!
A 21-year veteran of the financial services industry, Juli McNeely, LUTCF, CFP, CLU, is president of McNeely Financial Services in Wisconsin. She is a past president of the National Association of Insurance and Financial Advisors (NAIFA), having served as the first female president. She is author of No Necktie Needed: A Woman's Guide to Success in Financial Services and founder of Juli McNeely Consulting. She is also an active member of MDRT and is affiliated with Woodbury Financial Services. You can reach her atjuli@mcneelyfinancial.com.
This article appeared in Advisor Today.
Topics: Time Management/ Running Your Practice/ Sales