Getting the Wealthy Investor to Hire You
Looking to aquire business from high-net-worth clients? Learn how you can reach out to these potential clients and acquire their business with three easy tactics. You'll learn how to identify, win and maintain more wealthy clients. In addition, you'll understand everything that these clients are looking for, and how to secure those relationships.
Getting the Wealthy Investor to Hire You by Ayo Mseka
Here are three possible reasons high-net-worth investors will choose to do business with you.
What do the wealthy value in a financial advisor relationship? In an environment in which they are pursued by just about every advisor who is running a financial practice, what will it take for the wealthy investor to do business with you?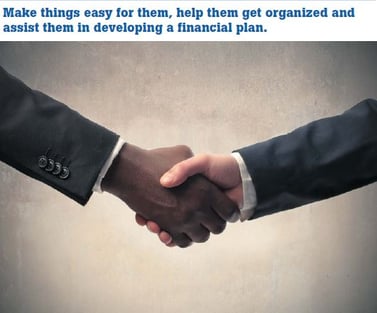 The answers to these questions can be found in Captivating the Wealthy, a book by industry consultant and marketing strategist, Bryce Sanders.This easy-to-read book addresses the complex task of acquiring high-net-worth clients, complete with step-by-step action plans for achieving this goal.
According to Captivating the Wealthy, you stand a better chance of getting High Net Worth (HNW) consumers to consider throwing business your way if:

• You've made someone they know money. This is the primary outcome that many people want from their financial advisor—an increase in money. Think about a conversation in which someone refers a prospect to a financial advisor. The conversation might go something like this: "You should do business with my broker, John Smith. He is very good." The response to this request: "What makes him good? How much money has he made for you recently?"
• You possess relevant knowledge.This means that you have solved a problem for someone else, and that problem is similar to theirs. People look to you as a provider of solutions. So if they have a problem, they select you because they think you can fix it. For example, a prospect may have chosen early retirement and has a need to roll over his 401(k) funds to an outside custodian. He sees ads from every bank, brokerage firm and insurance company, announcing that they are "in the business." The prospect knows that this is an important decision and he does not have enough information. But he hasheard that you helped another person who was in a similar situation; so, he contacts you. Experience also counts as "relevant knowledge." The stock market is cyclical and in this example, it is a bear market. The prospect has a relationship with another broker, and his level of experience with that broker is less than two years. This is the prospect's first bear market. He does not know how long it will last or how to adjust his investment strategy to protect his assets. He is likely to consider moving to another financial advisor who offers more experience. That advisor possesses "relevant knowledge" because he has been through bear markets before.
• You can help them organize their financial matters. Many investors have money in different places—CDs, municipal bonds, variable annuities, etc. Getting these documents organized equals making things easy for them. It is often a chore for many people to keep track of all their statements, stay on top of gains and losses and communicate with their accountant in a timely manner. So you can make things easy for them, help them get organized and assist them in developing a financial plan.
These three values need to be communicated regularly and consistently to prospects, Sanders writes, mainly because they tend not to keep them top of mind. As an advisor who wants their business, you need to "advertise these skills" so that they can make the connection and choose you.
Bryce Sanders is president of Perceptive Business Solutions Inc. in New Hope, Pennsylvania. Captivating the Wealthy Investor is available on Amazon.com.
This article appeared in Advisor Today.
Topics: Running Your Practice/ Lead Generation