Getting Referrals Without Asking
The key is to offer a client experience that is carefully crafted to promote referrals at every stage.
Getting Referrals Without Asking by J. Leland "Lee" Davis, LUTCF
Unless you enjoy watching your friends, clients and acquaintances respond to you as if you had leprosy, be careful asking for referrals. Better yet, just don't ask. Don't make your client unnecessarily uncomfortable.
It is far better to set the stage for a lifetime relationship and a steady stream of referrals by providing incredible advice and service as well as promoting referrals than to ask for them. Research shows that at any point in time, up to 25 percent of your clients may actually be referring you to others—you just don't know it.
How not to ask for referrals
Here's how our mature wealth management practice is able to receive a steady stream of referrals from wildly happy clients: We act as if they plan to refer people and/or already have, and they happily comply.
At the conclusion of almost every phone or personal interaction, meeting or event, we say, "We never want to close our visit without saying thank you. We want you to know how much we sincerely appreciate your business. We're honored to help you and your family. We know you keep us in mind to refer us to friends, family and business associates—great people like you—and we couldn't be more grateful."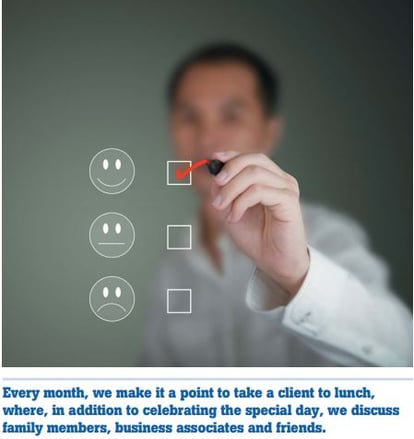 Our service assistants routinely thank clients in the same fashion on every service request as well. At the end of a client service call or email, our service assistants say, "Is there anything else I can do for you at this time? Great—I want to thank you for this opportunity to be of service. On behalf of Lee and Jeremy, we sincerely appreciate your business and we know you keep us in mind to refer us to great people like you. We are most grateful."
Each of our team's email signature lines reads, "Thank you for those you refer to our firm." Hundreds of email messages go out daily. It matters. And our automated receptionist says the same thing as part of the greeting on the rare occasion when we can't personally answer.
As a comprehensive wealth management firm, our questionnaires identify family members, business associates and professional advisors. We routinely discuss these people and their roles in our clients' lives. If appropriate, we say, "that's someone I'd love to meet sometime. If it works at some point, would you mind introducing me?" I don't recall ever having been told no. We take notes and find a time and a way it will work. The introductions happen.
Every client, connection, and prospect of our firm receives a letter (yes, a real live letter with first-class postage) from us every month. The letters are printed on quality paper, using our branded letterhead. They are a mix of values oriented messages and financial topics of interest. Those letters routinely thank the recipient for the referrals they so graciously provide. Occasionally, they include brief response forms offering opportunities for introductions.
We require that every client of our firm have a full wealth management plan that they are implementing and keeping current. We personally meet with them to review that plan at least twice yearly. At each of those meetings, potential referrals are discussed, and opportunities are opened. At no time, however, is the client "asked" for a referral.
We hold three to four interesting and exciting client events yearly. From ski and golf related events to our Tiffany Dinner at year-end, the 30-50 people in attendance have an enjoyable, fun, informative event. Each event is over-subscribed by design. In addition to the great agenda, those attending are treated to a sincere "Thanks so much for your business and those whom you refer to our firm." We do this each time. They love it, and word gets around. Referrals flow.
We maintain a remarkable client database (the Bill Good Gorilla Marketing System), where it is a job requirement that every client interaction and activity result in a note in the system. Jeremy and I read these notes diligently. Our team is trained to look for opportunities and names. We sift through the notes so we can have an intelligent discussion about them with the client. Our "Gorilla" system doubles as an in-depth marketing machine.
The client experience
Every month, we make it a point to take a client to lunch, where, in addition to celebrating the special day, we discuss family members, business associates and friends. We always remember to mention that when the time is right, we'd love to meet them. Again, we thank them sincerely for their business and those they refer.
Our client experience is carefully crafted to promote referrals at every stage. For example, a client's visit to our office is carefully choreographed. The client is enthusiastically greeted, and seated. He is offered his favorite drink. On the table next to his chair are letters of thanks from numerous clients. His favorite reading material is always located nearby, from Rover Magazine (for Range Rovers) to Drake (for fly fishing) to Golf Digest and more.
A beautiful "Referral Gift Chest" is on display in the lobby, full of packages of golf balls, wine bottles, and assorted items of interest.
On the cherry wood console of our director of first impressions sits a beautiful electronic picture frame facing the client in our reception area. That picture frame has continuously running theme pages that welcome all clients who are coming in that day by name. Between every client name as the frames pass, are the words, "Thank you for your business and kind referrals."
Strategic planning
Every Monday morning, our team meets for 60 to 90 minutes. In addition to service items, new business and open opportunities for business, we review our marketing plan in detail. We grade ourselves, just like we did in school. We diligently note the names of referrals collected during the week for discussion, and we enter them in our database. They are then on the conveyor belt to becoming clients as we begin to "drip" them with information and the occasional call. In our view, it's only a matter of time.
Just in case a client slips through what is a very tight net, we have a 90-day, no-contact call regimen. If it's been more than 90 days since an interaction with our firm, our system identifies that fact, and the sales assistant or director of first impressions gives them a scripted call. It's delivered beautifully, conversationally. The message is simple: "It's been awhile since we chatted. Is everything going OK with you? Is there anything you need from us? And oh, by the way (you guessed it)…thanks so much for your business and those whom you refer to our firm." Names and opportunities present themselves.
The results? Over the last 42 months, our practice revenue has more than doubled. Last year, we received more than 60 new referrals, 35 of whom became clients. That's about three new families or businesses every month. Not bad for not asking. Try it!
J. Leland "Lee" Davis, LUTCF, is a Top of the Table member with multiple Court of the Table qualifications over his 25 years of MDRT membership. He and Jeremy L. Davis, CFP,ChFC, (a Court of the Table qualifying MDRT member) are partners in the Colorado-based wealthadvisory firm, J.L . Davis Financial Corporation, which does business in 28 states.
This article appeared in Advisor Today.
Topics: Networking/ Lead Generation