Getting Beyond the Production Plateau
Find out what it takes to continue climbing to a higher level of success.
Getting Beyond the Production Plateau by By Daniel Finley
Are you stuck on a production plateau and wondering how you can fi nd your second wind without running out of breath? The solution is simple and begins with understanding that success is a process. Read on to find the ways that will help you get back on track and ensure that your business soars in 2014.
During a presentation at the 2013 NAIFA Career Conference and Annual Meeting, I asked a group of advisors why most veterans in this business fi nd themselves on a production plateau. Most thought that it was because veterans just get too busy. While that may be an excuse, it's not the real reason.
Typically, plateaus occur because advisors are on what I call "The Production Trend Line," which is the area between working just hard enough to feel comfortable with what they are making (The Production Support Line) and working smart enough to reach new levels of success (The Production Resistance Line). In other words, they are stuck in their comfort zone.
Ironically, both the support and resistance lines are driven by fear, the fear of failing (resulting in not being able to pay your bills), and also by the fear of succeeding (resulting in growing the business to such an extent that it becomes stressful to maintain).
Developing your prospecting mindset
To develop your prospecting mindset, you must first understand that fear is driving you to stay where you are with your business, but that you must get beyond that fear.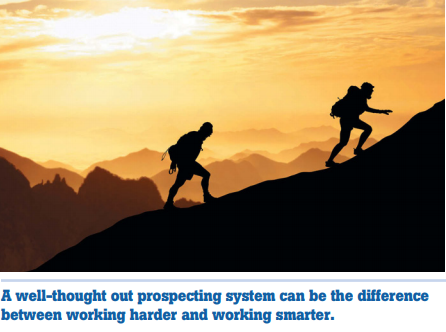 Second, stop viewing tasks as being painful or pleasurable—they are merely things that must get accomplished. Third, be honest with yourself about why you are in this business. Is it to help people? If so, you don't fulfill that purpose by holding yourself back.
In this business, there are two types of people–hunters and farmers. A hunter likes to identify prospects, set appointments, have discovery meetings, find the need and fill it, close meetings, and get back to hunting. A farmer likes to identify investment/insurance challenges and solutions, monitor the client's accounts, cultivate relationships, and get back to farming.
If you are a farmer, fi nd someone to join you in your business who is a hunter. If you are a hunter, you must know what your prospecting strengths are through gaining an understanding of what you loved about prospecting when your days were spent "hunting" for new clients.
Once you do this, it's important to have at least two prospecting methods to avoid burnout. Prospecting can be monotonous if you use only one kind. So you must look at the fi ve common forms of prospecting: cold calling, cold walking, seminars, networking, and referrals, choose two that you like to do, and incorporate them into your prospecting campaigns.
Oftentimes, when an advisor has the right mindset and knows the types of prospecting methods he will use, he wants to quickly get back to prospecting like he did when he was a rookie. However, prospecting like a veteran must include the following:
Strategic Target Market
Strong Value Proposition Statements
Defined Goals and Objectives
Well Planned Prospecting Systems
Regular implementation of Prospecting Systems
Remember that a well-thoughtout prospecting system can be the difference between working harder and working smarter.
Once you get your systems up and running, it is important to consistently develop your prospecting skillsets. Some areas to work on are the five common challenges of prospecting listed below:
1. Not having a structure to your prospecting calls
2. Not preparing for objections
3. Not being able to track progress
4. Not understanding the three most important sales techniques
5. Not understanding when and how to close the sale.
After you have worked on these areas, the next steps are to sustain momentum by assessing your plan, and evaluating your goals, objectives and results. You then adjust your plan by defi ning any new challenges, determining new solutions, and applying them.
Assessing the plan may be simple, but it is not easy. The simple part is looking at the numbers. An example of this would be if you identifi ed that you are calling enough people. The diffi cult part would be in understanding why those initial contacts were not translating into enough new prospects going into your pipeline.
Assessing and adjusting your plan take time and effort. But if you stick to the strategies described in this article, you will fi nd your second wind and get beyond your production plateau.
Daniel C. Finley is the president and co-founder of Advisor Solutions, which is dedicated to helping advisors build a better business. Finley's 20-year brokerage career includes 14 years as a successful fi nancial advisor and more than 8,000 hours of sessions coaching financial advisors. For more information, visit Advisor Solutions at www.advisor-solutions.com.
This article appeared in Advisor Today.
Topics: Lead Generation