Get Out of Your Comfort Zone!
Start by seeking out new information and mastering new techniques.
Get Out of Your Comfort Zone! By Lisa Horowitz, CLU, ChFC
As agents and advisors, we are required to fulfill continuing education (CE) requirements to renew our licenses. One can look at this as an unpleasant drudgery, but I take a different approach. I see it as an opportunity to increase value to our clients by becoming more knowledgeable about topics that affect and concern them. When we are up-to-date on the latest products, strategies and technologies, we are more useful in helping our clients protect their assets and achieve their planning goals.
Participating in a CE class has other benefits, as well. Whether we are in a traditional classroom or part of a webinar, interacting with other professionals can be a catalyst for discussion and debate. The sharing of ideas only enhances our ability to stay on top of the latest innovations.
A case in point
One way I have expanded my knowledge base has been to take CE classes in subjects that can benefit the clients I serve—classes on Social Security, Medicare, the Affordable Care Act, risk management and fraud prevention. And as you strive to enhance the value you bring to your clients, some of you might want to pursue the new NAIFA LUTCF designation, which provides the skills you need to advise on the real-life issues of today.
We hear so much about Baby Boomers coming of retirement age and all that this brings. CE classes have adapted to this new reality. We can now study gerontology, working with the senior population, and advance care planning. In fact, my efforts to stay current on the needs of the aging gave me the incentive to broaden the scope of my practice.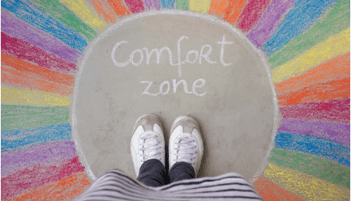 The fact that so many of us are caring for older relatives made me realize that I should start a consulting practice to provide some of this practical knowledge to my clients. LifeCycles provides information and resources for those caring for a loved one facing a major life transition. Surely this is not just selling insurance anymore. I would not have pursued this line of work had I not been inspired by the information I was exposed to in several venues, such as CE classes and sales meetings, and listening to my clients and friends discuss what is happening in their lives.
We want to be thought of as advisors and experts who bring products and solutions that resonate with our clients. We can continue to achieve this and bring so much more when we step outside our comfort zone and learn about topics that might not have commission dollars attached to them, but are nonetheless relevant and important.
If we want the public to respect us as professionals and as sources of reliable information and advice, we need to maintain our knowledge and expertise. We can achieve this by seeking out new information and mastering new techniques. We are in a field that dates to the birth of our nation, but the products and the way we bring them to the public have changed. We must keep abreast of new guidelines, laws and regulations, which have grown increasingly complex over the years. Yes, we are still selling insurance, and people are still buying the products for many of the same reasons. But it is clear that our economic climate and reality have changed. We, too, must change.
If we step outside our comfort zone, we can maintain our relevance to consumers. They can go online and buy whatever insurance they need in 2016. So why should they consult a professional? Because we bring value to all that we do. Our value is in our knowledge—the knowledge of our products and how they fit our client's needs, knowledge of the economic reality that our clients live in, and finally, knowledge of other professionals we can bring into the conversation should the need arise.
Change is inevitable. Doing business outside the zone is only possible if we are open to new strategies. Only then can we be sure that we have the knowledge necessary to bring our clients the assurance that their planning will serve them well.
Lisa Horowitz, CLU, ChFC, is founder of Lifecycles: Resource Management for Lives in Transition. Contact her at 718-352-1311.
This article appeared in Advisor Today.
Topics: Lead Generation