Demystifying CPA Alliances: The Importance of Trust
Keep these six tips in mind when building a professional alliance with a CPA and watch your referrals grow.
Demystifying CPA Alliances: The Importance of Trust By John Pojeta
Alliances with certified public accountants (CPAs) have long been lauded in the insurance industry for the potential to generate new business with high-value prospects. A successful CPA likely works with the types of decision-makers you'd like to meet, so if you can forge a relationship with one, he or she could create a stream of lucrative referrals for you and your business.
Despite the lip-service paid to CPA alliances—as well as alliances with other professionals, like attorneys or property and casualty agents— few advisors have successfully incorporated this strategy into their sales pipelines. Few deny the potential return of CPA alliances, but actually building such relationships can be difficult, leading many advisors to abandon the opportunity. In many cases, advisors underestimate the importance of trust from the CPA's perspective. CPAs are hesitant to expose their clients (and their reputations) to risk, and your alliance process needs to account for that fact.
When you are developing a professional alliance with a CPA, here are six things to keep in mind:
1. Your usual sales process won't work. A CPA will not become your client, so you can't approach them with the same tactics that you use to sell your products and services. You should still have a process, but that process should treat the CPA like a peer and it should encompass what you bring to the table and what would motivate a CPA to share business with you.
2. A CPA alliance is about making a new professional connection. Always ask yourself, "What's in it for the CPA?" As you develop the relationship, establish a process for revenue sharing. Discussing these details explicitly helps to establish expectations while also solidifying the way your business relationship will work in the future. Be sure that your revenue sharing process is compliant with local law.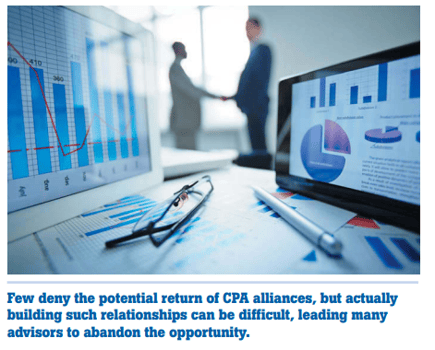 3. Forge a meaningful partnership. Formalizing your referral and revenue sharing processes will help clarify how your alliance will work, but remember that a partnership is a two-way street. Referring business is just one piece of the puzzle. You might be able to go above and beyond to contribute to the CPA's business in a positive way, perhaps with business or sales insights. This adds additional value to your alliance.
4. Be patient. An alliance with a CPA will not produce an instant return. You may have to foster a relationship for a year or more to develop the comfort level necessary for referrals to begin trickling in. As you provide exceptional service to the clients that you share with the CPA, you are likely to see the frequency of referrals grow.
5. Pursue multiple alliances simultaneously. Because CPA relationships take time to mature, it also takes time to see if the partnership will actually stick, making the pursuit of more than one alliance at a time crucial to your sales pipeline. Planting a batch of seeds like this increases the likelihood that you will see a return, and sets the stage for a multitude of new business streams.
6. Have someone else do the legwork. To make your alliance sales process more efficient, consider engaging a marketing firm or a sales person to seek out and warm potential CPA leads. If you can add this engine to your sales process, you can skip to meeting with CPAs that have already expressed an interest in learning more about how your business might complement theirs, exponentially accelerating your return.
These tips can apply to any formal alliance, but CPAs are a great place to start because they can easily identify clients that could benefit from the services that you offer. Once you have established your network of CPA alliances, you can expand your search and form partnerships with other high-value professionals.
Adding alliances to your sales pipeline could represent a huge influx of potential business, but you have to take the time to nurture these opportunities. As a gatekeeper, courting a CPA is akin to courting a top-tier prospect. A lot is at stake for everyone involved—for you, a stream of new sales; for the CPA, his or her reputation. Just as you would not expect a CEO to convert after the first meeting, give your alliances time to mature, and use these tips to steer the relationship in the right direction.
John Pojeta is the VP of Business Development at The PT Services Group. He researches new types of business and manages and initiates strategic, corporate-level relationships to expand exposure for The PT Services Group. John came to The PT Services Group in 2011. Before that, he owned and operated an Ameriprise Financial Services franchise for 16 years.
This article appeared in Advisor Today.
Topics: Lead Generation