Creating Opportunity by Reaching Diverse Markets
The increase in diversity in the United States population is the result of recent immigration, and by births in the U.S. of children from immigrant families. With a more diverse group of people, from a wide range of cultural and ethnic backgrounds, this gives advisors an opportunity to serve more clients. This article gives tips on how advisors can reach and work successfully with a diverse market by overcoming barriers and embracing culture.
Reaching Diverse Markets by Julie Knudson
Here are some ideas for making inroads into a group that is underserved— but potentially lucrative.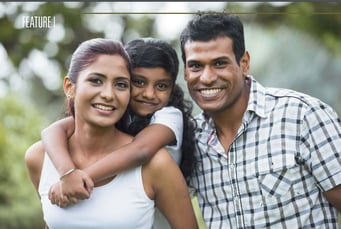 The U.S. population is undergoing a significant change, resulting in a more diverse group of people from a wide range of cultural and ethnic backgrounds. This shift has been fueled largely by recent immigration and by births in the United States of children from immigrant families. Advisors who wish to work successfully with people in these markets need to understand the challenges involved, identify ways of addressing these challenges and create a plan that can give them deep insights into the financial needs and characteristics of these groups. Here are some ideas for making inroads into a group that is underserved— but potentially lucrative.
Overcoming barriers
Most large cities in the U.S. today are inherently diverse, with a blend of people from different cultures and ethnic backgrounds. Ali Agha, CFP, a Stratford, Conn.-based, sales-development manager at New York Life, says that understanding people from these backgrounds can be a challenge to financial and insurance professionals who are trying to reach them.
Overcoming barriers is sometimes difficult, particularly when the advisor is trying to work with a group that isn't always quick to welcome outsiders. "If you aren't part of that culture, it's sometimes very hard to get into that market."
Even in groups that are open to newcomers, the way in which some approach discussions about topics like household finances and risk management may not be easy for advisors to understand. The Chinese market, for example, tends to be more "collective," with a tendency to making decisions based on how those decisions will benefit their families and the community rather than on how they will benefit them personally, Agha says. "Also, when we try to engage in emotional 'feeling finding' questions in conversation, it can be difficult to connect because that isn't their cultural norm. Language barriers can also pose a problem, and a seemingly simple question or statement could be misinterpreted."
As Agha was looking for avenues to approach various groups, he found a number of readymade opportunities within his local area. "In New York, there are Chambers of Commerce for different countries," he explains. "You could sponsor an Indian Diwali event, for example. It's a great way to show that you respect the community."
Other happenings, such as the Chinese New Year, also present new channels that allow advisors to get to know and network with people from different demographic groups. Agha says that even if advisors aren't able to gather many marketing leads at these events, they're likely to gain new insights into aspects of the group's culture, which will give them a better chance of making connections with individual people when possible.
Embracing the culture
Learning about the nuances of each culture, such as how the community typically approaches financial planning, when individuals are likely to involve entire families in risk-management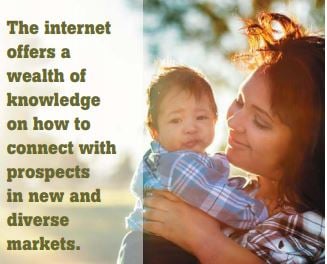 discussions and why particular product categories may or may not strike a chord, takes effort, but it doesn't need to be extremely difficult.
For his part, Agha began learning about new cultural groups in the simplest way possible: He asked other members of different groups about the best way to get his foot in the door. New York City's diverse population also made finding warm contacts relatively straightforward.
"I had friends from 50 different countries," Agha recalls. "I just asked them, 'When it comes to talking about finances, for example, how does your culture react to that?'" From these existing connections, he was able to learn more about which issues he should broach and how, and which he should avoid.
The best route into a new market, Agha believes, may be through an advisor who is already doing business with people in that market. "It gets you past that first hurdle, and it's where I think joint work makes all the difference."
This type of relationship doesn't have to go one way, and it can be tremendously beneficial for both advisors. Agha says that if he were dealing mostly with white, middle-aged families and another advisor had experience working with a different cultural group, partnering could be a good solution for both of them.
Once an advisor has determined that he wants to break into a market with prospects from a culture that's unfamiliar to him, the initial approach must be carefully orchestrated, says Lee Armstrong, financial advisor with Der Manouel Insurance Group in Fresno.
If an advisor finds himself in a situation in which he has not had much exposure to the culture or he is not sure how best to connect with potential clients, Armstrong says that he "better ask a lot more questions and do a lot more listening than talking, at least until you feel comfortable with what their priorities are."
An individual's cultural background, the importance his family places on that heritage, the opportunities they've received, and their perspective on life-changing and day-to-day issues are likely to impact how they approach every decision.
Becoming familiar enough with these influences so that he can successfully navigate them and help the prospect navigate them as well will greatly affect the chances of the advisor expanding his book of business into diverse markets.
Over the years, Armstrong adds, the internet has provided him with a wealth of knowledge on how to connect with prospects in new and diverse markets. Along with learning more about different cultures, he has also discovered which topics and issues he needs to be sensitive to when dealing with prospects from diverse markets.
This article appeared in Advisor Today.
Topics: Diverse Markets