This vital tool represents who you are and what makes you stand out.
Creating a Storyboard By John Pojeta
When we partner with producers, one of the first steps in our process is to establish a storyboard that represents who they are, what they do, and what makes them different from their competition.
For us, having this storyboard is essential for generating new business for the producers who hire us. It provides a consistent, engaging narrative that we can use to spark the interest of potential prospects. We have found this process to be so successful that it has become a core part of how we generate new business for clients.
Storyboarding, however, offers benefits that extend beyond appointment-setting programs. The same messaging that is powerful in a sales call should be replicated across the firm to reinforce its efficacy. In addition to the way you approach sales, your storyboard should impact your website, materials, advertisements, and the way your entire firm communicates—from the CEO to the receptionist.
Areas to address
In our own work with storyboarding for producers, we have found certain elements to be particularly important. Whether you are revising an existing storyboard or starting from scratch, think of addressing the following:
• Specialties
• Designations
• What makes you different (specifically)
• A forward-thinking approach
• Case studies
• References
• Transparency and clarity
Taking the first steps
To help you get started, we've provided a simplified outline of the storyboard we use for new business calls. By following this model, you can repurpose and reproduce the key points from your storyboard to bring consistency to your messaging, which is essential to your long-term success.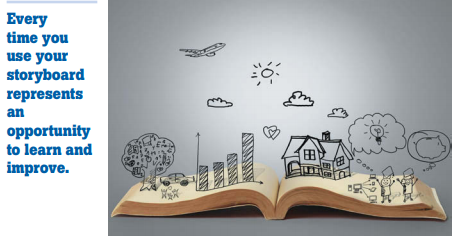 Your website may not address this content in the same order as your sales pitch, but presenting the same information with a similar delivery will help unify your efforts.
1. Company and producer information.
Succinctly define your firm's background, including its size, location, and the types of clients it typically serves. Individual producers should do the same to highlight their experience, qualifications, and specialties.
2. Specialties and services.
Be specific about and detailed about your services and the clients who you typically work with. This is an opportunity to differentiate yourself from the pack and demonstrate why you are the best fit for your target market. From this material, prospects should be able to identify your "edge."
3. Your approach.
Describe how you serve your clients, and leverage the uniqueness of your business. Highlight assets like your specialty-branded products, your online portals, your strategic partnerships in the space, the members of your team and the value they provide.
4. Case studies.
Case studies present an opportunity to present in clear terms exactly what you can do for a prospect by talking about work that you have already done. Have a one-sentence version, as well as a lengthier, more detailed version prepared.
Once you have built your storyboard, make an effort to update it on a regular basis. Your business will evolve and so will your story. You may add new products, enter new markets, and learn that one part of your storyboard resonates more strongly than others. Every time you use your storyboard represents an opportunity to learn and improve. Take notes, and set aside time to reevaluate your storyboard every other quarter.
If your story stagnates, you and your services will stagnate as well. Your story represents you. Keep it fresh so that it accurately reflects your expertise and your work. And treat it with as much care as you do the other parts of your business.
John Pojeta is vice president of business development at the PT Services Group (www.thePTServicesGroup.com). Contact him at 412-291-6685 or at john@ theptservicesgroup.com.
This article appeared in Advisor Today.
Topics: Lead Generation