Conversations That Empower Clients
Prospective clients want to find the right financial representative who will take the time to explain their business fully. They want someone who will offer multiple solutions to address their needs. These prospective clients want to make the most out of their finances. By choosing the right financial representative, they can change their lives for the better. In this article, you'll read conversation starters that will show prospective clients why you're the right representative for them.

Conversations that Empower Clients by Kurt Shallow
These questions will show them that you are capable of being their co-pilot.
When prospective clients are trying to make the most of their finances—especially over the course of a lifetime—working with an experienced professional can make a real difference. However, many don't know where or who to turn to, and the range of choices can drive some to throw their hands up in despair.
In trying to find a financial representative who is a good fit, prospective clients are looking for someone who takes the time to explain things fully and offers several options to address their needs.
Consider these conversation starters to show your clients that you're capable of being their co-pilot.
What keeps your client up at night; what are their financial worries? The financial-services industry, which includes anything from banks to investment companies to insurance firms, represents one of the biggest sectors of the U.S. economy. Prospective clients are approached for their business everywhere from big box stores, neighborhood banks to online solicitations. That makes for a lot of choices. As a financial representative, it is your job to reassure the client that working with you will help him reach financial security. Provide an overview of the products and services you are equipped to discuss. Offer specifics as to how you will manage their money and investments and how those solutions will pertain to their life now and for years to come.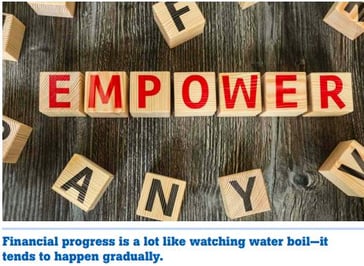 Do they currently have the right protection in place? Are your clients participating fully in their workplace benefits? Where are the gaps? They may have limited long-term disability insurance through work, but what if the disability occurs while they are "off the clock"? How long can they and/or their family survive on shortterm disability payments? Voluntary life insurance through work is a great start, but what about permanent, individual coverage? Is your client a business owner? Are the right safeguards in place to protect the business? If the unforeseen happens (illnesses, accidents, or worse) most people want to be sure that their family, loved ones or business partners would be financially secure.
Is your client saving enough for the future, and in the smartest way? Reassure your client that there's no single answer to this question – everyone's goals are different. As the financial rep, though, you should probe your client about their current budget and lifestyle. Truly listen to their responses and show them what is possible today, five years from now, and further out in the future.
Can they easily track their financial progress, even when some accounts aren't managed by the same company? Financial progress is a lot like watching water boil—it tends to happen gradually. At the beginning of the relationship, take a live snapshot of everything going on in your client's life—from total compensation statements to retirement savings to life insurance to savings accounts— and let the client know that you will use this information to guide annual check-ins. For many clients, this may be the first time they will see all of this information arranged in a single document.
Is your client concerned about "risks"? Discuss the types of risks your client may be taking on with certain products. How could this impact your client—both positively and negatively— in the long term? Are there any ways to guarantee more stability? Are there other tools they can use as back-ups?
Does your client fully understand how life insurance works? Most are familiar with term polices, but need more education on the benefits of whole life insurance. In addition to providing a legacy, financial representatives need to emphasize that there are other benefits of whole life policies, such as acting as savings vehicles that can provide a source of retirement income or be used as a rainy day fund.
Many clients understand the need for term life insurance for coverage during a specific period, but don't know when they should consider whole life policies. Luckily there are riders now available where a client can purchase a term policy and on the 5th, 10th and 15th anniversary year of a 15-year policy a portion of the face value is moved to a whole life policy. This helps to streamline the process and continues to provide financial security.
Do your clients have a steady paycheck, or does their income have ups and downs? In the aftermath of the Great Recession, Millennials in particular are finding it hard to find steady work.* Many have turned to freelancing, seasonal work and temping. Uncertainty about the possibility of illness or unemployment may make these clients wary of committing to regular payments throughout life, e.g., a mortgage or a whole life insurance policy. Let them know that together, you can develop a plan to overcome potential stumbling blocks while keeping their goals within reach.
Equally as important, is your client expecting a large lump sum or inheritance in the near future? Large sums of cash can be overwhelming to manage. Bring up the attributes of various annuity products that can provide a life-long income stream.
Is your client concerned that you are too young, or does he lack brand recognition of the product manufacturer? Reassure your client that you are here for the long haul with them. Share information about your associates. Do you work on a team? Share bios for those you may confer with in order to stress to the client that with a team approach, they are benefiting from collaborative knowledge and experiences. Provide your clients with information about the product carriers you are recommending. They need to know that your financial institution is positioned for their long-term security.
How do we evaluate the plan? How would your client determine if the plan has been successful? How often does the client want to be in touch to ensure the plan you've designed together is on track?
The right advice can contribute significantly to long-term prosperity. Your client wants to select a financial representative that he not only likes and trusts, but also one who shows enthusiasm and commitment to his success. By having this conversation, you will already be situated as an advisor who is thoughtful and thorough.
Financial representatives can explain things clearly and simplify choices when it comes to the many competing issues in life. Your clients are searching for someone to help them look at their finances in a unified, holistic way so that they can achieve major milestones, such as starting a family, selling a business, transferring wealth to new generations, and living a fulfilling life along the way. This is your opportunity to guide that complicated conversation even when your clients may not know where to start.
Kurt Shallow is Head of Agency Distribution, The Guardian Life Insurance Company of America.
This article appeared in Advisor Today.
*Source: Pew Research, "How Millennials Today Compare with their Grandparents 50 Years Ago", March 19, 2015.
Topics: Sales/ Running Your Practice/ Lead Generation