Become a Networking Success
The value of networking is often overlooked. This article will help readers understand the benefits that can be achieved from networking, and the strategic elements behind making authentic connections. Learn how to overcome your fear of networking, set a goal and always be the first to give.
Becoming a Networking Success by Toni Harris Taylor
The key is to overcome your fear of networking, set a goal, and always be the first to give.
Do you think that networking is a waste of time? Frankly, I felt that networking was not only a waste of time and money, but I was also uncomfortable with the idea of going to an event to meet and mingle with a bunch of strangers. I really did not know my goal or objective for networking. I felt like I was just passing out a bunch of business cards with no results.
Fast forward to today—and now I love networking. In fact, all of my business success can be traced back to networking. This is because I learned how to network effectively and how to turn my efforts into real business. In this article, I will share with you a few tips I've learned about networking, which can help you become an effective networker too.
If you fear networking like I once did, my advice to you is to feel the fear, but to keep on stepping forward. Networking by definition is a supportive system of sharing information and services among individuals and groups that have a common interest.
The good news about this definition is that it is a supportive system of people with a common interest. Why is this good news? Because it means that the people who attend networking events generally are supportive and have a common interest, which gives you an instant connection. This helps to take the fear out of networking. So if you act naturally, and show an interest in the people you meet, the fear will most likely disappear.
How to network effectively
Also, you must remember the golden rule of effective networking: Give first. I find that most networkers want to help one another. Avid networkers want to help you achieve your goals and you must want to help them achieve theirs. If you want to be a successful networker, you must adopt this mentality as well.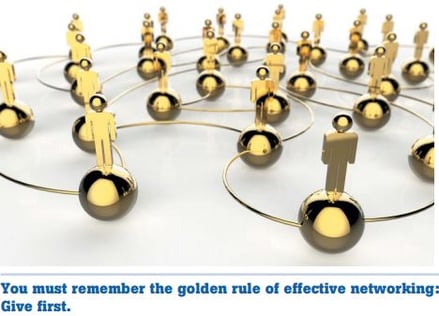 You want to interact with people who are sharers and have an abundance mentality. When networking, I ask the people I meet who they are, what they do for a living, and what they need. If I know someone who can address that need, I put them in touch with each other.
Guess what happens next when I do this? They want to know what I need, too. This is my opportunity to tell them. And of course, they reciprocate by introducing me to their connections. The key here is that you must be clear and specific about what you need so they will know how to refer you to the correct people.
You must also set a goal before attending networking events. Because I'm an avid networker, I may meet 20 people at an event, but I want to connect more deeply with only five. Why five? This is the number of people I know I can follow up with for a one-on-one coffee to build a deeper relationship. When I meet those five people, I ask for a coffee date to find out more about how I can support their business. I book the appointment at the event so that when I leave, I have five new appointments on my calendar. Using this method, I have built a network of people who consistently refer business to me.
Networking is not about selling your products and services on the spot. And if done correctly, it is not a waste of time, either. Instead, it is about strategically connecting with people who can support you and your business.
Toni Harris Taylor is a motivational speaker, marketing strategist and certified coach. She helps her audience and clients take drastic steps to achieve drastic results. You can reach her at www.drasticstepsmarketing.com.
This article appeared in Advisor Today.
Topics: Lead Generation/ Networking