It is inevitable for advisors to reach a roadblock during some point in their career. Typically, they start out determined and dedicated to working countless hours to achieve the success they desire. With hard work, luck and networking, they can find success. However, that success can be fleeting. Learn how to infuse passion back into your career, which can lead you to a higher level of success.
Ascending to Greatness by Daniel C. Finley
Infusing passion back into your practice will propel you to a higher level of success.
It's no secret that most advisors reach a business plateau at some point in their career. Typically they start out with the best of intentions and work countless hours to "survive." Through hard work and a little luck—and by making connections—they manage to build a business that generates a level of success that allows them to feel comfortable enough to perch atop their business apex.
The only problem is that the business can never stay at that level for any extended period. Assets under management will inevitably decrease because of market pullbacks, client attrition or loss due to competition. The point is there are only two ways your business can eventually move— forward or backward.
So how can you infuse life and passion back into your practice to ensure it ascends into greatness? Let's take a step-by-step look at how you can do just that.
Step 1: Choose to succeed. Success is a choice.
If you choose to succeed but do not perform the activities or tasks that you should perform, you will merely remain at a plateau, more than likely descend, and take steps backward away from your desired outcomes. However, if you choose to succeed and understand that you need to constantly adjust your attitude towards how to continually find that success, then working toward your goals (both short- and long-term) will be much easier. Napoleon Hill said it best in his book Think and Grow Rich, "Whatever the mind can conceive and believe, it can achieve."
Step 2: Reassess your business model
Most advisors rarely take the time to ask themselves if their current business model is working, although all advisors should. A business model, according to Wikipedia, describes the rationale of how an organization creates, delivers and captures value. If your business is not growing, it probably does not have a strong business framework to guide it. Therefore, it is time to reassess and take a look at how you could modify it to make it a better foundation for your business.
You might need to increase your technical expertise, add a specialized member to your team or find a new target market. Whatever the answer, it is vital to determine your target market, know what their needs are and know how to deliver them solutions. You want to create not only a loyal client base, but raving fans as well.
Step 3: Remake your brand
When you take the steps mentioned earlier, you will be encouraged to adopt a positive mental attitude toward finding your own success, which, in turn, will showcase your confidence to your current and future clients.
However, your old brand may not reflect the new you. If that is the case, it is important to share your message by first remaking your brand. The key is to confirm that your target market knows who you are and why they need YOUR expertise.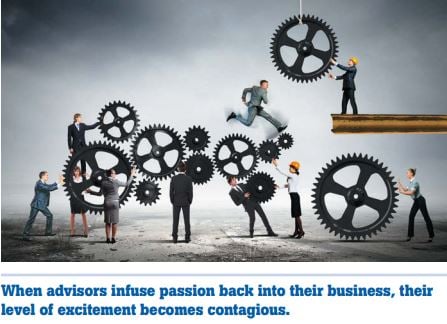 If you have been in the industry for some time, you may not even realize that you already have a brand. In today's competitive environment, a well-known image, a great reputation and a unique selling proposition make your business stand out from the crowd and tell prospects and clients what is special about you. These three components are all paramount in attracting and retaining your ideal clients.
Take Sandra P., a veteran financial advisor client of mine who, after 23 years in the business, decided to get off her business plateau and redefine her brand. Over the years, she had worked with many types of clients, but one day she asked herself, "What types of clients do I really love to work with?" After realizing that she loved to work with high-net-worth (HNW) women, she asked herself again, "What is it that they need the most and why?"
From those two questions, her "new" brand was born. She determined who her target market was going to be and exactly what they needed. Next, she mapped out how she was going to help them. Then, she re-worked her messaging and the image she wanted to represent her business. Finally, she began to seek those HNW women out and put her plan into practice. Within a few short years, her business had skyrocketed, which fueled her passion for what she did every day.
Step 4: Revamp your marketing
Once you have remade or redefined your brand, it is important to have marketing consistency. Do your logo, website and literature clearly convey the image and benefits of why your target market should want to do business with you? If not, it absolutely should—and can. All you have to do is find the right people to help you put together continuity or a thread that is consistent through all of your materials. In addition, you may want to restructure how you market your business. As a rookie, this process was probably straightforward to you. You picked up the phone and cold-called complete strangers. Today, it is likely that you would need to map out a more focused and layered marketing strategy.
Sandra did just that when she decided that in order to market herself to HNW women, she would have to strategically align herself with Centers of Influence such as female attorneys and CPAs with several years of experience. These individuals had established client bases, credibility and the trust of their clients. She needed them to help her get introductions to her target prospects.
While I will not give out Sandra's trade secrets, I will tell you that within a short period, most of the people in her Center of Influence campaign knew who she was. What is even more impressive is that to this day, when financial advisors who are inquiring about my coaching services want to know who I work with, I do not hesitate to mention Sandra's name, with her permission of course. Although some advisors may not know her by name, all advisors in the city she resides in know her brand.
Step 5: Re-energize your activities
Following the steps mentioned earlier will reenergize your everyday activities. Your time will be more structured, and you will leave the office knowing that the next day's tasks are already planned. As a bonus, anxieties about growing your business will disappear because you are consistently assessing what systems and campaigns are working and what are not. You know to be on the lookout for additional ways of adding value to your practice and improving your messaging.
Step 6: Re-engage your team
When advisors infuse the passion back into their businesses, most find that their level of excitement becomes contagious. Whether they have one assistant or work with a number of colleagues, their enthusiasm spreads like wildfire and they seem to foster the same attitude in others. The level of camaraderie goes up exponentially and team members look forward to sharing their success stories in order to motivate one another.
Other advisors will also begin to take notice. They will see that you and your team have a great attitude towards success, a strong business model, a unique brand, well thought-out marketing strategies, increased activities and persuasive energy for your business.
Step 7: Rejuvenate with rest and relaxation
It is important that you rejuvenate by scheduling vacations or time off and by rewarding yourself and your team for hitting your goals. I coach entire teams to take time out to go to dinner together, go to a ball game, or spend the weekend coordinating a team member retreat. It can be overwhelming to run a business and keep all the details of how to do so efficiently and on track, but with planning, inspiration, solid execution and regular evaluation, you can keep the passion and motivation and support the reason you got into the industry in the first place.
Daniel C. Finley is president and cofounder of Advisor Solutions, the consulting and coaching service dedicated to helping advisors build better businesses. Contact him at 715-262-2040 or at www.advisor-solutions.com.
This article appeared in Advisor Today.
Topics: Sales/ Getting Started/ Running Your Practice