Are you having difficulty communicating the value of your company with the public? This article will guide you through the steps of defining your value and sharing it with your target audience. It will allow you to better understand how your company differentiates from others, and what you specifically bring to the table.
Articulating Your Value By Robert Arzt, CLU, ChFC, LLIF
Position your solutions in the framework of the problems your prospects are trying to solve.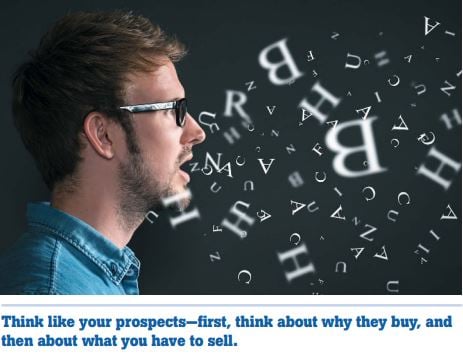 The ability to articulate a clear and compelling value proposition to clients and prospects will give you an enormous advantage over your competition. You must be able to communicate the value of your products and services as a real solution to the problems and the pain your prospects and clients experience. But even when most advisors know their value, many find it difficult to communicate it in a compelling, tangible way. They just can't seem to explain how someone would benefit from doing business with them.
How do you articulate your value proposition in a way that your prospects and clients will prefer to do business with you instead of with your competition? To communicate your value proposition, you need to be able to do the following:
• Define your ideal client. Who are members of your target audience and what are they like? What are their issues? What problems do they have that you can help solve? What is keeping them up at night? Can you describe them by age, demographics, industry, location, etc.? Creating compelling and clear statements about your target customer will help you craft a message that will resonate with them and help you position and differentiate yourself from other advisors. It is helpful to ask your present clients about their experiences in doing business with you. Ask them why they choose you and why they would recommend you to others. This will help you define your key message, language and value for your prospects
• Describe how you can help. What needs do you address and what problems do you solve? What do you do to help? What is the process? Give examples that will help prospects understand how and when they should do business with you.
• What is the impact of solving their problems? What do your clients think are the logical and emotional benefits of solving their needs? What is the transformation that they experience and what benefits will they receive? Describe these in detail. How will they feel when their problem gets solved? Make sure you get this one right. Your prospects will feel that you get them, that you understand them, and that you are with them. Answering these questions and describing and communicating the impact of the transformation are defining factors in whether or not your message resonates.
• What products or services do you offer? What are the features of your offerings? What is your product? How do you service your clients? How is it different from the way your competition takes care of their clients? How do you value your clients? How do you run your business and solve problems? Your business practice and your products and services are not the leading statements of your value proposition; they are the last part of it. Think like your prospects—think about why they buy first and then think about what you have to sell. Structure your offerings as the solution to their problems and structure your services in the framework of the problems your prospects are trying to solve.
• Establish your authority. How can you communicate the fact that your abilities as an advisor have worked to solve similar problems for others? How do you support your claims? What do your clients say about you? How long have you been in the business? What experiences, credentials, and education do you have? How have you become a trusted advisor to others?
• Demonstrate what sets you apart. Why is your offering preferable to other options for solving your prospect's problem? Is there something special about you that's worthwhile to share? Is there a way to emphasize how you're different from other advisors?
• Communicate your value proposition as part of a conversation. Make sure you communicate your value proposition in the form of a real conversation. You will ask questions and learn more about your prospect as you express your value proposition. It should not sound like an elevator speech; so, practice expressing your value proposition so that it sounds natural. Practice saying it with those you trust and get real feedback from them.
• Believe in yourself. You must fully believe in yourself and your ability. You must believe that you understand your clients, you listen to them and you are confident you can help them solve their problems, now and in the future. If you don't communicate your belief in your abilities and confidence in your products, services and business practice, no amount of talking will help. If you believe in yourself, then others will have trust in you. Remember that your body language also speaks to your confidence level.
By following these steps, you'll be able to create or improve the way in which you articulate your value proposition. Best wishes for your continued success.
Bob Arzt ,CLU, ChFC, LLIF, is president of Insurance Coach U™, a training and development organization dedicated to the financial services industry. He is a NAIFA recommended coach who offers individual coaching, group coaching and other programs designed to give advisors and managers immediate and dramatic results in their productivity, practice management and business development. Free introductory coaching sessions are offered. For more information, visit www.insurancecoachu.com or call 301-610-5624.
This article appearin Advisor Today.
Topics: Running Your Practice/ Lead Generation