Articulating the Value of Whole Life
Start by letting your clients and prospects know that whole life insurance will help them control their financial future while eliminating many of the uncontrollable financial headwinds of change.
Articulating the Value of Whole Life By Heather Renfro, CLU
With the introduction of pre-tax deferral in the mid 1970s and the 401(k) in 1982, many CPAs and financial professionals were set on steering clients to max out pre-tax investment vehicles. And at that time, this seemed logical, since the top marginal federal tax bracket had been 70 percent since the early 1960s, down from over 90 percent decades before.
But the top marginal tax rate since the 1960s has changed radically, as can be seen in the table below.
If you followed that advice and invested solely in pre-tax investment vehicles, this begs the question: How much of your IRA, 401(k) or other pre-tax investment is really yours?
Answer: No one knows!
If an investor began deferring income into a pre-tax instrument during the 1980s or later, they experienced 12 years during this 38-year timeframe when top marginal tax rates were lower than today.
If we're currently in one of the lowest tax structures since 1960, doesn't this fly in the face of the old adage, "You'll be in a lower tax bracket when you retire?" Given the U.S. government's current fiscal situation, do you believe tax rates can go lower?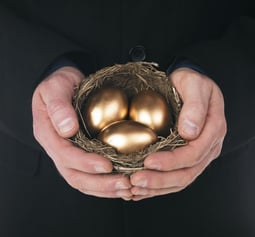 Let's review potential challenges to the old adage of a lower retirement tax bracket:
Assuming that marginal tax brackets are not adjusted for inflation, inflation-adjusted income requirements at retirement alone could bump a retiree into a higher tax bracket.
Many advisors project a retiree's required income to be 80 percent of their earning years. Do you want to take a 20 percent reduction in income at retirement right at the point when you plan to enjoy the fruits of your labor?
Tax rates have changed 26 times since 19131, and many consider them to be at historical lows already.
Retirees struggle to find the same level of tax deductions that they had during their earning years: child deduction/credit, mortgage interest, charitable giving, potential business expenses, pre-tax investment deferrals or other itemized deductions. In reality, these deductions may be

gone

in retirement.2
Is there an alternative? We believe there is, and it's a good one. Participating, non-direct recognition, high cash-value whole life insurance is one of the most versatile and underutilized financial vehicles within an advisor's arsenal today. But to properly position this product, advisors must understand how to articulate its value.
Selling whole life
So, how does our agency sell whole life insurance with an average premium per case of over $35,000? We educate our clients and prospects that there may be a better way to save moving forward: a strategy that puts them in control of their financial future while eliminating many of the uncontrollable financial headwinds of change. We offer maximum non-MEC funded whole life policies to our clients, providing a boring yet consistent story:
The death benefit provides vital protection during our clients' earning years. And in retirement, it can be used for a variety of purposes, including for estate equalization, as a permission slip to spend other assets, to pay federal or state estate taxes, or simply to offer additional financial resources in a difficult time.
But the story takes an exciting turn when you talk about cash distributions. Compare the required pre-tax rate of return for equal-dollar distributions from tax-deferred assets.3

Further, the delta increases greatly if you believe tax-rates will rise in the future.
Why would life vs. other permanent insurance?
The majority of the risk our clients experience is in running their business and existing market exposure. Our clients prefer not to chase market-style returns; rather, they elect the consistency and predictability of whole life insurance. Funding a whole life product can de-risk business owners from net worth over-concentration, increase tax diversification and provide future liquidity. Non-direct recognition policy loans allow cash values to continue to grow at the same crediting rate while being deployed.
Many advisors continue to recommend strategies that made sense decades ago instead of giving control back to clients and their future. We believe it's time to think beyond the traditional model because today's market isn't traditional.
Vice President of Prevail Innovative Wealth Strategies LLC, Heather Renfro, CLU, is a career agent with Ohio National Financial Services and is based in Overland Park, Kansas. She can be reached at hrenfro@prevailiws.com, 913.295.9500 or at linkedin.com/in/heatherrenfro.

References
3 If distributions are being taken through policy loans, policy loans will reduce the death benefit, etc.