As advisors, we are often focused on making the sale happen, rather than what actions we should take after the sale. We forget that what we do after the sale is just as important as what we do before the sale. The actions we take after making the sale can improve our profession and future sales. Learn the benefits of taking action after the sale, and how to adapt it to your practice.
After the Sale by Michael Morrow, CFP
What you do after a sale is just as important as what you do before the sale.
A great opportunity exists for advisors who can see beyond closing the sale. The steps you take after a sale will demonstrate to your clients how you do business, introduce your systems to them and build relationships (or not). Inevitably, they will determine if you have acquired a client or a customer and if you are referral-worthy.
Delivering an insurance policy through the Post Office creates "customers," not clients. This marginal method of delivery shouts to a customer that her insurance policy is not very important. Relationships are not built through this level of customer service.
Impressive systems following the sale should exceed a client's expectations. These could include a phone call after the closing-sale appointment or a handwritten card mailed after the appointment. Staying in touch during the underwriting process to answer questions is also a great way to build on your relationship and add value. In addition, delivering the policy in person in an impressive policy wallet or financial organizer box will enhance the importance of your client's decision and show that you genuinely care.
Here are some after-sale suggestions that will enhance your value, boost client loyalty and increase the number of referrals you receive:
Send a thank-you card after the sale. Consider sending a thankyou note immediately following the meeting. This is an opportunity to tell your clients that you appreciate their confidence in you, that you recognize that they have choices and that you appreciate the fact that they chose you. A handwritten thank-you note has significant impact and is far more powerful than an email message.
The following note builds on your client's confidence that you have the expertise to guide him to a secure financial future and shows that you pay attention to detail:
Dear Client: It was a pleasure meeting with you today. We appreciate the faith and confidence you have placed in us as your financial planner. We recognize that you have many choices and we thank you for choosing us.
We will work hard to deserve your confidence and we are ready to take your call if you have any questions.
Sincerely, Joe Advisor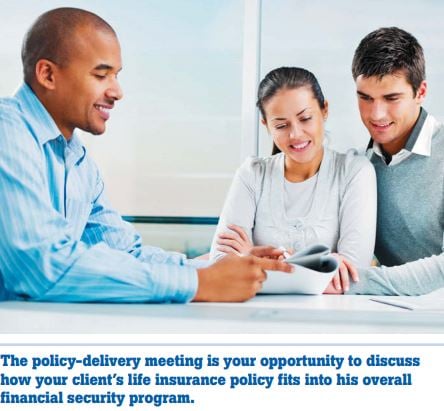 Do an underwriting and post-sale follow-up. The underwriting process can be a lengthy and confusing time for clients. Touching base with a courtesy call or email during this time is a great way to build relationships. Reinforcing their decision on taking a major step toward a secure financial future will enhance your value and help prevent buyer's remorse.
Deliver the policy in person. Leave a positive and lasting impression on your client by delivering the policy in person. It will elevate the entire experience and assure your client that he has made an important decision in
protecting what matters the most to him. Always include a customized cover letter with the policy. The policydelivery meeting is your opportunity to discuss how your client's life insurance policy fits into her overall financial security program.
Deliver the policy in a custom package. When a client receives her policy in a high-quality policy wallet or customized handcrafted case, the importance of the purchasing decision is emphasized. You will be seen as a true professional. In our office, our clients receive handmade, solid oak financial organizer cases with an engraved brass nameplate. The impact is phenomenal.
Give supporting information. Include extra documents that provide guidance regarding the client's life insurance policy and offer help with other financial decisions, such as budgeting and will planning.
Strive to deliver an extraordinary client experience and you will prove yourself referral-worthy and be seen as a professional who is invested in his clients and goes the extra mile.
Isn't that what you would want from your financial advisor?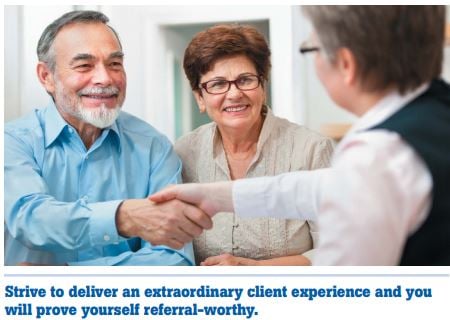 Michael Morrow, CFP, is a practicing financial planner, an international speaker and the author of Leading Marketing Strategies and The Picture Sells the Story. His insights on client retention help advisors build a solid foundation for success. For more information, visit www.ideasforadvisors.com.
This article appeared in Advisor Today
Topics: Sales