Advisors: Here's What Wealthy Millennials Want From You
What worked for Boomers won't cut it for the wealthiest members of Generation Y.
Advisors: Here's What Wealthy Millenials Want From You by Ned Dane
Financial advisors take note. Simply sticking to the services that have made you successful with your ultra-wealthy Baby Boomer and Generation X clients won't work with Millennials.
They're unimpressed with the concierge offerings that have become a popular tool among advisors in building and strengthening relationships with older investors. These young adults aren't interested in help from advisors on philanthropic matters either, since many of them have been participating in the family foundation since they were old enough to vote.
And they've deemed traditional offerings like estate management as unimportant.
In a nutshell, the wealthiest members of the generation born between 1980 and 1995 are looking for advisors to go beyond their traditional value proposition as they work to help them grow the family investment portfolio.
These were among the key findings of the Proving Worth study, the industry's first in-depth look at how UHNW Millennials view wealth and investing. For the purposes of this research, which was jointly conducted by OppenheimerFunds and Campden Wealth, we defined UHNW Millennials as coming from families with a net worth of at least $35 million.
We interviewed millennial wealth holders, and they were crystal clear about what they don't want from advisors when they take over decisionmaking roles for their families. On the other hand, the revelations about what these young adults do want from advisors were just as eye-opening.
What UHNW Millennials want
Millennials came of age in between two major market cataclysms—the collapse of the tech bubble in 2000 and the global financial crisis of 2007-2008. The research shows these events have made them risk averse and broadly more conservative towards investing than their parents. The focus for this demographic is preserving wealth for the next generation, and they view the family's assets as a vehicle to have a positive impact on the world.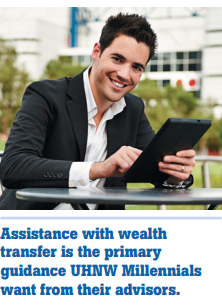 Impact investing, which seeks to help investors capture measurable social returns per dollar invested, is their vehicle of choice. The study showed they're focused on basic human rights, with an emphasis on causes like education, living conditions for the less fortunate, clean water and gender equality.
However, in spite of their professed conservatism, we discovered UHNW Millennials are looking for help in sourcing deals. They want advisors to guide them in connecting the dots between the causes they care about and opportunities to advance those causes—with a chance to earn sustainable financial returns in the process.
Additionally, we found that assistance with wealth transfer is the primary guidance UHNW Millennials want from their advisors. This critical issue is on the horizon, with these young adults forecast to inherit $30 trillion in the coming years from their Baby Boomer parents, the largest intergenerational wealth transfer in North American history.
Resolving conflicts that naturally arise in families when wealth is passed on is another big area where Millennials are seeking an advisor's assistance. Proving Worth revealed that ultra-wealthy young adults feel underserved in this area and they're looking for experts to help them prevent, or mitigate the impact of, disputes that sometimes arise around family governance, and even how investments are prioritized.
Millennials essentially grew up with all of the world's accumulated knowledge in the palm of their hand—just a few clicks away; so, it may be natural to assume that they're not looking for guidance or advice on much.
But advisors should be heartened by Proving Worth, which shows that Millennials view them as a source of knowledge and advice. As long as advisors are delivering service to them in a focused, personalized and communicative way, Millennials are all ears to what they have to say.
Engaging with Millennials
So given all that we now know about what Millennials want, how should you engage with them? Usually, the advisor to the current family wealth holder doesn't know the next generation very well. A good first step is to help Millennials' grandparents and/or parents understand the benefits of their engaging the entire family earlier and more broadly in financial matters.
Once an introduction is made, schedule time to get to know the next generation one-on-one. Get to know them on a personal level and learn what they're passionate about. Help them articulate their goals. Stay in touch electronically, but recognize that in-person is more meaningful.
If they're not financially literate, a good way to build trust over time is to teach them. Millennials are at a point in life where they're hitting many major milestones. They're graduating from high school and college, getting that first job, getting married, having children, and buying that first home.
Be there every step of the way with ideas and plans that align with their goals. And above all, remember that building a relationship is a marathon, not a sprint.
Ned Dane is head of OppenheimerFunds' Private Client Group. To learn more about what UHNW Millennials want from their advisor and read an executive summary of the Proving Worth study, visit www.oppenheimerfunds.com/ private-banks.
This article appeared in Advisor Today.
Topics: Diverse Markets/ Networking