5 Things Successful Advisors Do Early in Their Careers
They work harder than others, they brand and market themselves, they have an ideal work-week, they are coachable, and they are process-driven.
5 Things Successful Advisors Do Early in their Careers By Brad Dufrane, LUTCF, CLF
There are many contributing factors to early success in the financial services industry. The demographics of the industry continue to change, as does the success rate of new Advisors. Not only that, but the process of how new Financial Professionals are recruited and trained continues to evolve as well. You have an ever-changing industry with new products, concepts and regulations to contend with.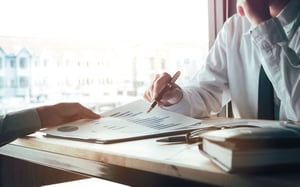 However, there is one thing that has remained constant over my 23 years in the business: Success is predicated on the fact that the successful are willing to do certain things that those who fail are unwilling to do. Changing your mindset or being motivated to perform certain activities will drastically improve the likelihood that you will remain in this tremendous industry.
Here are five things successful Advisors do in the early stages of their career:
They outwork it.

They start their workday early and end late. Sounds easy, but until you are getting to the office earlier than anyone else and staying later than others, don't expect to see Year 2 in the business. Nothing replaces work ethic, desire and motivation. I know we live in a virtual society and people can work remotely, but there is something to be said for being around the heartbeat of an office. Soaking in the knowledge, culture and learning from everyone in an office is critical. Learning from those that are struggling as well as those who are thriving is important. You must have the ability to look at someone who comes in late or works 30-40 hours a week and say to yourself: "That's not me, that will never be me and I will work harder and smarter than anyone else!"
Here is one idea: For one week, get to the office at 7 a.m. and do not leave until 7 p.m. Do this every day and do not have any excuses. Build the habit for a week and see where it goes. If you aren't already doing this, it could be a game changer. If you aren't blessed with a natural ability to outwork people, you must form the habit of doing so.
They market and brand themselves.

Marketing … Branding … Marketing … Branding … Marketing … Branding. That should be your mantra for the first few years. If no one knows or understands what you do, how are you going to make it? New Advisors spend valuable time in understanding aspects of products they may never sell. Instead, spend time in marketing yourself. You do have to have a basic knowledge of the products and services you are selling, but deeper knowledge can come with time. If you become a tremendous marketer, you will also become valuable to those veteran Advisors in the office.
Sometimes the more seasoned veteran Advisors don't embrace change and technology as well as others. If you embrace those things and market yourself, you will become valuable to others in the office which could prove invaluable. Build your brand. Market yourself. Remember that no one is going to market for you. Even if you have a marketing department, why would you rely on someone else to get your message to the people you want to help? You cannot over-market or over-brand yourself. The successful do it in all forms as well, including via social media, emails, newsletters, letters, postcards, networking events, and business groups.
Here is one idea: Spend 15 minutes a day on finding new connections on social media. Really explore relationships you have now for new introductions virtually.
They have an ideal workweek.

Are you going to work this business or is it going to work you? Our time is the most important resource that we have. The successful have a mapped-out schedule, week in and week out. There is time for family, marketing, prospecting, phone calls, appointments, training, coaching and anything else that matters. Some look at this and say that they don't want to be regimented.
I got into this business because of the flexibility most people talk about. You are going to exit the business if you aren't doing the activities it takes to be successful. The only way I know how to get all of the essential weekly activities done is to schedule them. What a great opportunity to sit down with your family at the start of your career and put together your work schedule! I never missed games, parent teacher meetings, doctors' appointments or anything else for my children. To this day, every activity of mine is scheduled.
You must also be flexible for the all-day training that will pop up or for something that might happen. Oddly enough, once you take control of your time and schedule, a lot less of the unexpected happens.
Here is one idea: Get your family together and come up with your work week. Once you have it scheduled for a week, fill in the next quarter using that week as a template. Plan every activity. I know you don't know the names of the people scheduled for appointments yet, but you should know you are going to see someone, say, on Thursday at 6 p.m. Think about how that sounds: Mr. Client, I can see you on Tuesday at 1 p.m. or on Thursday at 6 p.m. When I say this to my clients, I cringe when I hear the response: I am wide open that day. Some Advisors will make the mistake of trying to schedule an appointment and letting the prospect know that they are wide open all day.
They are coachable.

Some people are waiting to speak, and others are listening. Most people who are coaching you in this industry have been in the position you are in and are trying to help you. There is no need to play defense. Accept what is being said and don't make excuses. The most successful Advisors that I have coached—the Advisors that make six figures in their first year—will do anything they are told. The Advisors who struggle try to come up with a new way or try to figure out why what they were just told would or wouldn't work.
Find a great coach and mentor if you don't already have one. Make sure you are open-minded when listening to a coach. There is always room for you to add your personality or design to something, but don't try to reinvent the wheel. Being coachable doesn't mean you don't bring new ideas to the table; it simply means that you are open to direct feedback on those ideas.
Here is one idea: Find a mentor or coach if you don't have one already. Set up at least an hour with that person every week. Don't wait at your desk for them to come and get you when it's time—be at his or her office. If they need to cancel, reschedule the meeting. Meet for one hour every week for 13 weeks. In the first meeting, let them know you want honest, direct feedback every week even if they feel it may hurt your feelings.
They are process driven.

What do you do during a call session? How does an appointment run? When you write business, how is it tracked? What is your referral process? When you get a referral, what is the process? How often do you communicate with your clients during the year? The best first-year Advisors can answer all of these questions. If you aren't sure about some of them, don't spend a ton of time developing the processes. Go to your mentor or peers in your office and learn what processes have proved to be successful for them.
For example, prior to a call session, the best advisors will have already printed their lists of names to call, have a script ready and are willing to dial the phone for a few hours straight. Again, time is critical and you shouldn't be wasting it by not having a process. Another example: Once you have written business for someone, does a letter of thanks go out to them? Put a process like this in place immediately if you don't have one now.
Here is one idea: Figure out your referral process immediately. Go to the best professionals in the office—those who are achieving the best results or go to your coach and get, from beginning to end, an idea of what that process looks like. For example, are you talking about referrals and introductions in the opening of your appointment? Are you then planting seeds throughout the appointment? Once you get referrals, are you having the client call them first? Once the client calls them, are you sending a thank you letter to that client? When you call the referral, are you letting them know you promised Bob and Mary you would reach out to them? No matter the process that is used, you must have one and follow it every time.
Bradley Dufrane, LUTCF, CLF, became a financial advisor in 1995. After building a successful practice, he transitioned into leadership. For the last 17 years, he has recruited, trained and coached advisors. His unique ability is to passionately coach advisors so that they achieve their individual and professional goals. He was recognized as New York Life's Partner of the Year with the Finger Lakes General Office in Syracuse, New York in 2017—the most recent of the many accolades he has earned over the years.
This article appeared in Advisor Today.
Topics: Networking/ Lead Generation/ Getting Started