2017 Diversity Champion Award Receipient
As the nominations deadline for the 2018 Diversity Champion Award draws closer, we wanted to take the opportunity to honor our 2017 winner, Evelyn Gellar, LUTCF, RICP, CDFA.
Evelyn Gellar, LUTCF, RICP, CDFA is the AVP, Market Development for Penn Mutual. She is an experienced financial professional with more than 25 years experience.
As an advisor, she worked with Hispanic families and business owners and as a field leader she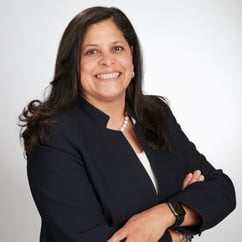 attracted diverse candidates to the industry. With a desire to champion for the Latinx community, she formed the "Hispanic Advisory Committee" at MetLife. The committee
was made up of company executives, key leaders and influencers and other advisors that served the community. The goal of the committee was to promote education and
financial literacy.
Evelyn is the Immediate Past President and the first Latina president for the national organization, Women in Insurance and Financial Services (WIFS), and strongly believes in giving back by mentoring young entrepreneurs. She continues to be active in the industry and also is
currently serving on NAIFA's diversity task force.

Evelyn has been the recipient of several company & Industry awards, has written for
a number of publications advocating for women and is a regular speaker at industry events on the importance of diversity.
"Throughout Evelyn's career in financial services she has been an advocate for hiring diverse talent and proactive in recruiting quality advisors from various markets in the New York metro area," said Michael V. Kane, managing partner at Empire Wealth Strategies. "Evelyn is passionate about helping others achieve the career of their dreams and is a thought leader in the industry."
NAIFA created the Diversity Champion Award to recognize exceptional efforts to promote the full and equal participation of diverse people within the insurance and financial services profession.
Nominations are being accepted thru June 4, 2018 for the 2018 Diversity Champion Award.

Topics: #NAIFAProud/ Diverse Markets